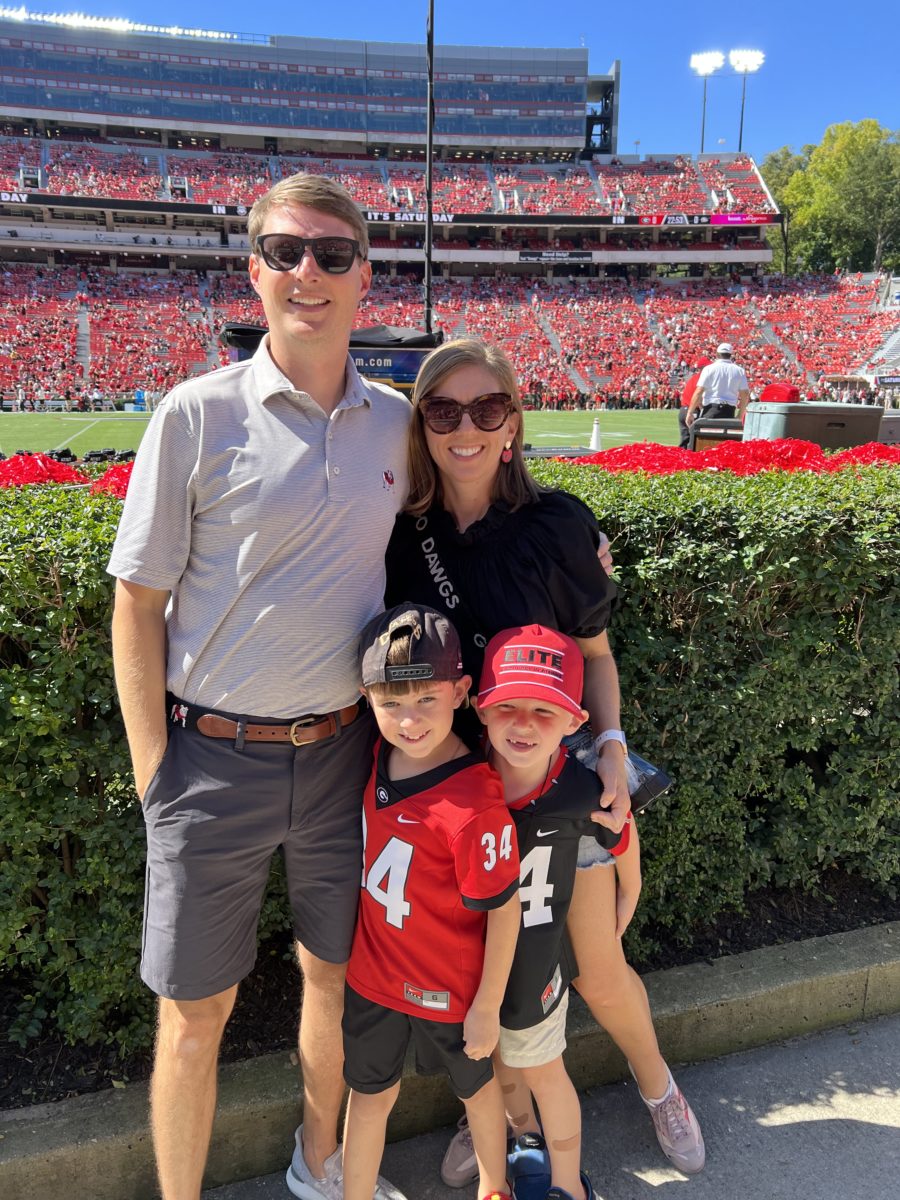 Name:  John Cates
Family:  Susie (wife), Sons: Bo (8), Jack (5)
Hometown:  Augusta, Georgia
Current Town:  Augusta, Georgia
What Years at UGA: 2003 – 2012
School/Degree:  BA (2003), MBA from Terry (2011), JD from UGA Law School (2012).
Profession: President of Meybohm Real Estate.
Accolades:  I chair the board of Apparo Academy, Augusta's only preschool for children with special needs. Our board and donor list is full of UGA Alumni and it's been wonderful to see so many Dawgs support this amazing school.
What life lessons did you learn while at UGA?  
To do the duty that lies nearest. There are a lot of distractions in life and things that demand your attention, but if you focus on what's important and the things in front of you, everything else will take care of itself.
What professor did you most admire?
I majored in Philosophy and found myself as a senior not really knowing what to do with it, but Frank Harrison spent so much time mentoring and helping me figure out where to go and what to do next. He passed away a few years ago and the Franklin College started a scholarship for Philosophy students in his honor.
Which historical figure do you most identify with?
I always loved the "Band of Brothers" series and sometimes think about how many young men went over to Europe and lost their lives at such a critical time in history, while I was goofing off at college at that age, trying to figure out which bus to take so I wouldn't be late for class.
Who are your heroes in real life?
Both of my grandfathers – they were great men, great fathers, great husbands.
Quote to live by:
Sic Vos Non Vobis.
What is your idea of perfect happiness?
Never losing to Florida again.
What do you consider your greatest achievement?
Definitely marrying my wife Susie. She and I started dating in high school and have been together ever since. I don't think there's anything better or greater than marrying your best friend. Life can be hard, but she makes it fun.
What is your most marked characteristic?
A good sense of humor.
 What do you most value in your friends?
We have a group of guys who all went to UGA around the same time and we watch almost all of the games together. Everyone in that group is kind, loyal, trustworthy and none of us take ourselves too seriously, which I think makes it fun and makes all of those guys easy to be around.
If you could change one thing about yourself, what would it be?
I'd love to be able to grow a beard or even just a mustache. I've never been strong in the facial hair department and I think it's held me back some in certain areas.
Who are your favorite writers?
I like Malcolm Gladwell and Michael Lewis' books because they talk about interesting things and interesting people. I've also started reading more C.S. Lewis lately and have always enjoyed books by Thomas Carlyle.
Fave social media and who to follow?
Seth Emerson keeps me up to date on the Dawgs, and there's an account on Instagram that rates dogs based on their pictures – I like that one a lot.