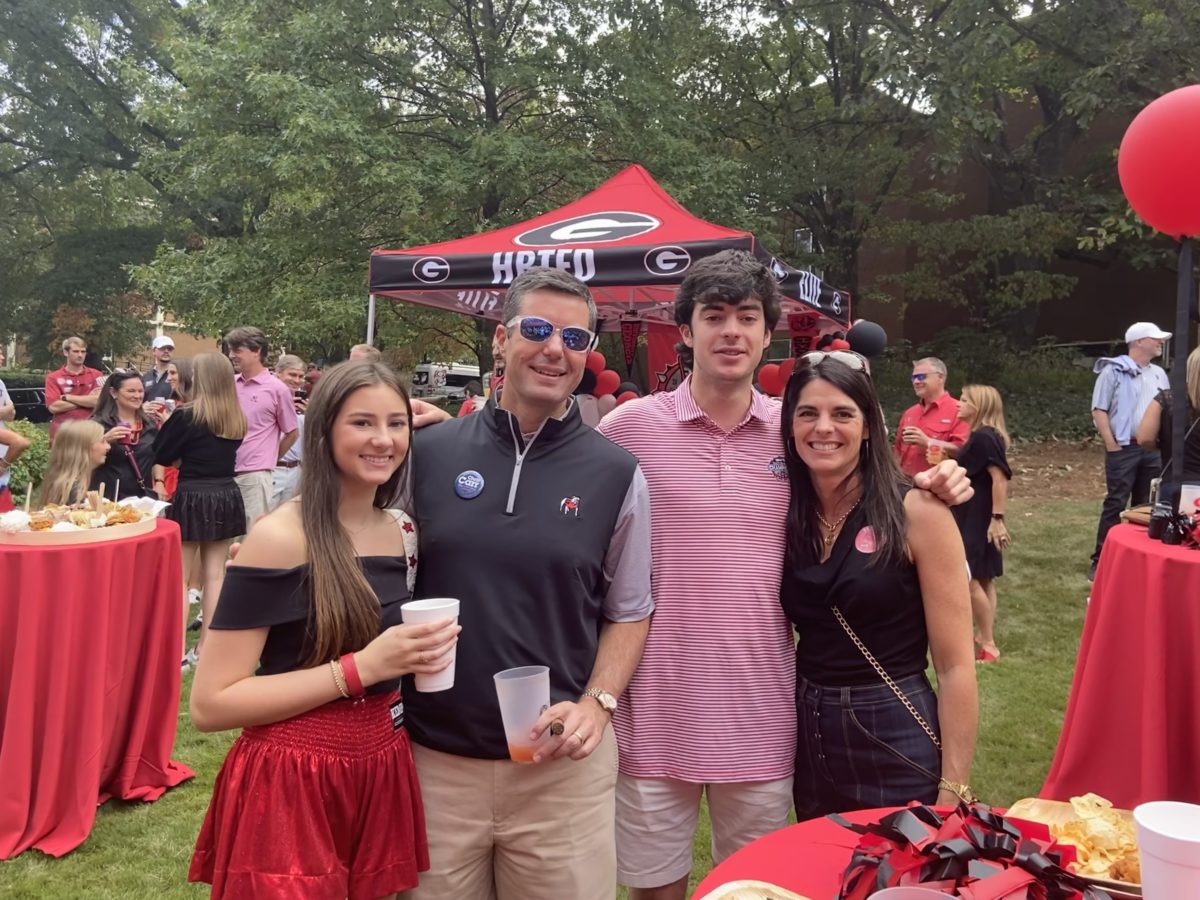 Name: Lanny Allgood
Family: Kate, Sam (19), Parks (16)
Hometown: Dublin, Georgia
Current Town: Atlanta, Georgia
What Years at UGA: 1993 to 2000
School/Degree: Terry / B.B.A. Accounting; School of Law / J.D.
Profession: CEO, business owner of Cingo, Inc.
Accolades: Best Costume at 3rd year law Halloween party; I dressed as Fall '93 Kappa Alpha pledge John Stephenson (khakis, white button-down, red tie, boots and freakishly premature gray hair for an 18 year old).
What life lessons did you learn while at UGA? 
Georgia was a big adjustment from Dublin High School, but those years in Athens were a microcosm for the intersection of business, law and politics that I've encountered in my twenty year career since. It's amazing (but not surprising) to see that many of the same people who led student activities back then – now hold important positions in government, corporate America and the gridiron. Thank goodness, we have Kirby back on our team.
What professor did you most admire? 
Dean Ben Ayres. I was a student in the very first class he taught at Georgia in fall 1996 – which is to say that he knew as much about professor-ing as I did accounting, but it was evident then that he would make his mark on the Terry College. I admire the interest he takes in his students' careers and the effort he makes to welcome them back to campus.
What do you consider your greatest achievement? 
I am especially proud of the successful transition of our family business to the second generation. The company name is now Cingo (which means protect), and it is an honor to own and lead a business founded almost 50 years ago in Dublin, Georgia, that has grown to serve most of our great state.
Which historical figure do you most identify with? 
With the recent passing of Vince Dooley, UGA lost one of its greats. When I was in Athens and working on behalf of a student organization, I was always amazed that I could call the Athletic Department and ask for Coach Dooley, and he would pick up the phone. He was often helpful, and I sent him multiple thank you notes during those years. It never failed that three days after I sent my letter, I would receive a thank you note from him for my thank you note. Coach Dooley was accessible and helpful to those who needed him, he always worked hard, and he was a gentleman. I aspire to all of those traits.
Who are your heroes in real life? 
Those who stand the post and those who serve and protect.
Quote to live by:
"See ball. Get ball." Kelee Ringo, # 5
"No parsley, Chip." Terry Johnson, Augusta, GA
"The best way to persuade people is with your ears – by listening to them." Dean Rusk
What is your idea of perfect happiness? 
As it relates to the Dawgs, I am waking up at my sister's house in Athens on a crisp autumn morning with just enough of a headache to appreciate the fun of the previous night's fall banquet and to look forward to the bloody mary. For now, I grab the coffee and head to campus to fight for a tailgate spot. Over the next 3 or 6 or 12 hours, I will enjoy visiting with the regular faces and reconnecting with those I haven't seen in twenty years. We don't play rivals at noon much anymore, but the after-game tailgates were epic when we did. Those days would not be complete without a trip to the Holiday Inn bar and a carpet bagger steak from Bissett's. Next stop – Gus Garcias where Kate was tending bar and trying to catch the eye of the younger men.
What is your most marked characteristic? 
I tend to call them as I see them. No parsley.
What do you most value in your friends? 
When they don't hold a grudge against you for straightening them out with the dirt nap. (for example, Matt Lovein – Georgia/Florida circa 1996)
If you could change one thing about yourself, what would it be? 
While Sigma Nu treasurer, I would have raised money and had the old Sigma Nu house on River Road rewired before a small electrical fire left us homeless for a decade. Despite the setback, Mu chapter is back and better than ever. It was so cool to initiate Sam Allgood as a Sigma Nu this fall – just like Mu2000 John Hearn said it would be.
Who are your favorite writers? 
Against my better judgement to ever agree with Paul Threlkeld about anything, I am a big fan of Amor Towles and believe he is one of today's best story tellers. Michael Lewis can hold your attention for 600 pages on a one topic deep dive, and Malcom Gladwell will weave together multiple unrelated topics and draw you into a conclusion that you never saw coming. Jon Meacham has made many historical figures relatable, and his lectures are even better.
Fave social media and who to follow? 
Not my jam!