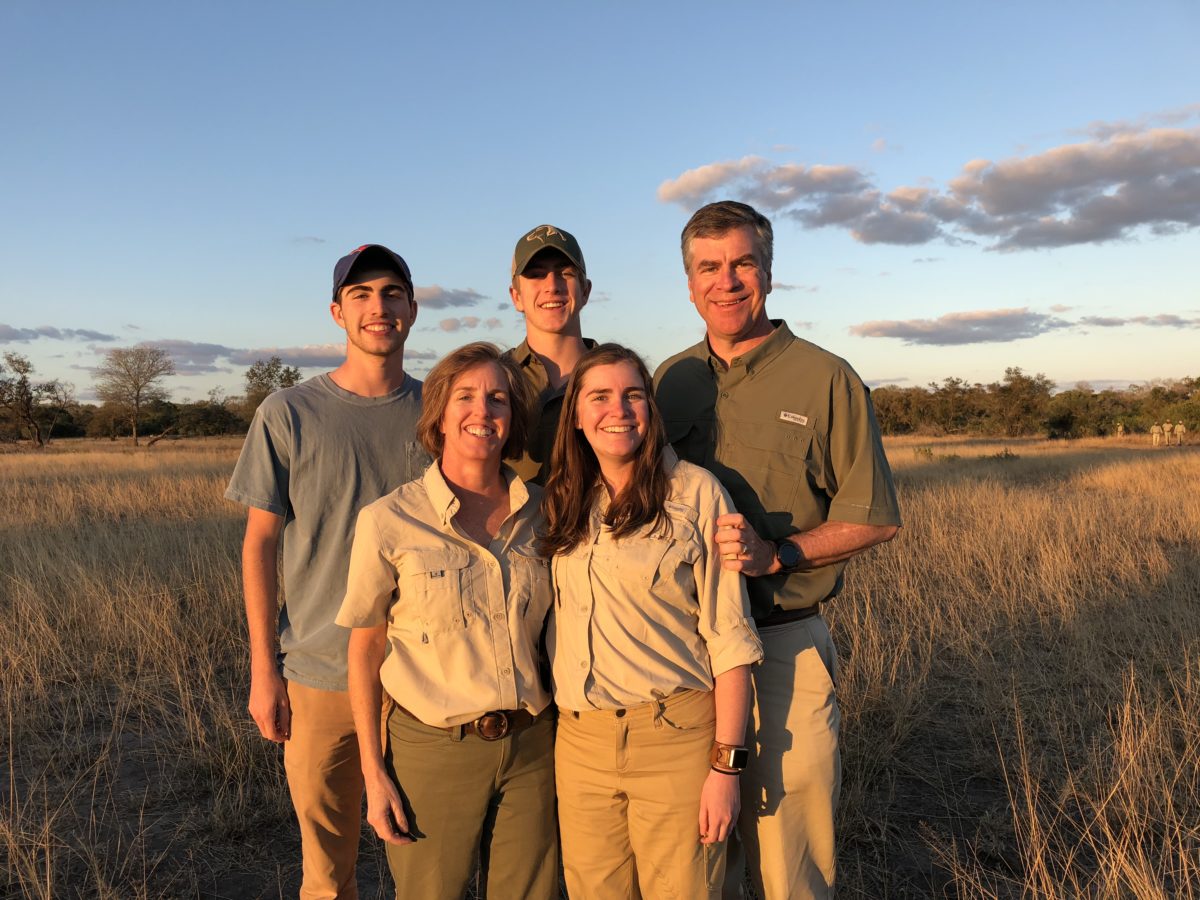 Family: Wife of 28 years Jane (fourth generation Tar Heel), three children- Thomas (UGA 2023), Luke (double Pony) grad student at SMU and daughter Jane (Wofford 2019).
Hometown: Charlotte
Current Town: Charlotte
What Years at UGA: BBA 1989
School/Degree: Terry College of Business-Risk Management and Insurance.
Profession: My day job is Managing Principal, MBL Advisors- a boutique firm advising clients in Business Exit Planning, Wealth Management, Executive Benefits and Private Client Insurance Solutions. I'm also the Founder/President of ML BioSolutions, a Charlotte based biotech company currently conducting a Phase 2 FDA clinical trial for a small molecule drug therapy for Limb Girdle Muscular Dystrophy Type 2I.
Best Tailgate-Clemson: Our crew polished off a pallet of beer and 300 pieces of Bojangles chicken before kickoff.
What life lessons did you learn while at UGA?
The more I had to do the more I accomplished. My last couple years on campus I held several leadership positions and learned that I did better academically when I had to manage my time more effectively.
What professor did you most admire?
Dr. Jim Lollar- He was a pioneer in experiential learning. I was fortunate to take his Professional Selling class as a non-Marketing major where we would role play selling various products. He would critique us on videotape. Nobody did videotape in the 80s. That class prepared me more than anything else academically for my career.
What do you consider your greatest achievement?
I'm a family first guy so family is number one. I'm proud of my long-term relationship with my wife and our three children. An offshoot for our family is my work with my wife fighting Limb Girdle Muscular Dystrophy. Our daughter Jane was diagnosed about 20 years ago at age 5. Our family started the McColl Lockwood Lab for Muscular Dystrophy Research at Atrium Health in Charlotte to find a cure. Through the years the Lab has been successful with a couple of important scientific discoveries. I started a biotech company by licensing six patents from the McColl Lockwood (ML) Lab to develop a drug therapy to help our daughter and thousands of patients like her.
We aren't across the goal line yet but our odds for success started somewhere between slim and none. It's been quite an undertaking from funding research, hosting fundraisers, hiring talented scientist at the Lab who made the breakthrough discoveries, starting ML BioSolutions, hiring a team of scientists (20 and counting), developing a clinical trial, dealing with the FDA, dosing animals, dosing healthy patients, and finally dosing real patients. I jokingly call it a 20-year overnight success that we've even gotten to this point. I plan to fight it until the end.
Which historical figure do you most identify with?
For UGA history I'd say Patrick Mell. He accepted the Chancellorship of the University on the condition that the Board of Trustees repeal the Reconstruction era anti-fraternity rule that banned students from being members of Greek lettered fraternities. Every member of the Greek system on campus owes Chancellor Mell a debt of gratitude. I learned a great deal from my involvement with Greek Life and Sigma Nu. I can't imagine what my college experience would have been like without it. I certainly wouldn't have as many lifetime friendships and fantastic memories.
Who are your heroes in real life?
My late father Tom Lockwood and my father-in-law Hugh McColl. I was fortunate to have great role models in my family who taught me it's possible to have a successful career and still be an engaged father, husband, and family man.
Quote to live by:
To whom much is given, much is expected. -Luke 12:48 but also quoted frequently by my father-in-law.
What is your idea of perfect happiness?
A morning round of golf with my buddies, an afternoon tailgating with family and friends, a night game cheering on the Dawgs and dancing on the front row of a band party with my wife after the victory. For many reasons we expect victory! I'm getting too old to do all that in one day but would certainly like to try.
I also have the long-term aspiration to have a job that would allow me to wear a hat to work every day. Something like a golf pro, yacht captain or professional tailgater would qualify.
What is your most marked characteristic?
Perseverance and dawged determination to complete the duty that lies nearest.
What do you most value in your friends?
Loyalty, laughter, and longevity.
If you could change one thing about yourself, what would it be?
When I was younger, I was always in a big hurry to get to the next phase of my life. I wish I would have slowed down a little more to enjoy the ride.
Who are your favorite writers?
Marcus Aurelius, Joseph Addison & Richard Steele and Sir Thomas Carlyle. All great philosophers that bestow valuable life lessons.
Fave social media and who to follow (and why)?
Bulldawg Illustrated, because you are the best! I'm also a fan of Get The Picture with Senator Blutarsky and the Poor Man's Game Notes by Ryan Scates.