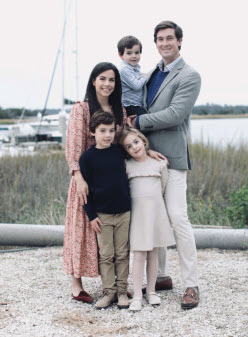 Name: Pierce Cannon
Family: Cassandra; Finnegan (8), Mary Pierce (6), Jude (4), TBD (10/7/22).
Hometown: Savannah, Georgia.         
Current Town: Savannah, Georgia.
What Years at UGA: 2001-2006.
School/Degree: Family and Consumer Sciences/ Consumer Economics.
Profession: Mortgage banker with Synovus.
Accolades: Selected to write the epitaph for Philip Zaehdarm.
What life lessons did you learn while at UGA? 
Managing expectations.
What professor did you most admire? 
Professor Joseph Sabia because he went to Cornell and liked to remind our class he went to Cornell. Great hair too.
Which historical figure do you most identify with? 
Sisyphus.
Who are your heroes in real life? 
My mother, Connie Cannon, and my father, Bobby Cannon. Their unwavering Catholic faith and adherence to simple life philosophies centered around family, humor, honesty, and generosity have given me the tools I need to be a husband, father, and productive member of society.
My wife of 11 years and girlfriend of 19 years, Cassandra Cannon class of '08. She is an incredible mother to our three, soon to be four children, and my best friend and confidant. After graduating from UGA in '08 with a degree in Biology and Psychology and acceptance into Mercer Medical School, Cassandra took a leap of faith and started a women's apparel company called Lake Pajamas with her friend and business partner, Anne Read Latimore. They've gone from selling their pajamas out of one store in downtown Savannah to a large e-commerce business with their own retail locations in Atlanta and Charleston. All of this while raising three children and pregnant with a fourth. She transcends time and space.
Quote to live by:
"It is not death that a man should fear, but rather he should fear never beginning to live' – Marcus Aurelius
What is your idea of perfect happiness?  
Sitting on Tybee Island Beach as the sun is going down with my wife and kids, my parents, my siblings, their spouses and children. We have a cooler of freezing cold Budweisers, fried chicken and boiled peanuts. My brothers are down 4-15 to me and my dad on the bocce court and we have a leaner.
What do you consider your greatest achievement? 
Holding Kwame Brown to six points.
What is your most marked characteristic? 
I love to dance.
What do you most value in your friends? 
Being there. I have a very close core group of friends and even though the time in between visits seems to grow we all show up for each other and showing up is half the battle.
If you could change one thing about yourself, what would it be? 
I care too much.
Who are your favorite writers? 
Epictetus with his classic, "The Enchiridion of Epictetus." It provides the pillars on how to live life, concerning yourself with only what you can control.
Fave social media and who to follow? 
Instagram and the @lakepajamas account. I'm not above a shameless plug for my wife and fellow Bulldogs' company.