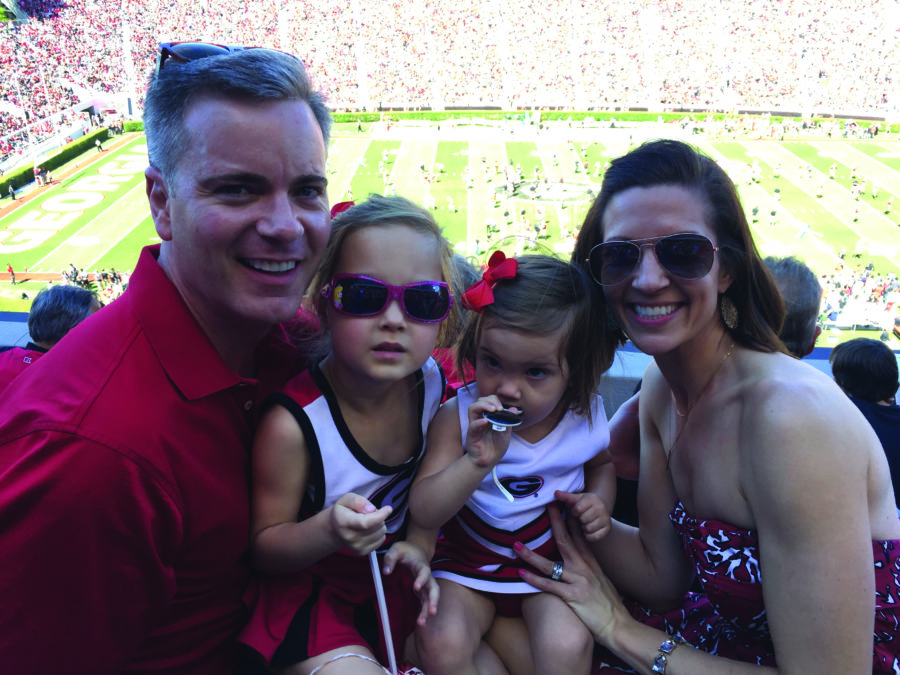 Name: Jon S. Howell
Family: Emily (spouse), Georgie (7) and Lucy (4) (daughters)
Hometown: Hampton, Georgia
Current Town:   Jefferson, Georgia
What Years at UGA: 1995-1999, 2015-2017
School/Degree: Terry College of Business, BBA '99 – Finance, Executive MBA '17 Profession: Senior Vice President for Strategy, CHSGa, an integrated health system

Accolades: Bulldog 100 Honoree (2012), UGA 40u40 (2013), UGA Alumni Association Board of Directors (2018-present), Leadership Georgia (class of 2011, program chair 2013)

What life lessons did you learn while at UGA? As I reflect on my undergraduate performance, I am reminded of one Dean Tate's favorite quotations in reference to his work with young men at the University: "Working with a sorry boy who won't try … is like going bird hunting and having to tote the dogs!" In my case, the effort was certainly present. However, the results were hit or miss, but I couldn't resist an opportunity to mention the late, great Dean Tate. On a serious note, the friendships and relationships I developed at the University of Georgia are invaluable to me. I would not be experiencing even close to the same quality of life without my Alma Mater.

"Working with a sorry boy who won't try … is like going bird hunting and having to tote the dogs!"

Dean Tate
What professor did you most admire (and why)? I really enjoyed Dr. Richard Gooner's executive MBA course on marketing. The case studies were engaging and interactive, Mountain Man Brewing Company and BMW, I mean beer and sports cars … you call this learning? It made me think about sales in an entirely new light, "Everything is sales."

What do you consider your greatest achievement? My greatest accomplishment after tricking my bride into saying yes, is being Daddy to our two daughters, Georgie and Lucy. The joy those two little girls bring to my life is indescribable.

Which historical figure do you most identify with? Abraham Lincoln … throughout our personal and professional lives, we all experience our highs and lows. His perseverance is worthy of replicating.

Who are your heroes in real life? I would have to say my parents. They have been unyielding in their love and support throughout my life journey. They have exemplified what it means to be a parent. In a world that sees so much family dysfunction, I am eternally grateful to have been raised in such a loving home.

Quote to live by: Winston Churchill … "Never, never, never give up"

What is your idea of perfect happiness? Tailgating at Kid's Tailgate on a beautiful Saturday afternoon with home of my favorite Dawg fans, followed by beating Notre Dame by two touchdowns.

What is your most marked characteristic? Great optimism!
What do you most value in your friends? Loyalty, anyone can be affable to your face. It's when no one is watching that truly matters.

If you could change one thing about yourself, what would it be? I wish I could carry a tune. I remember a time is high school chorus class when a seatmate asked me to lip sync. Being tone deaf is a burden I wish I could
alleviate.

Who are your favorite writers (and why)? My favorite author is Georgia's own, Stuart Woods. I have read all of his Stone Barrington series. While Stone's lifestyle is bit racy at times, I find the storyline compelling and
more interesting than the daily grind. I actually had an opportunity to meet Mr. Woods in person at Elaine's in New York City's Upper East Side. The barkeep asked if I wanted to send him a drink. I answered in the affirmative. Please send him a Knob Creek (Stone's favorite drink). The bartender replied that he is actually drinking what your wife is having, a Bailey's on the rocks. He came by to thank us and even posed for a picture with his adoring fan.

Fave social media and who to follow (and why)? I am not a huge social media person, but during the football season I am entertained by watching Uncle Lou's YouTube channel or as he dubs it, LouTube. Anyone that
drinks a 38-year-old commemorative Coca Cola bottle after the disappointing national championship game shares my fragile mental health disposition when it comes to Georgia football.