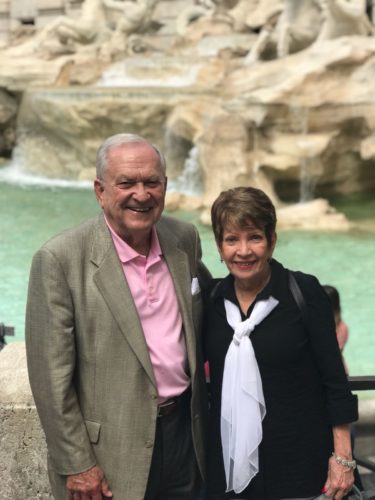 Name:  Bill Stewart
Family: Lynn (wife; pictured above), daughters Beth (UGA 80) lives on White Dog Farm Athens, Beverly (Georgia Southern) lives in Brunswick, Ga.; grandchildren: Renee (UGA), Austin (University of Colorado), Claire, Thomas (US Army Special Forces), Daniel (currently living with wife Ester in Korea).  Great grandchildren Rylie (Currently Whitfield School in Vinings, Ga.), Carlotta (Lottie) lives in Berlin, Germany, and Holt William who's just a few months old, but already has a couple of Dawgs games to his resume. I also have one stepdaughter Janet Brown (Forrest) of St. Simons Island, and three stepsons, Mike Maloy, Jeff Maloy (Kelly), and Scott Maloy.  And, a very important three year old step grandson, Jack, whom I'm grooming to be a rabid Dawg fan, in spite of his mother being a Bama girl.
What Years at UGA: I attended UGA in 1955, after serving three years in US Army from 1952-1955.
School/Degree: I graduated UGA in 1960, with a BBA degree in Accounting and Taxation.
Profession: My profession is Certified Public Accountant, but I've been retired since 1995.
What life lessons did you learn while at UGA?
Being married, with two children (Beth was born in 1958 at St. Mary's Hospital when it was on Milledge Avenue) and going to school under the GI Bill which paid $160 per month, which included cost of tuition, books, and all family living expenses, I learned responsibility out of necessity.  I graded papers for an Accounting professor; picked up golf balls at night at a golf driving range located on Watkinsville Highway to supplement our income.
What professor did you most admire?  
There were several professors whom I admired … John Pate, Accounting professor; Dr. Wall, English professor, and Dean Segrest who was assistant Dean of Business School and talked Labor Economics.  I admired them, not for any profound words, but what they taught me.
What do you consider your greatest achievement?
My greatest achievement would have to be answered by someone other than me, for I cannot think of one, except, of course … my family.  I'm proud of my families; both of them.
Which historical figure do you most identify with?
I've met a few modern day figures of some historic note, including five presidents, several vice presidents, a couple of Secretaries of State, innumerable members of Congress and great military leaders of all wars, which affected our nation during my lifetime.  But, if I had to narrow down the list to one it would be President Ronald Reagan. I was one of many who accompanied him to Normandy in France during his 1984 three day trip there to honor the men who participated in D-Day invasion in 1944. His words were directed to the tens of thousands of men who stormed the beaches of Omaha Beach, Utah Beach, and the cliffs of Pont Du Hoc, many of whom were in attendance or buried under the white crosses and Stars of David at Omaha Cemetery, a person could not help but be proud to be an American and have Ronald Reagan as their president.
Who are your heroes in real life?
My heroes in real life are all of the men and women who serve our country in uniform and endure prolong absences from their families and place themselves in danger every single day as they protect us all from harm. Those are the lives that matter.
Quote to live by: Rudyard Kipling's epic poem "If."  It's full of lessons by which to live one's life.
What is your idea of perfect happiness?
Perfect happiness is my life today.  And, I want it to continue as is for today, tomorrow, forever … and one day.
What do you consider your greatest achievement?
Still searching.
What is your most marked characteristic?  
Perhaps solving problems.
If you could change one thing about yourself, what would it be?  
I would be more understanding of people and friendlier.
Who are your favorite writers?  
I've been a reader all my life.  I've read, and own, thousands of books. It is impossible to single out any particular favorite, but I like Winston Churchill, William Manchester, David McCullough (whom I met on a cruise to Australia ) and, of course Rudyard Kipling.
Fave social media and who to follow?
I don't do social media.  I am on Facebook, but my granddaughter set that up for me.
My life at 84, and my experiences, do not in any manner compare to someone one third to one half by age.  For instance, I attended my first UGA game in Sanford Stadium in early 1950s. Males wore a suit, or at least a coat and tie.  Your date was dressed in a suit or dress, with gloves and usually a hat and wore the corsage you 'd bought for her with the Georgia "G" in the middle.   Compare that to today and you might get the picture of the differences. My family has sat in the same seats since 1964. When Vince Dooley came to Georgia, Dan Magill, whom I did not know at that time, called Dr. Hurley Jones (a former player at UGA) and Dr. Jones, Tom Lively, and I organized the first Bulldog Club in southeast Georgia.  It became the largest annual affair, outside Atlanta. We'd have 500 for the banquet and have to turn people away, and it cost the whopping sum of $10 to join. All my family are Bulldogs, thru and thru. Always will be.