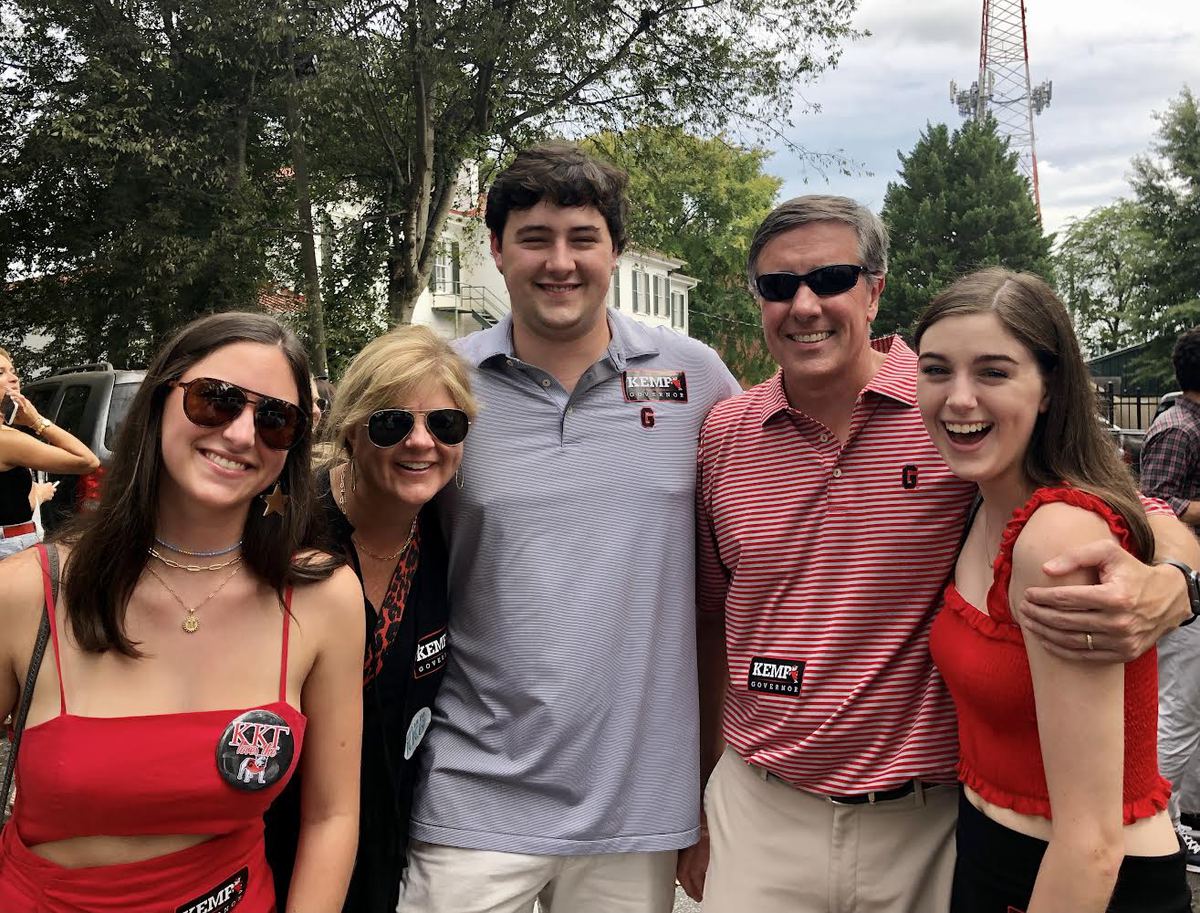 Family: Wife Laura (UGA 1994), Children: Bo (UGA Senior), Maggie (UGA Freshman), Emma ( GA College Freshman)
Hometown: Athens
Current Town: Athens
What Years at UGA: 1990 – 1994
School/Degree: Terry / Economics
Profession: Wealth Management Advisor
Accolades: Currently, I serve as the Board Chair for the Athens YMCA. I am so proud of the CEO, Shae Wilson, her great staff and all they do for our community!
What life lessons did you learn while at UGA?
I took me a long time to implement it, but time management. Also, control what you can control and you will eliminate a lot of frustrations.
What professor did you most admire?
Greg Trandel. He was always willing to help even when it had nothing to do with a class he was teaching.
What do you consider your greatest achievement?
Other than convincing Laura to marry me, my children.
Which historical figure do you most identify with?
Cincinnatus. He was a modest man who stepped up in troubling times and exemplified the motto: "Not for ourselves but for others."
Who are your heroes in real life?
My mother and my good friend Jay Boswell. They both have dealt with a lot of adversity and have met it head on with great strength and a positive attitude.
Quote to live by:
"I wish there was a way to know you're in the good old days before you've actually left them" Andy Bernard
What is your idea of perfect happiness?
It would be hard to fit it all in but a round of golf with good friends. Tailgating with friends and family and then celebrating a Dawgs national championship with everyone late into the night.
What is your most marked characteristic?
Probably my sense of humor. Some would say that it is a flaw!
What do you most value in your friends?
I am extremely lucky to have a great group of loyal friends. So loyalty and the ability to laugh at yourself.
If you could change one thing about yourself, what would it be?
If I have to pick one thing, I guess that I was as tall as my friend Craig Meeks thinks he is.
Who are your favorite writers?
Sir Thomas Carlyle. His masterpiece, Sartor Resartus, has changed many lives.
Fave social media and who to follow?
The Twitter. Bulldawg Illustrated of course!