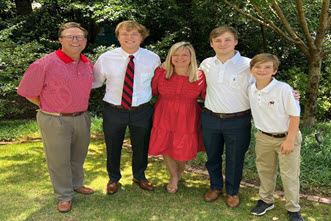 Name: Tommy E. Warner, Jr. but most people know me by my nickname Corky.
Family: Wife: Catherine (Double Dawg 1994, 1998), Sons: Tommy III (Emory University '23), Will (UGA '26 ) and Ben (Athens Academy '27 )
Hometown: Athens, Georgia.
Current Town: Athens, Georgia.
What Years at UGA: 1991-1994
School/Degree: Terry College of Business/ BBA
Profession: Real Estate Development/Property Management
Accolades: Not sure this is an accolade but I think I hold our tailgate record for eating the most sausage (45 inches) and the most chicken nuggets (85) during a tailgate. I was attempting to eat 100 chicken nuggets but fell short (I should not have had two bowls of Gumbo during my quest.) Note: sausage consumption and chicken nugget chomping were at two different tailgates.
What life lessons did you learn while at UGA?
UGA has so much to offer. You get out of it what you put in it. Just like most other things in life.
What professor did you most admire?
Dr. Ramal who taught the History of Rock & Roll. He said we had to call him Dr. because it cost him $20,000 to get that title. You've got to admire a guy who convinced UGA to pay him to teach that subject matter. I couldn't figure out why there were so many athletes in that class? I also had Dr. Dawn Bennett-Alexander for Legal Studies. She was a professor who really got my attention. She was a very powerful and demanding professor in the Terry College of Business and recently retired after 33 years at UGA.
What do you consider your greatest achievement?
My family. Parenting is hard work and there is no one I would rather tackle it with than my wife Catherine. It is always nice to hear others compliment your children on their kindness and humility. It feels good to know that some of your lessons have taken root.
Which historical figure do you most identify with?
Coach Dan Magill. The greatest Bulldog of them all. I was fortunate enough to spend a lot of time with him while I was growing up. He was everything: coach, athlete, teacher, raconteur, writer, showman, inventor. He did it all! Coach Magill made a lot of history and he even wrote several books to record his accomplishments for perpetuity.
Who are your heroes in real life?
My Dad. He taught me the values of organization and hard work. He was a serial entrepreneur. Some of his most notable business ventures in Athens included Cedric's Fish & Chips, Popeyes Famous Fried Chicken, Oscar's Chicken Fingers & Hamburgers , Take Out Taxi, and Big League Barbers. He was a great operator of franchise concepts. My mother also amazed me surviving lung cancer against all odds. She refused to quit fighting! Big thanks to Dr. Petros Nikolinakos and the staff at UCBC for all they did to help her win the fight!!
Quote to live by:
"Sure as you can't steer a train, you can't change your fate."
What is your idea of perfect happiness?
Spending time with my family and friends whether at the beach, the lake, the mountains or a UGA tailgate!
What is your most marked characteristic?
People say that I have a good memory, sometimes too good.
What do you most value in your friends?
Integrity and Humor.
If you could change one thing about yourself, what would it be?
I wish that I could have more patience both with myself and with others.
Who are your favorite writers?
You can't beat a good prognostication from Leonard Postosties and his venerable weekly publication Leonard's Losers. I also like the Mad Libs guy. Those stories always end up crazy. And I do like listening to Andrew Rothschild. Someone needs to write down his tall tales and adventures.
Fave social media and who to follow?
I am not on any social media platforms. If you need to reach me you can still call me on a landline telephone number. It is the same phone number that I got in my first Athens apartment, unit 84 at Towne Club on Springdale Street, with my roommates Jay Ferguson, Zan Banks, and Bobby Mariencheck. My number is 706-543-????. Give me call!