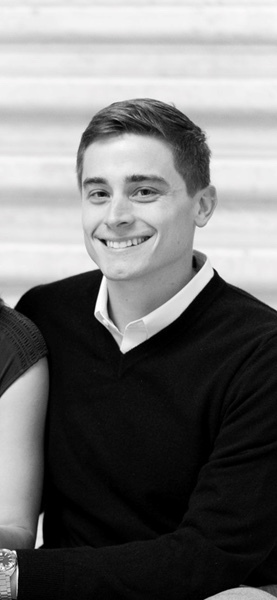 Name: Brent Minner
Family: Married to Claudia (honorary Dawg) and have three siblings that attended UGA. Allie ('05), Courtney ('16) and Drew ('18)
Hometown: Alpharetta, Georgia
Current Town: Chicago, Illinois
What Years at UGA: 2003-2007
School/Degree: Terry – BBA in Finance
Profession: Marketing Director of White Lily
Accolades: Dean's List, Hope Scholarship Recipient
What life lessons did you learn while at UGA? UGA introduced me to people with different backgrounds and aspirations. Having kept up with many of my classmates over the years, UGA continues to show me that the best way to develop a career is to do something that you're passionate about. Whenever I catch up with classmates when I'm back in Athens, it never ceases to amaze me to hear about all of the amazing things they are doing now. The one common theme in everyone's journey is that UGA helped get them to where they are today by showing them all of the great things you can do with a degree from the school.
What professor did you most admire? Dr. Chris Pope because he helped introduce me to the basics of finance in FINA 3000 and also helped me identify a career path in finance once I expressed my interest in the field to him. Through his mentorship, my purpose in the classroom shifted from just trying to do well on tests to really comprehending the importance of my education by applying it to my career search.
Describe the biscuit scene in Athens: The biscuit scene in Athens is eclectic because so many restaurants have them. It's hard to pick a favorite, but whenever I bring people down to Athens from Chicago, I have to take them to Mama's Boy for a biscuit. It's one of the best biscuits I've ever had.
Describe the perfect tailgate: My favorite tailgates have to be when Auburn comes to Athens in mid-November. Autumn has finally settled in and we have a good idea of the type of team we're fielding so there aren't as many pregame jitters among the fanbase at the tailgate. Some of my tailgate must haves are Chick Fil A biscuits in the morning and nugget trays in the afternoon, boiled peanuts, bbq, and plenty of Tropicalia to wash it down.
Since biscuits are a mainstay for tailgating, do you mind sharing a recipe? Sure! One of my favorites is Virginia Willis' recipe. She's a UGA grad and has been a White Lily advocate over the years.
uga alum Virginia Willis' Biscuits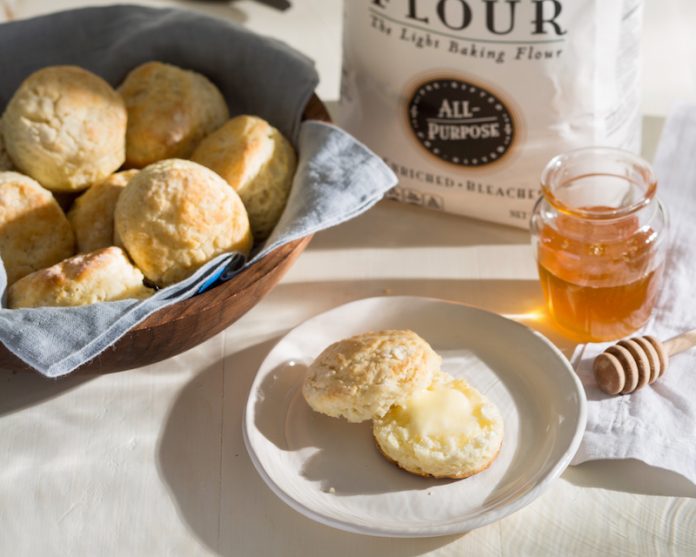 Ingredients:
2 cups White Lily all-purpose, more for rolling out
1 tablespoon baking powder
1 teaspoon fine sea salt
4 tablespoons cold unsalted butter, cut into bits and chilled
3/4 to 1 cup buttermilk
Instructions:
Heat the oven to 500°F. In a bowl, combine flour, baking powder, and salt. Using a pastry blender or two knives, cut butter into flour mixture until it resembles coarse meal. Pour in buttermilk and mix until just barely combined. It will be a shaggy mass. (Alternatively, you can mix the dough in a food processor: pulse to combine flour, baking powder, and salt. Add butter and pulse until it resembles coarse meal. Pour in buttermilk through feed tube and pulse until just barely combined.)
Turn the rough dough out onto a lightly floured surface. Knead lightly, using the heel of your hand to compress and push dough away from you, then fold it back over itself. Give dough a small turn and repeat four or five times.
Roll out the dough using a lightly floured rolling pin. Dough should be 1-inch thick. Using a 2 1/4-inch round cutter dipped in flour, cut out rounds (press cutter straight down without twisting so biscuits will rise evenly when baked).
Place biscuits on prepared sheet. (If biscuits are baked close together, sides will be tender. If biscuits are baked farther apart, sides will be crisp).
Re-roll scraps once. Do not simply roll them into a ball; this will create a knot of gluten strands. Instead, place the pieces one on top of the other in layers, then roll out dough and cut out more rounds. Bake until golden brown, 8-10 minutes. Transfer to a rack to cool just slightly. Serve warm.