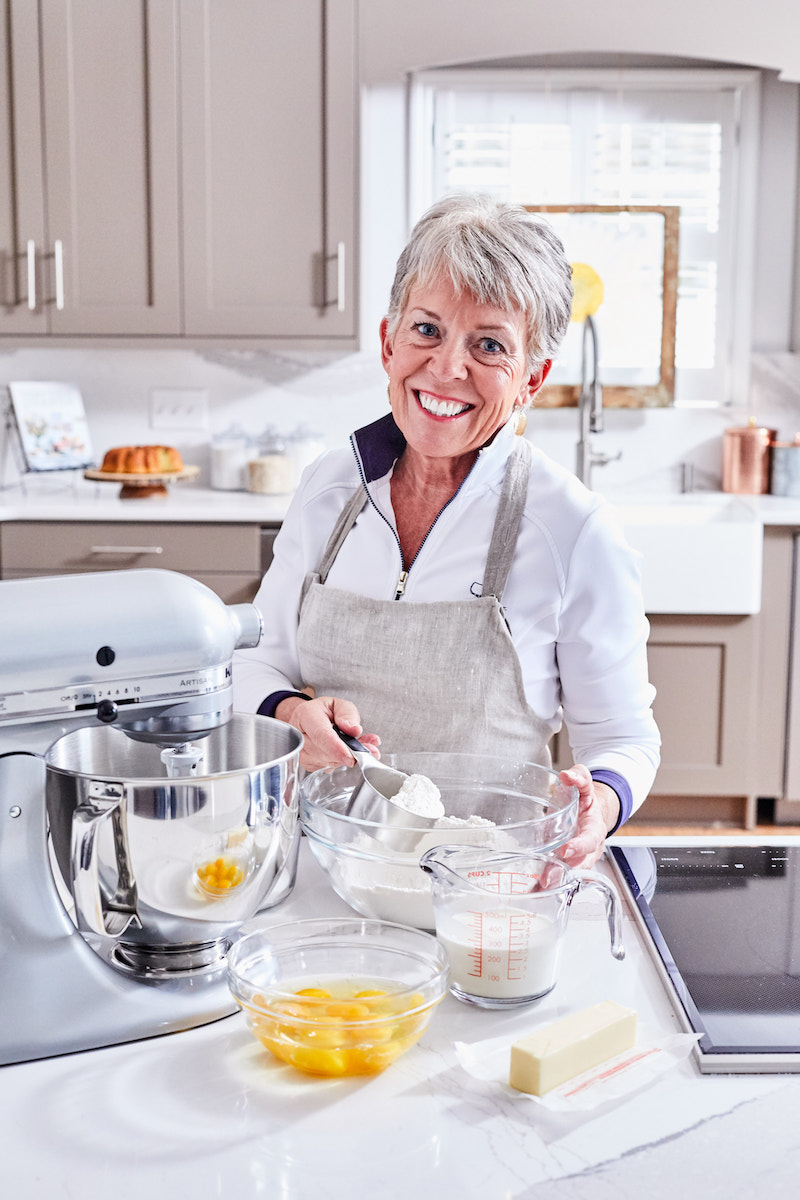 Vera Stewart (UGA '74) of VeryVera is sharing her tailgate recipes to kickoff Georgia-Florida week! Vera is married to UGA graduate Andy Kilpatrick, and the two of them have five children (two of whom graduated from UGA) and nine grandchildren. Vera is a southern cooking show host on her own show, The Very Vera Show, as well as an entrepreneur, caterer and cookbook author. Enjoy these recipes for the world's largest outdoor cocktail party!
Confetti Pasta Salad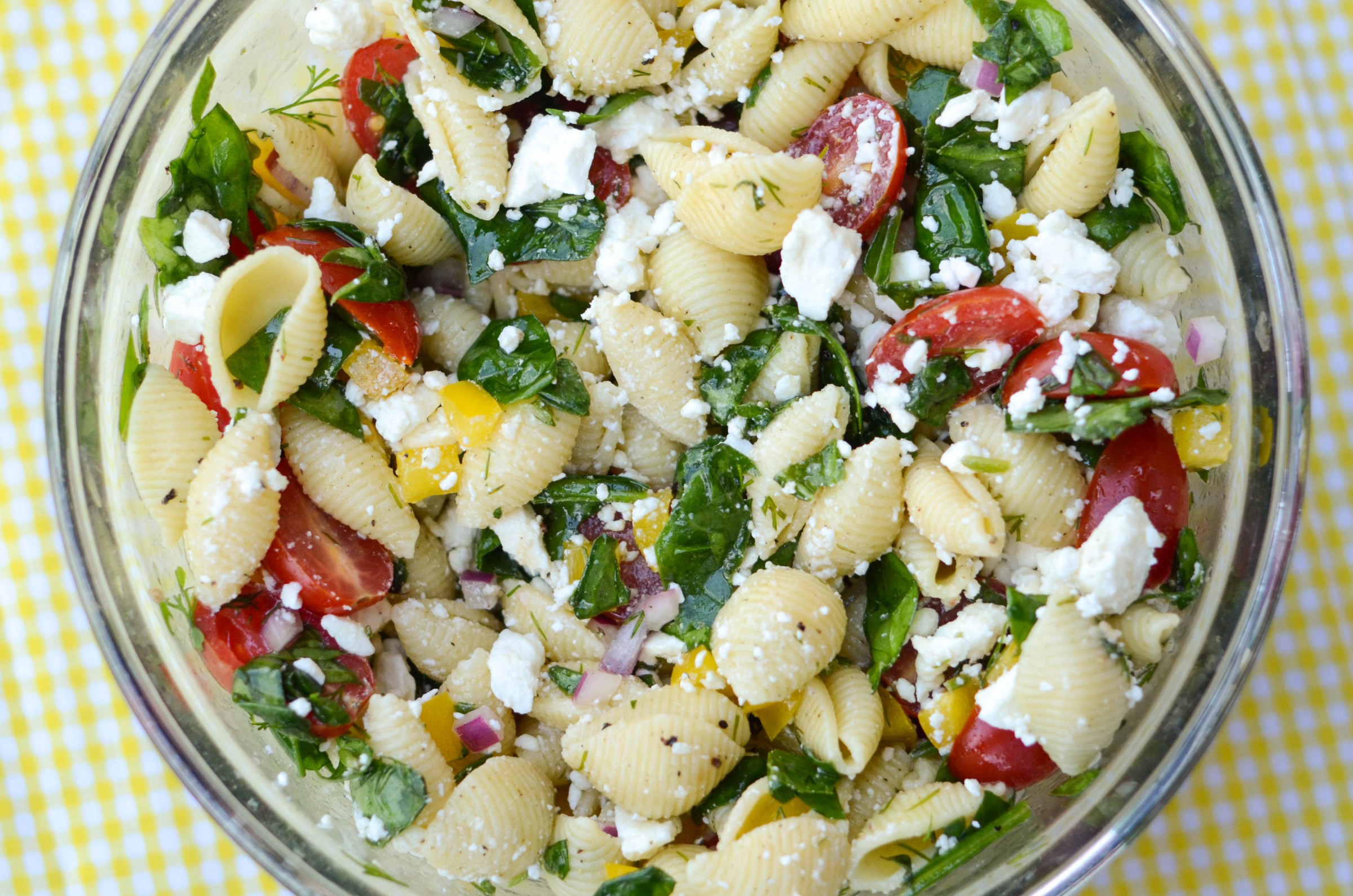 • Prep Time: 20m
• Total Time: 20m
• Serves: 4-6 people
INGREDIENTS
For the Salad
• 8 oz uncooked small shell pasta
• 1 pt grape tomatoes, halved
• 2 c coarsely chopped fresh spinach
• 1 yellow bell pepper, chopped
• 1/4 c finely chopped red onion
• 3 tbsp. chopped fresh dillS
• 1 (4-ounce) package crumbled feta cheese
For the Vinaigrette
• 1/4 c fresh lemon juice
• 1 tsp. Dijon mustard
• 1 large garlic clove, pressed
• 1/4 tsp. salt
• 1/4 tsp. freshly ground black pepper
• 1/2 c vegetable oil
INSTRUCTIONS
1. Cook pasta according to package directions; drain.
2. For the vinaigrette, combine lemon juice, mustard, garlic, salt, and black pepper. Slowly whisk in oil until combined.
3. Toss pasta with tomatoes and remaining ingredients, including vinaigrette.
4. Serve immediately, or cover and chill up to 8 hours.
SEC Pinwheels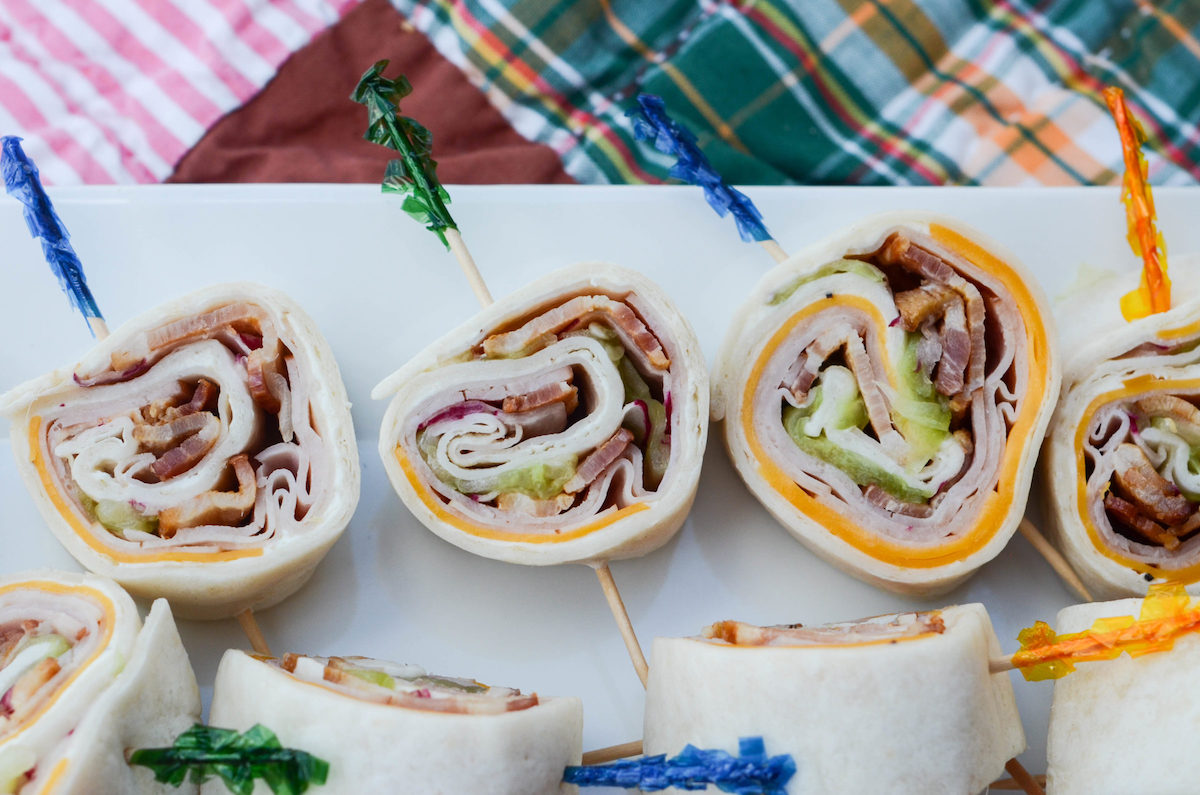 • Prep Time: 20m
• Total Time: 20m
• Serves: 8
• Yield: 25 Pinwheels
INGREDIENTS
• 4 oz Cream cheese (softened)
• 1 ½ tsp. Prepared horseradish
• ½ tsp. Pepper
• 13 8-inch Flour tortillas
• 20 slices Cheddar (thin sliced)
• 20 slices Turkey
• 10 slices Ham (thin sliced)
• 15 slices Bacon (thick cut)
• 3 medium Cucumbers (thin sliced and water wrung)
• 5 Radishes (thin sliced)
INSTRUCTIONS
1. In a small bowl mix cream cheese, horseradish, and pepper.
2. Spread a thin layer of cream cheese mixture on a flour tortilla.
3. Top with 4 slices cheddar, 4 slices turkey, 3 slices bacon and 2 slices of ham.
4. Top with cucumbers and radishes.
5. Tightly roll up tortilla and wrap in wax paper.
6. Repeat until all tortillas are rolled up.
7. Place in the refrigerator for a few hours or overnight.
8. When ready to serve cut off ends and cut into slices.
Sticky Balsamic Ribs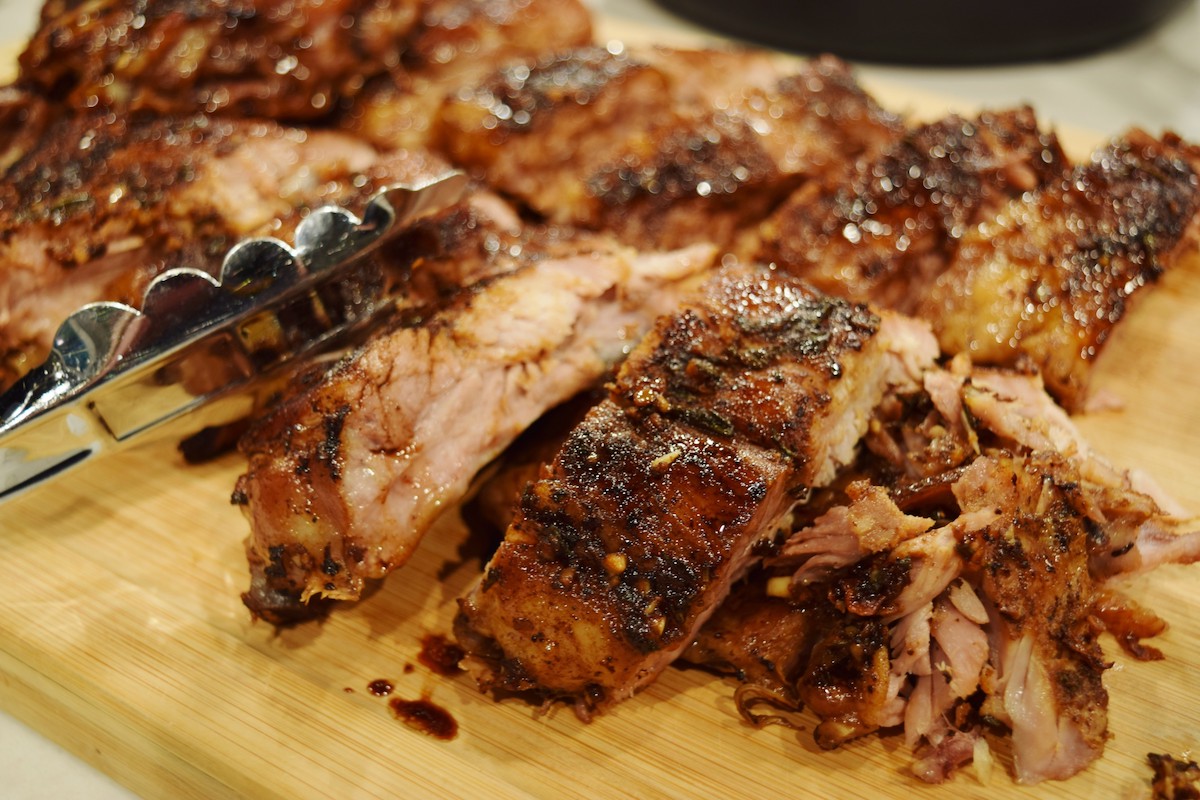 INGREDIENTS
• 8 cloves garlic
• 4 tsp. kosher salt
• 2 tbsp. finely chopped rosemary
• 1/2 c plus 2 tablespoons packed dark brown sugar, divided
• 1 c plus 2 tablespoons balsamic vinegar, divided
• 1 tsp. freshly ground black pepper
• 8 lb baby back pork ribs
• 1 c water plus 2 cups hot water
INSTRUCTIONS
1. Mince and mash garlic to a paste with 1 teaspoon of salt. Stir together with the rosemary, 2 tablespoons of the brown sugar, 2 tablespoons of the vinegar, cayenne, remaining 3 teaspoons of salt, and pepper. Rub evenly all over the ribs and transfer to 2 large roasting pans in a single layer, meaty side up. Marinate, chilled, for at least 8 hours and up to 24 hours. Alternatively marinate in a zippered bag or bowl covered with plastic wrap.
2. Preheat the over to 425 degrees Fahrenheit with racks in the upper and lower thirds of the oven.
3. Pour 1/2 cup water into each roasting pan and tightly cover the pans with foil. Roast the ribs, switching the position of the pans halfway through, until the meat is very tender, about 1 3/4 hours. Remove the pans from the oven and transfer the ribs to a platter.
4. Add 1 cup hot water to each roasting pan and scrape up the brown bits. Skim off and discard the fat, then transfer the liquid to a 10-inch skillet. Add the remaining 1 cup vinegar and 1/2 cup brown sugar and bring to a boil, stirring occasionally. Boil until thick and syrupy and reduced to about 1 cup, about 15 minutes.
5. In a charcoal grill, prepare a fire for direct-heat cooking over medium-hot charcoal. Alternatively, preheat a gas grill to medium heat. The ribs can also be broiled 3 to 4 inches from heat (instead of grilled) for about 8 minutes.
6. Brush some of the glaze onto both sides of the racks of ribs. Grill, turning occasionally, until the ribs are hot and grill marks appear, about 6 minutes. Brush the ribs with more glaze and serve with the remaining glaze on the side.
Salted Caramel Brownies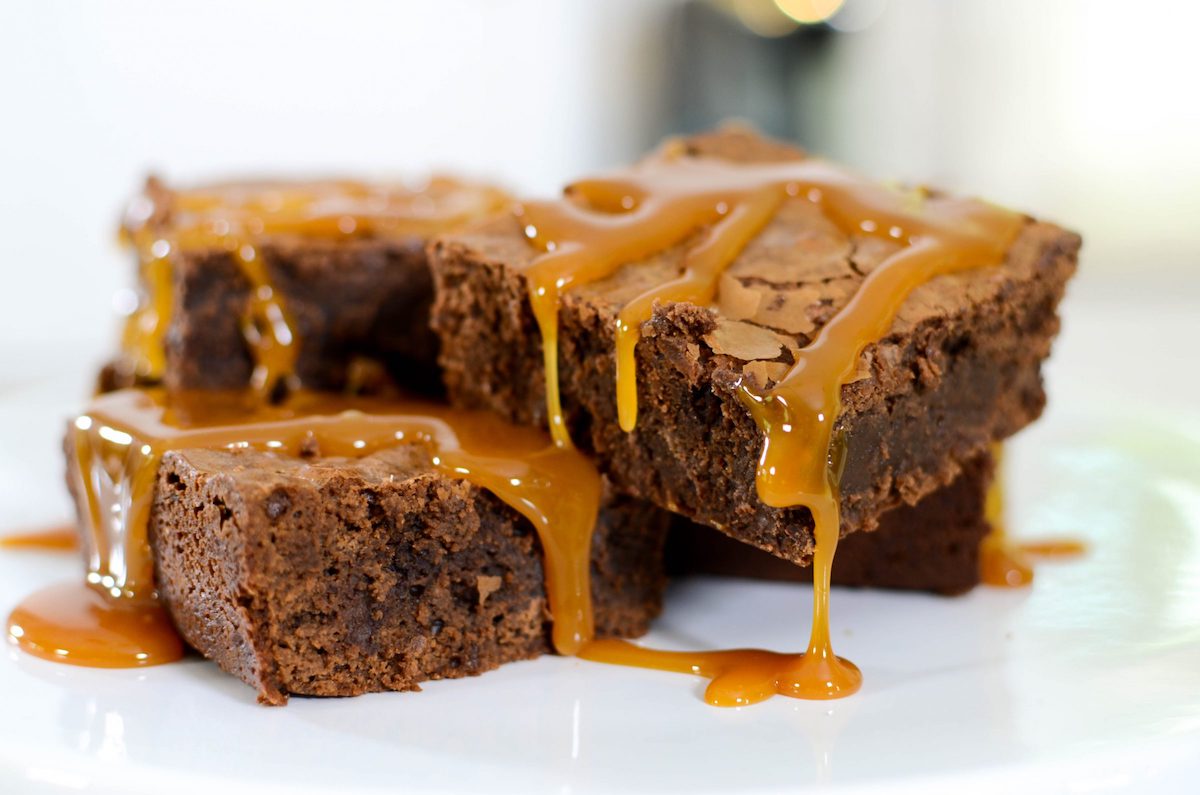 INGREDIENTS
Easy Microwave Caramel Sauce:
• 1 c sugar
• 2 tbsp. water
• 2 tbsp. light corn syrup
• 2 tbsp. butter, softened
• 1/4 c room heavy cream, room temperature
• Salt
Brownies:
• 1 c butter
• 4 oz semi-sweet chocolate
• 2 c sugar
• 4 eggs
• 1 1/2 c flour
• 1/3 c cocoa powder
• 1/2 tsp. salt
• 1/2 c semi-sweet chocolate chips
• approximately 10 ounces caramel sauce
• coarse sea salt
INSTRUCTIONS
1. Preheat to 350ºF. Lightly grease a 9×9 baking dish.
2. Melt together the butter and the semi sweet chocolate. Let cool slightly.
3. Stir in the sugar and the eggs. Mix in the flour, cocoa powder, and salt. Fold in the chocolate chips.
4. Spread the batter in the prepared baking dish. Bake for 30-35 minutes until a toothpick inserted comes out mostly clean.
5. Let cool completely before topping with caramel sauce and sprinkling with sea salt.
Caramel Sauce:
1. In a 4-cup microwave safe measuring cup (like Pyrex), combine the sugar, water and light corn syrup.
2. Microwave on high in 2-minute intervals until the mixture just starts to change color (this could take anywhere from 4 to 7 minutes depending on the strength of the microwave).
3. Carefully remove from the microwave and let stand until a golden caramel forms, about 2 minutes.
4. Using a wooden spoon, stir in the softened butter, heavy cream and a generous pinch of salt. Let cool before serving.