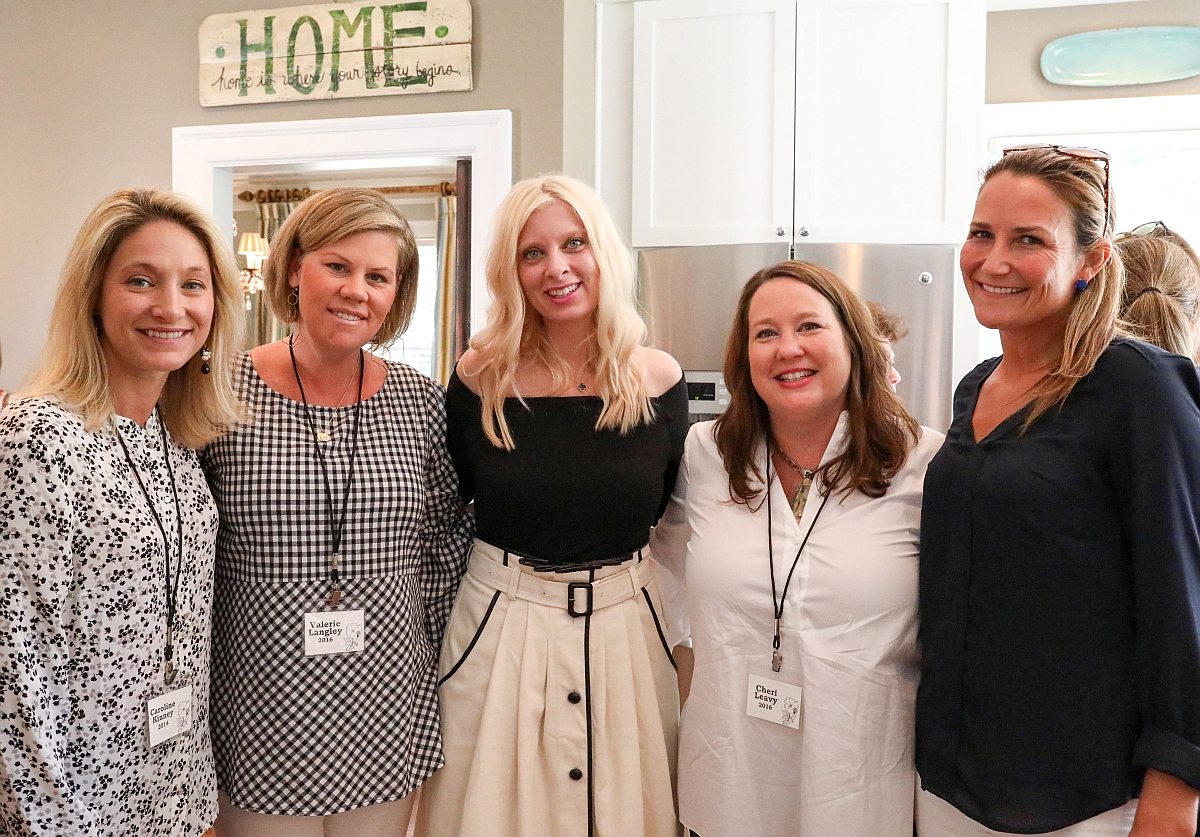 Waiting on Martha's founder and curator, Mandy Kellogg Rye, lives by one mantra, "Life should be lived beautifully every single day." She brings that idea to life on her blog, online boutique and in her brick and mortar shop in Vinings Jubilee in Atlanta.

Mandy visited the Heritage Garden Club of Athens to share her entertaining tips to spruce up your tailgate which included a grow your own cocktail kit. A Michigan native, Mandy says if she has learned anything since moving to the South, it's that football is life, and the tailgate is an art form.


One Pan Turkey Meatball Bake with Rustic Dipping Bread

INGREDIENTS

2 pounds organic ground turkey
1 cup white mushrooms finely chopped
4 cloves of garlic finely diced
1 egg
1/2-1 cup Italian bread crumbs
1 tsp. salt
1 tsp. pepper
1 tsp. garlic salt
2 Tbs. Worcestershire sauce
2 containers of fresh sliced mozzarella
2 jars of marinara sauce, your choice of flavor
Fresh basil for garnish
1 loaf of crusty bread
(sourdough, French, whatever you'd like)

INSTRUCTIONS

For the meatballs:

In a large bowl add the first nine ingredients and mix until well combined. You may need to add additional bread crumbs to create the right consistency. You want the mixture to be wet, but able to hold together.

Begin rolling your meatballs and set aside on a pan. You don't want them to be too big as you want them to easily fit onto your bread; about one inch.

For the bake:

Preheat the oven to 400 degrees.

Bring a large cast iron skillet to medium coated with non-stick spray to medium-high heat. Add your meatballs and cook until almost done turning the meatballs over to brown on all sides. Approximately 5-7 minutes.

Add marinara to your skillet and layer with mozzarella. Very carefully transfer to the oven and bake until cheese is fully melted. Approximately 7-10 minutes. Remove, garnish with fresh basil and enjoy!

Bulldog Bourbon Smash

INGREDIENTS

2 oz. Bulleit Bourbon Whiskey
A quarter to half cup of fresh citrus juice*
Club soda to top it off
Simple syrup, as preferred for sweetness
Whole basil leaves**, to garnish
Ice

INSTRUCTIONS

Fill a rocks glass with ice. Add 2 oz. bourbon whiskey. Add 1/4-1/2 cup of fresh citrus juice. Top of with club soda. Taste it and determine how much simple syrup to add. Mandy prefers it more on the tart side, so she is conservative here with the syrup. Garnish with fresh basil leaves. You can also muddle some basil into the drink for more flavor if preferred.

*For fresh citrus juice, you can use lemon, lime or orange, or any and all of the above. Mandy used a combination of all; you'll still get the flavor effect of citrus.

**She would not chop up the basil; it gets in your teeth! Instead, she likes to slap the whole leaves between her hands before adding to the drink in order to release the aromatics.

---


Please enjoy this photo gallery of Mandy Rye at Heritage Garden Club of Athens:

After clicking on one of the thumbnails below you may:

1. View a full-size version of the image by clicking the top left corner of the photo.
2. Start a slideshow of the gallery by clicking in the bottom right corner of the picture.
3. Share with your favorite social media outlets by clicking the icons along the left side of the photo.
4. Download (free) or email the image by using the bottom two icons on the left of the picture.

[foogallery id="112311″]

---
Recent Articles by Cheri Leavy


[pt_view id="cd9e7fbk8z"]