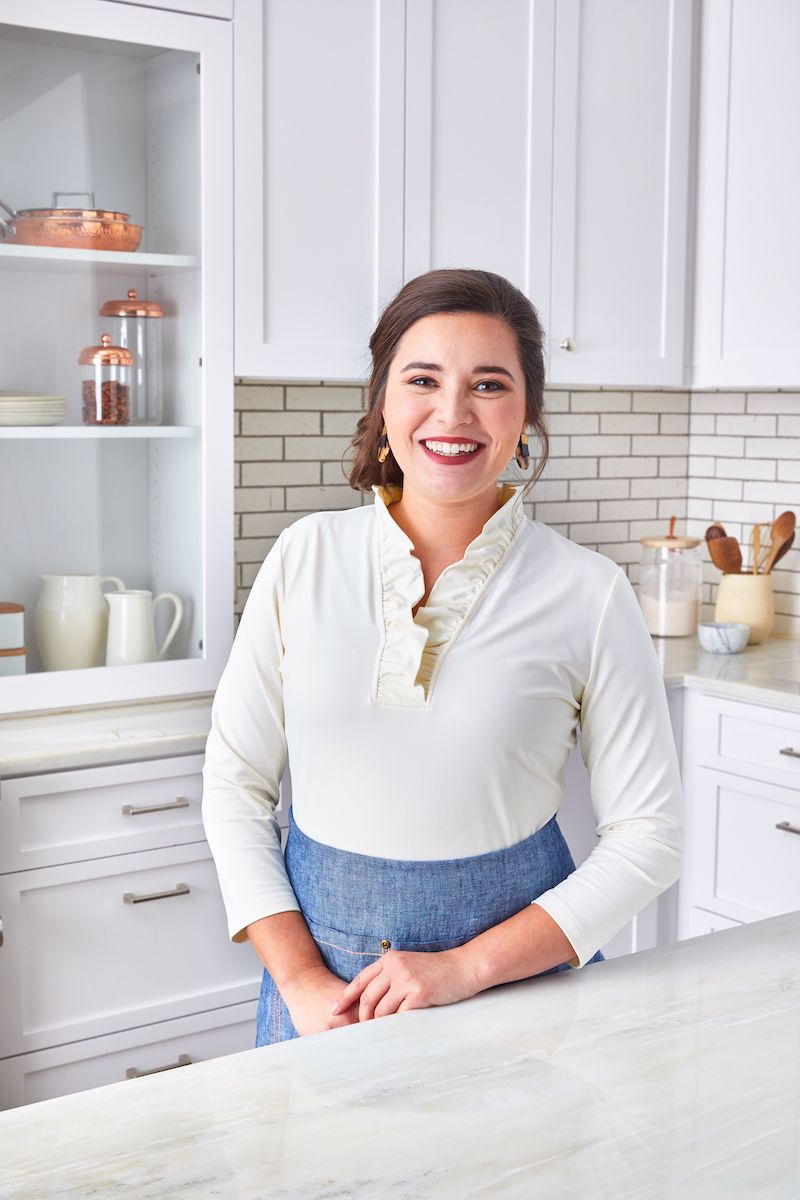 Have you ever tuned in to Southern Living's "Hey, Y'all!" series? Chances are it might have been your quarantine entertainment. Whether you're familiar with the Instagram TV series or not, you need to know Ivy Odom (B.A., BSFCS '15)— born and raised in Moultrie, Georgia and a huge fan of all things Southern. Through the series, Ivy passes down her family's traditions and recipes with her own modern spin. Of course this Recipe Tester and Developer in Southern Living's test kitchen boasts not one, but two, degrees from the University of Georgia where she majored in Consumer Journalism and Spanish and was recognized for her outstanding leadership, scholarship and service.
We recently spoke with Ivy to learn some of her favorite things and gather inspiration. Get to know her more here, and be sure to check out "Hey, Y'all!" on Southern Living's Instagram TV.
To always have on hand—
5 essential pantry items: pasta of any shape, garlic, onions, canned tomatoes, olive oil
5 essential fridge items: lemons, butter, cream, high-quality Parmesan, eggs
5 essential freezer items: ice cream, hog jowl for adding flavor to cooked vegetables, homemade chicken stock, mixed fruit for smoothies, sliced sourdough bread (game changer, because fresh bread at room temp is only good for a few days. Freezing extends the shelf-life.)
You've had a long day at work, what's something easy, yet delicious, that you're cooking for dinner? If you paid attention to my essential pantry and fridge items, you'd probably notice a pasta theme. Pasta is a staple dinner in my house— I don't discriminate on shape or sauce. My favorite go-to is carbonara with bucatini.
You're headed to a dinner party, what's your go-to appetizer to bring? I'm known for my killer pimento cheese. It's a quintessentially Southern crowd-pleaser, and it's so easy to make.
Pimento Cheese recipe:
1 (8-oz.) block sharp Cheddar cheese
1 (4-oz.) block mild hoop Cheddar cheese
1 (4-oz.) block creamy non-smoked Gouda cheese
1 cup mayonnaise (such as Duke's)
2 (4-oz.) jars sliced pimientos, drained
2 tablespoons finely grated sweet onion (from 1 small)
1 1/2 teaspoons Worcestershire sauce
1 teaspoon black pepper
1/2 teaspoon kosher salt
1/4 teaspoon cayenne pepper
1/4 teaspoon smoked paprika
Step 1: Grate all cheese on large holes of a box grater into a large bowl; set aside.
Step 2: Stir together mayonnaise, pimientos, onion, Worcestershire, black pepper, salt, cayenne, and smoked paprika in a medium bowl. Fold mayonnaise mixture into cheese until very well combined. Cover and refrigerate at least 4 hours or until ready to serve.
5 words to describe the South?
HOSPITABLE: Southern hospitality is a real thing. It's a part of our DNA, whether we know it or not.
HUNGRY: Does everything revolve around food anywhere else?
ROOTED: In tradition.
EVOLVING: Our traditions may run deep, but we're constantly looking towards new and better.
HOME: Even if you're not Southern, there's something in the water down here that immediately makes you feel at home.
What do you love about being in the kitchen and serving people, through that, in your home? Food is so humbling. It brings people together like nothing else in this world can. I love cooking for people because it's my hope that when they sit at my table, they're not only feeding their bodies, but their souls too.
Favorite "Hey, Yall!" video to date? "How to Build A Greenhouse from Vintage Windows"! My dad and I built a greenhouse together in my backyard. It was such a fun episode to film because it was completely different than our typical in-the-kitchen set-up, plus I got to spend it with my dad! It was his first time on the show, and he was so nervous. I loved giving him a hard time about his big on-screen debut.
Describe your perfect meal to celebrate 4th of July. I spend July 4th at the beach, so for me it's peel-and-eat shrimp with garlic and saffron aioli, some crusty bread, and a good glass of rosé. Either that or a hotdog, fully loaded. 🙂