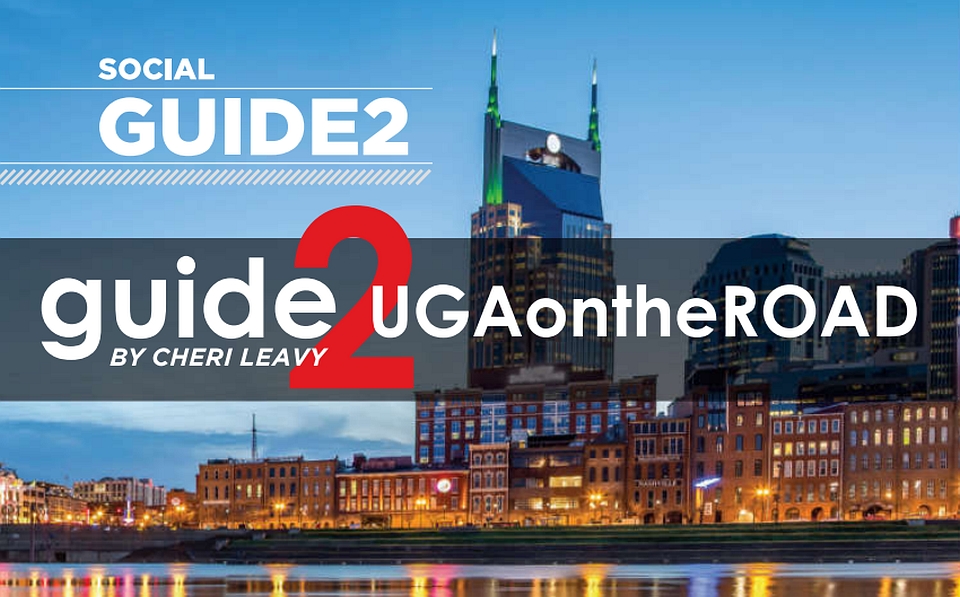 Bulldawg Illustrated loves a good road game and we hope to see plenty of red and black this season in these fun towns as we cheer on the Dawgs! We reached out to Georgia alumni that currently or recently lived in Nashville, Knoxville and Chicago (where most will stay for THE Notre Dame game in South Bend) and they shared their advice for how to tackle the town.

Look out for a GUIDE2GA/FLA in an issue later in the season. And Auburn, well we couldn't find a Dawg crazy enough to live there to share anything fun to do in that town.

Compiled by Cheri Leavy


---
GUIDE2NASHVILLE with Shelby McLeod

Name: Shelby McLeod
Family: Jeff, Kay & Mandy McLeod
Home Town: Madison, GA
Current Town: Nashville, TN
Years lived in Nashville: Almost 4
School/Degree: Franklin College of Arts and Sciences – Communication Studies
Profession: Singer- Songwriter
Describe Nashville in three words: Musical, eclectic, and booming!

Fave Restaurants: Moto, Giovanni's, Adele's, Martin's, Tavern, Saint Anejo

Favorite Shops: Blush, Hemline, Posh, Frye

Favorite Outdoor Activity: Hiking Percy Warner

Favorite Cultural Activity: Seeing a show at the Ryman! It's truly a religious experience.

Game Day Plan: I love to start at Martin's with some great BBQ to feel like I'm really at home cheering on the Dawgs. Depending on the time of the game, we'll usually migrate over to Demonbreun to either South (Bonus: South is a Georgia owned bar!) or Dawghouse to take advantage of the big screen TV's and cornhole. Because nothing says it's game day for the dawgs in Nashville like a drink on Demonbreun and a game of cornhole, with other people wearing red!

---
GUIDE2KNOXVILLE with Harlow Sumerford

Name: Harlow Sumerford
Family: Father – UGA grad Rees Sumerford (father), Brooke Sumerford (mom), Chase Miller (sister), and my wife Betsy and I are expecting our first child this football season (due date: October 15th)
Home Town: St. Simons Island, Ga
Current Town: Nashville, TN
Years Lived in Knoxville: I moved to Knoxville in 2007 and then Betsy and I married in 2012 and lived there til 2015. However, Betsy grew up in Knoxville (moved to DC and then back). Now we live in Nashville.
School/Degree: History Major at Roanoke College in Virginia
Profession: Director of Communications for TN Attorney General's Office
Describe Knoxville in three words: Laid back southern city mixed with a college and mountain town feel. (sorry, that's not three words!)

Favorite Restaurants: J.C. Holdway, which is just off Market Square. The chef and owner was previously Executive Chef at Blackberry Farm. Stock and Barrel, a burgers and bourbon joint on Market Square. For a football weekend, you can't go wrong with Calhoun's on the River, a BBQ place in short walking distance along the water to Neyland Stadium. Sunspot on Cumberland Ave is a good southwestern place with a nice rooftop bar. Overall, Market Square is a pretty good downtown spot for restaurants, bars, and shops – Tupelo Honey Café is also there.

Favorite Shops: M.S. McClellan & Co. – Gentlemen's clothing store but does carry ladies items as well. The Village Exchange – Home and clothing store for women. O.P. Jenkins for furniture. And finally, there are plenty of little boutique shops on Market Square.

Favorite Outdoor Activity: Knoxville has a great greenway system for running and biking, but if you have the time, go for a hike in the Great Smoky Mountains. Paddle boarding at Ijams Nature Center is another good option.

Cultural Activity: Not sure if this qualifies but catching a show or concert at the Historic Tennessee Theatre or the Bijou Theatre, both downtown on Gay Street.

---
GUIDE2CHICAGO with Ryan Brennar

Name: Ryan Brenner
Family: Howard Brenner (dad), Sheri Brenner (mom), Zack and Gary Brenner (Brothers)
Home Town: New Orleans
Current Town: Chicago (West Loop)
Years lived in Chicago: 1++
School/Degree: Double Major in Business Management and Real Estate
Profession: Area Manager for Amazon
Describe Chicago in three words: Best City Around

Fave Restaurants: Lou Malnati's (Best Deep Dish in town), Chicago Pizza Oven Grinders, Portillos, Mercadito, Sunda Little Goat, Au Cheval, Prime and Provisions.

Favorite Shops: Michigan Ave.

Favorite Outdoor Activity: Lincoln Park Zoo or Millenium Park or enjoying any of the fine rooftops/patios Chicago has to offer.

Favorite Cultural Activity: Field Museum or Art Institute

Game Day Plan: Friday. we will be in the bleachers for the Cubs-Brewers game at 1:20 p.m. Saturday, we will be busing over to South Bend in the morning and tailgating with any and all UGA fans and then go into the game for a Saturday night under the lights beat down of the Irish.

---
GUIDE2CHICAGO with David Abernathy

Name: David Abernathy
Family: Wife Alison and 2 boys Hatton (15) and Jack (10) and our golden, Sam
Home Town: The Granite Capital of the World, Elberton GA
Current Town: Athens, GA
Years lived in Chicago: Off and On 2005-2009
Years at UGA: 86-90
School/Degree: BBA Risk Management & Insurance
Profession: Region President – First Insurance Funding Corp.
Describe Chicago in three words: Too Damn Cold

Fave Restaurants: I am sure there are many new excellent restaurants but old standbys were Frontera Grill (great Mexican), Gibson's for Steaks, North Pond in Lincoln Park for date night, Rockit for a burger and truffle fries and Lou Malnati's for Deep Dish Pizza. Most of the best restaurants are in River North and West Loop neighborhoods but venture out to Ukranian Village, Greektown, Bucktown/Wicker Park and Lincoln Park for a locals vibe.

Favorite Shops: Alison said shopping on Michigan Avenue is everything you could possibly imagine. Huge TopShop & H&M for trendy stuff. Oak Street has good places and small boutiques too. Google Maps is very detailed so I'd use that. Obviously Magnificent Mile. Oak Street off Michigan has great boutiques too. Bucktown and Lincoln Park have great neighborhood shopping.

Favorite Outdoor Activity: Shoveling Snow… not. Summer is great. There are tons of bike paths, great golf courses, music festivals and just walking the city. And, of course, nothing better than a day game at Wrigley In the winter. We did have an outdoor ice pond in Lake Forest where we lived and that was fun. I might be the only person born in Georgia that actually owned a pair of ice skates.

Favorite Cultural Activity: Our boys were young so Museum of Science and Industry was our favorite. There are also many small theaters and comedy improv spots like Lookingglass, Steppenwolf, and Second City.

Game Day Plan: Depending on how late Friday night, a walk/run by the lake, bloody and burger at Rockit, then hop on the bus to South Bend to watch the Dawgs beat the Irish.

---
Recent Articles by Cheri Leavy


[pt_view id="cd9e7fbk8z"]