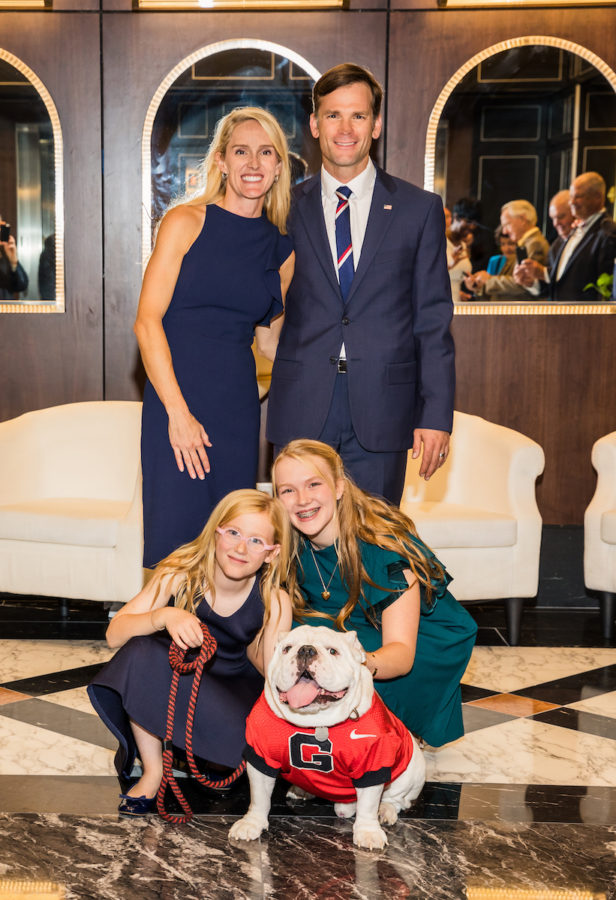 Name: Judge Stan Baker
Family: Wife Crystal Baker, (JD '03), daughters Anna Beth (14) and Bella Grace (9)
Hometown: Athens
Current Town: Savannah
What Years at UGA: 1985-1994 (football gameday program salesman), 2001-2004 (law school student)
School/Degree: School of Law, JD, magna cum laude
Profession: United States District Judge, Southern District of Georgia
Accolades: Joseph Henry Lumpkin American Inn of Court; College of the National Association of Railroad Trial Counsel; Order of the Barristers; UGA School of Law Moot Court and Mock Trial Boards; Gridiron Society; Davidson College Track & Field, Team Captain and Letterman; Davidson College Football, Letterman; Davidson College Fellowship of Christian Athletes, President.
What life lessons did you learn while at UGA? Too many to recount. I made invaluable friendships during my time in law school, and those friends taught me the true meaning of altruism and how to take a joke. Professors at the law school like Randy Beck, Kellie Casey, Dan Coenen, C. Ron Ellington, Tom Eaton, and David Shipley taught me that the practice of law is a noble profession. They confronted the modern perception of lawyers as profit mongers and challenged me to use my law degree to serve others. I am immensely pleased that our law school continues to teach these lessons and is thriving today under the leadership of my good friend Dean Bo Rutledge.
What professor did you most admire? Professor Perry Sentell. Professor Sentell (or "Prof" as those of us in Section T affectionately refer to him) demanded a great deal from his students, but he demanded even more from himself. When I walked into his torts class my first semester of law school, Sentell had been teaching for more than 43 years. However, he prepared for that class and every class after it like it was his first day on the job. Professor Sentell understood the critical importance of the pursuits of knowledge and justice, and he imbued that understanding in generations of Georgians.
What do you consider your greatest achievement? Being a husband to my incredible wife, Crystal, and being a father to our girls, Anna Beth and Bella Grace, are the most fun, honorable, and meaningful things that I have ever done or will ever do. A distant second would be getting smoked by Randy Moss at a college track meet. It was a short distance sprint, and I think he was already in his sweat pants drinking a Powerade by the time I crossed the finish line.
Which historical figure do you most identify with? Irwin M. Fletcher
Who are your heroes in real life? Coach Billy Henderson and my mom, Maureen Meyer. They are so different but so much alike. Both came from humble beginnings and had more than their fair share of adversity, yet both approach life with infectiously positive attitudes. They both attained personal success, but that was never their focus. Coach transcended sports and essentially single-handedly integrated Clarke Central High School when everyone said it could not be done. Mom quietly blazed the trail for female businesswomen in Athens while raising four children as a single mom, and she continues to set the standard for community service.
Quote to live by:
"To do justice, and to love kindness, and to walk humbly with your God."

The prophet Micah
What is your idea of perfect happiness? The day starts at sunrise with fly fishing for tailing redfish on a flood tide on the back waters of St. Simons. Crystal, our girls, and I then stop by Southern Soul and pick up some ribs from Griffin Bufkin on our way off the island. We head up Highway 15 with a stop at Dairy Lane for a strawberry milkshake and make it to Athens in time to hit a few tailgates, the highlight being Peggy Galis' house. The Dawgs beat Alabama in Sanford, and we ring the Chapel Bell on our way to The National where Crystal and I top the day off with dinner, followed by a concert at Georgia Theatre with friends, and a late-night slice of pizza from Little Italy or a hot dog covered in comeback sauce from JB's.
What is your most marked characteristic? Stubborn optimism. I always try to see the silver lining, and I think that our best days are ahead of us.
What do you most value in your friends? One of my favorite Lincoln quotes is,
"I'm a success today because I had a friend who believed in me and I didn't have the heart to let him down."

Abraham Lincoln
At every stage of my life, I have had countless friends that have believed in me and supported me, and any success I have attained is more of a testament to their belief and support than any of my own abilities.
If you could change one thing about yourself, what would it be? I can't limit it to just one. I would be as funny as Judge Lawton Stephens, as well-liked as Judge Steve Jones, as intelligent as Judge Lisa Godbey Wood, as good a golfer as Judge William Moore, and as fast as Matthew Boling.
Who are your favorite writers? Again, too many to list but I'll give you five in no particular order. Hemingway (he wrote about places I wish I could travel and adventures I wish I could take with a writing ability I wish I could emulate); Judge Learned Hand (you know I was going to include a judge, and L. Hand was an absolute master opinion writer); Carl Hiaasen (when you live on the coast, you have to have a beach read, and Hiaasen is hilarious even if he is a crazy Gator); Guy Clark (my favorite songwriter could make you think deeply, laugh, and cry all in the same stanza); and Harper Lee (she inspired many to pursue honor in the legal profession, and along with the great Mark Twain she inspired the name of a Baker dog or two).
Fave social media and who to follow? Sorry, I spend too much time following my kids to ball games and ballet recitals to follow anyone on social media.