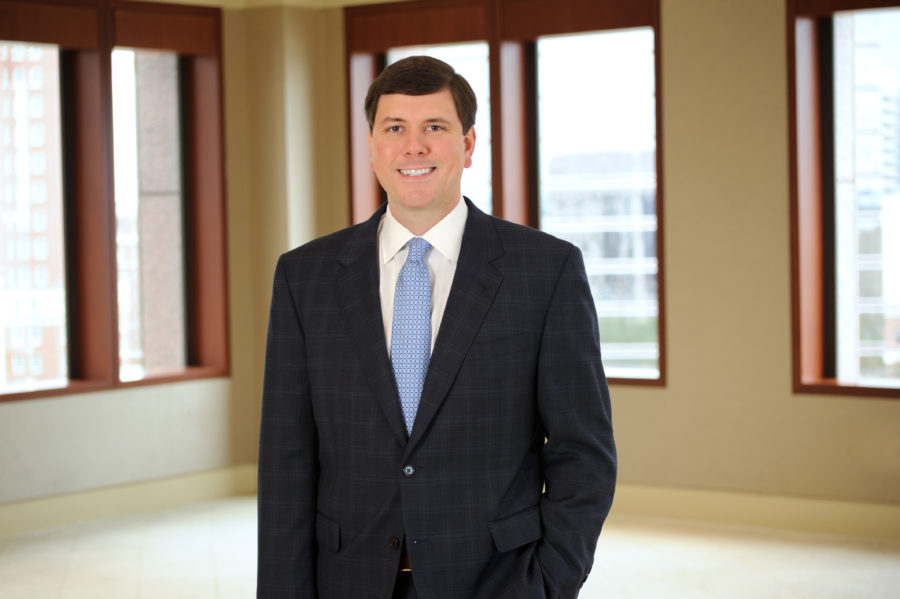 Name: Robert A. Watts
Family: Meg Watts (wife); Millie Watts (4)
Hometown: Augusta, Georgia
Current Town: Atlanta, Georgia
What Years at UGA: 2004-10 (long story, not all spent living in Athens unfortunately …)
School/Degree: School of Public and International Affairs/B.A., Political Science
Profession: Associate, Jones Day
Accolades: Board, UGA Alumni Association; Commissioner, Georgia Government Transparency and Campaign Finance Commission; Board, Georgia State Law Alumni Council; Board, Trinity Community Ministries
What life lessons did you learn while at UGA? Humility; time management; leadership
What professor did you most admire? Professor Charles Bullock. He is an outstanding professor in the classroom, but I admire him more because he thinks so far beyond the classroom and recognizes career opportunities for students. Not only does he encourage students to take those opportunities, he helps secure them. He is still a mentor to me and so many others because of his active role in students' lives.
What do you consider your greatest achievement? My greatest achievement is more of a blessing than achievement. I have the best family in the world, with an incredible wife of almost 10 years and a daughter that I cannot be more proud of. I am also very proud to work with some of the best clients in the world, while reserving a significant amount of time for public service and pro bono legal work.
Which historical figure do you most identify with? It is hard to say that I identify with a former President, but Gerald Ford. He pardoned President Nixon after taking office in an effort to heal the nation, and it cost him the presidency. He is a great reminder to do the right thing no matter the cost, and I need that reminder in difficult situations.
Who are your heroes in real life? There are too many to count. I am the first to admit that many people have invested in me over the years, and every success is due to their investment. My parents, Mike and Mary Watts, have provided so much through their love and encouragement, and they are incredible examples of how to raise a family. My wife challenges me to be better, listen more, and do more (on top of putting up with me daily).
Quote to live by:
Always Bark Together.

Me
What is your idea of perfect happiness? Outside of a perfect fall Saturday in Athens, it has to be a round of golf in the morning, followed by beach all day with family and friends, and a steak on the grill that night.
What is your most marked characteristic? Loyalty and laughter.
What do you most value in your friends? Honesty and loyalty.
If you could change one thing about yourself, what would it be? My golf game. I have probably played more golf than ever during this pandemic, and my index is going in the wrong direction. But seriously, I think we could all do a better job these days of listening to one another.
Who are your favorite writers? Sir Thomas Carlyle because of his masterpiece, Sartor Resartus. There is no better book for self-reflection.
Fave social media and who to follow? Facebook is all I have. TJ Callaway of Onward Reserve is who I follow because I cannot figure out how to get him off my news feed.