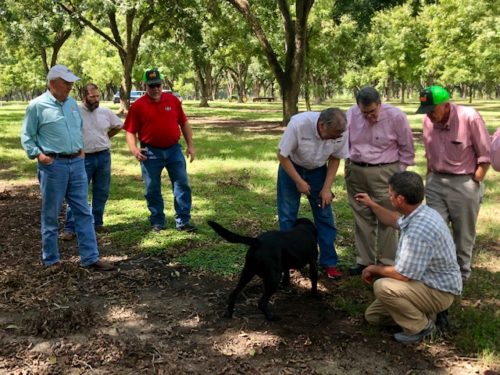 Name: Eric Cohen
Family: My wife, Mollie Knight Cohen (B.S.Ed. '00), and two children: Bradley (Age 16) & Elizabeth (Age 13)
Hometown: Brinson, Ga.
Current Town: Whigham, Ga.
What Years at UGA: 1998-2000
School/Degree: College of Agriculture/Bachelor of Science in Agricultural Economics
Profession: Owner of Cohen Crop Consulting, Co-Owner R&E Pecan Growers, LLC, Co-Owner Pecan Ridge Plantation
Accolades: Leadership Georgia ('14), UGA 40 Under 40 ('16), UGA Alumni Board ('17-18)
Down Home Cooking
What are five ingredients always in your pantry?
(1.) Onions and garlic
(2.) Pecans
(3.) Himalayan Salt
(4.) Pecan Oil
(5.) Pecan Truffle Oil
What are five ingredients always in your fridge?
(1.) Farm-fresh eggs
(2.) Lemon and limes
(3.) Southern Soul BBQ sauce
(4.) Sour Cream
(5.) Bacon
Favorite local seasonal produce right now?
Pecans, of course! I grew up working in pecans on our family farm and now farm them myself along with my brother, Rob ('97). Besides that, they are full of vitamins, minerals, and have the most antioxidants of any nut. To me, fall means pecans and just about every meal or gathering consists of them in some fashion this time of year.
If you had to choose one last meal, what would it be?
Grilled oysters topped with parmesan cheese, bacon crumbles, chives, and a splash of hot sauce along with tomato-basil soup and crackers.
If you could only have one cookbook, what would it be?
James Farmer's Dinner on the Grounds. Every recipe is easy to follow, mouthwatering, and a crowd-pleaser!
Who are some up and coming culinary names in the south … some visionaries we should be looking out for?
A few of my favorites are:
Chef Tyler Thomas, owner of The American in Bainbridge, Ga. (Amazing new restaurant!)

Chef Lara Lyn Carter – Albany, Ga.

James Farmer – Perry, Ga.

Vera Stewart – Augusta, Ga.
What is your "signature dish?"
All of my friends and family say my cast-iron skillet filet mignon is their favorite. You can ask Dean Pardue if he agrees!
Cast-iron Skillet Filet Mignon
Ingredients:
Filet Mignon – 2" thick

Pecan Ridge Plantation Pecan Oil

Salt & Pepper
Instructions:
Preheat oven to 400 degrees. Rub filets with pecan oil on both sides. Sprinkle with salt and pepper. Pour a small amount of pecan oil into a cast-iron skillet and heat on the stove until skillet becomes very hot. Add steaks and pan-sear using high heat for 2 minutes on each side. Then, transfer the skillet to the oven and bake at 400 degrees for 10-12 minutes.
To Market…To Market
How did you get into the culinary business?
I actually stumbled into the culinary scene with no intention of ever being here other than always having a passion for good food. My brother and I both graduated from the College of Agriculture and purchased our first pecan orchard in 2001. We grew our pecan business from 45 acres to currently farming 1500 acres. (Due to Hurricane Michael, that number has significantly changed, but that's a different story and we aren't sure where we stand, yet.)
In 2014, my brother began testing the local market for interest in pecan oil and found the results to be very encouraging. We then decided to purchase our own pressing machine and began producing larger volumes of pecan oil. Around the same time, while discussing pecan farming with Dr. Tim Brenneman, a plant pathologist at UGA's Tifton campus who is credited with discovering pecan truffles in Georgia in the 1980s, I learned about a black lab being trained as a truffle dog nearby and I was immediately intrigued! I thought having a truffle dog would be a unique opportunity for my kids to learn some business and leadership skills. After speaking with the trainer several times, I took my family to meet him on Christmas Eve and of course, we fell in love with him at first sight! It was not currently truffle season at the time so we had to wait until late July to even start searching our pecan orchards to find out if we even had any truffles, but regardless, we had a hunting dog and new family member, Tate.
Fast forward to July and Tate was successful in finding pecan truffles in a few of our orchards but they are very rare. That discovery along with producing pecan oil led us into officially launching a gourmet business in 2015 known as Pecan Ridge Plantation. That was the name of one of the most recent orchards we had purchased at the time and we had already designed a logo for a sign in the orchard and it just seemed to be the perfect fit for our pecan oil business name and logo, too. Again, we had no real plans for any of this to happen.
Different pieces of a puzzle just seemed to begin fitting together and here we are. It all truly started as a way for us to get our children involved in our family business and teach them valuable skills and work ethic at an early age. While I never had any intentions of ever being in the culinary business, it has proven to be an exciting new adventure and I've met some really great friends and neat people along the way. Looking back on how my classes at UGA impacted my business today, I give Dr. Turner's marketing class credit for teaching me the most about the business world. One of my main takeaways from his class was to always look for something unique. I immediately knew Tate was unique. He also taught me to remember that the boss or CEO of a company is not the only one who makes decisions. Many times, you deal with several other people along the way who determine whether you even get an opportunity to meet the boss. It's how you treat every person along the way that matters.