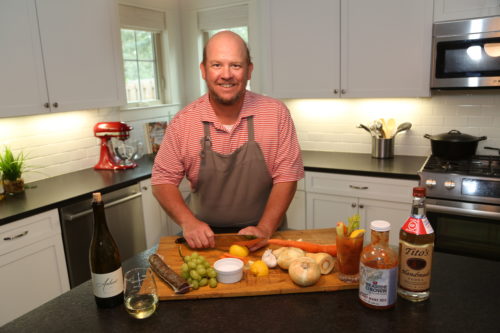 Name: Matthew Sligh
Family: Michelle, wife and children: Charles (26), Duncan (22), Matthew (17), Betsy (12)
Hometown: Athens, Ga.
Current Town: Saint Simons Island, Ga.
What Years at UGA: 1987-1994
School/Degree: Franklin College of Arts and Science, English
Profession: entrepreneur, owner Saint Simons Bottle
In April 2018, The Sligh Family purchased the long-standing Pub Package Store on Saint Simons Island and rebranded it Saint Simons Bottle. Realizing a lifelong dream, we packed up our house, moved to the coast and went to work serving both the island residents and guests while meeting up with the numerous UGA alumni across the area. It's a family operation as Michelle helps with marketing and branding. Our sons are involved too as Charles runs the day-to-day operations and specializes in beer and Duncan is finishing his degree and works in the store handling client relations and general sales.
ACCOLADES: I have only had the store for a few months, so I don't have any official accolades in this career yet … but the following are of note:
My mother (Jenny Sligh, UGA '51) says I am very nice and since she is 85 years old, I think that counts.
Griffin Bufkin (Southern Soul Barbeque) likes to come in the store and talk to Charles (who runs the beer department) about beer. I think that counts, too.
Brothers Gordon (UGA '84 Terry College of Business) and Stuart (UGA '87 Warnell School of Forestry) have thrown me some accolades … but I did send them some bourbon, so that could have had some influence.
Don Leebern at Georgia Crown says we are selling more UFO Georgia Peach Beer than anyone in the state, so that is a nice accolade.
Local Buddy McNeese (UGA '94 Franklin College of Arts and Sciences) says that we have the best beer selection. Anywhere.
Brin Meredith (UGA '90 Terry College of Business) says we have the best drive-thru. And he likes that we have a fishing map of all our favorite spots hanging on the front walk in cooler.
George Ryan (UGA '89 Terry College of Business) says we have the best wine selection on the island. And that has some weight. George knows

wine.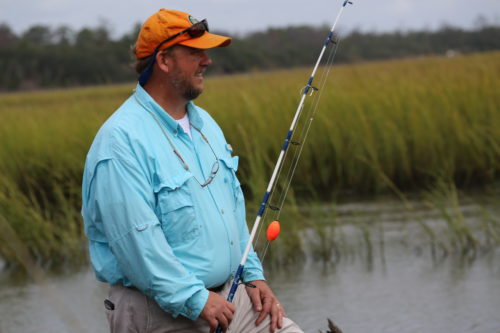 Down Home Cooking
What are five ingredients always in your pantry?
Southern Soul Dust (sweet and savory dry rub – Trust me on this.), Cavender's Greek Seasoning (John Culpepper put me on that stuff.), Lea & Perrins Worcestershire Sauce (E. H. Culpepper taught me that.), Old Bay Seasoning (You would be surprised what it goes well in/on/with.) and Certified Hot Sauce (from Certified Burgers & Beverage – Yep, I like it. Try it.)
What are five ingredients always in your fridge?
Butter (lots of butter – sweet cream, salted), 2. Palmetto Cheese Pimento Cheese and Hot Mess Cheese Spread from Phickles (key ingredients), 3. Phickles Pickles (Okies, Snaps, Stix, Wedgies … like candy to us), 4. Celery (fresh and crunchy) 5. Cucumbers/ avocados/artichoke. No way to limit this to just five!
What are five ingredients always in your cooler?
Limes, 2.Fresca/blood orange/bitters/cranberry juice, 3. Tito's Handmade Vodka, 4. Frank Sinkwich recommended Rose' or Pinot Noir 5. Six pack of Disruption Brewing Company's Gravity Storm Double IPA (not really an ingredient but a key refreshment for the cook!)
If you had to choose one last meal, what would it be? What would you drink with that meal?
This one is easy, because we actually have it fairly often … and when I do I know I am with good people … my people. I have to warn you, it's a long meal and involves day drinking. It begins at mid-afternoon, preferably with a 3:30 p.m. away game or a 7:30 p.m. night game. Either one is fine. If Mack Furlow is present, it guarantees a win.
Hors d'oeuvres: Bruschetta 301 (pronounced Shreeohone) Reduce dove stock, add red wine, reduce further. Finish reduction with Sherry or Madeira. Place grilled dove breast on garlic toast. Add sautéed onion and apricot marmalade then drizzle Shreeohone reduction all over. Eat soon.
Pairing: Creature Comforts Tropicália IPA (Savannah Distributing) or CÔTES DU VENTOUX "CUVÉE DES 3 MESSES BASSES" ROSÉ (Northeast Sales Distributing)
Starter: Big Shorty's Steamed Oysters – start by sending someone down to Savannah for a few bushels of Georgia oysters. That's right … Georgia oysters.  (Editor's Note from Cheri Leavy: You can get killer ones from neighboring Eulonia too.) Build a wood fire in a pit with block on two sides. Construct a litter from stainless steel about two feet wide and four feet long with handles sticking out a couple of feet on each end. Get some burlap sacks and wet them down. Put shovels full of oysters on litter and cover with wet burlap. Remove with shovel when they begin to open and take to shucking table. Serve with good cocktail sauce made by George Ryan and a Saltine cracker and some drawn butter.
Pairing: 2017 Chateau Ducasse White Bordeaux from Northeast Sales Distributing (a Frank Sinkwich special available at Saint Simons Bottle).
Main Meal: Venison Stew (potatoes, carrots, onions, garlic, mushrooms, Seaside Grown Bloody Mary Mix, slow cooked in a cast iron dutch oven for eight hours (I told you we started this early); collared greens (preferably from Southern Soul BBQ); Bojangles buttered biscuits.
Pairing: Hawk and Horse 2013 Block3 Cabernet Sauvignon (Double Gold Medal, Best in Show 2018 WSWA)
Dessert: Homemade Pecan Pie served hot with vanilla icecream
Pairing: 2012 Hawk and Horse Latigo
Who are some up and coming brewery or spirits names in the south … some visionaries we should be looking out for?
Of course, our favorites are Creature Comforts and Terrapin right in Athens, but you really need to check out Oconee Brewing Company down in Greensboro, Ga. Taylor Lamm, Nathan McGarity and John McGarity (all UGA graduates) have done a fantastic job of renovating an old warehouse space downtown and have really built something special. The Tap Room is just wonderful to see and the Mean Machine Red Ale is off the chain just like this team Coach Smart has built. Can I get a Go Dawgs?!?
We also like the Six and Twenty Distillery located in Piedmont, S.C. Henry Monsees turned us on to them and we are extremely impressed with their products. Jimmy Maupin has already picked up the Carolina Cream (rum, cream, bourbon, spices) and says it is great on its own, as a dessert, or mixed in a cocktail. They also make the world's only 5-Grain Bourbon, with all the grains grown in South Carolina.
Seaside Grown Bloody Mary Mix comes from Seaside Farm in Frogmore, S.C. on St. Helena Island (just across the river from Hilton Head). We really like this Bloody Mary mix because there are over two pounds of their own tomatoes in each bottle, no artificial ingredients, and each batch goes from field to bottle in just a few hours at harvest time. Now even though Ross Taylor is a Clemson guy, his product is for sure the best I have had and has many more uses than just making a dang good Bloody Mary. This one is really worth a try.
What is your "signature dish?"
This one may catch people that know me by surprise, because I really do not like sweets. Rarely do I eat dessert, with the one exception being a terrible weakness for pecan pie. As a result, I began to study the proper (read old fashioned) method for making this true southern delicacy. While I don't claim to be a master of this (yet), I have had many compliments on this. Katherine Culpepper has given my pecan pie two thumbs up. Note – this is prepared with no corn syrup … too sugary for me. But I do start with frozen crust … still working on making great pie crust from scratch.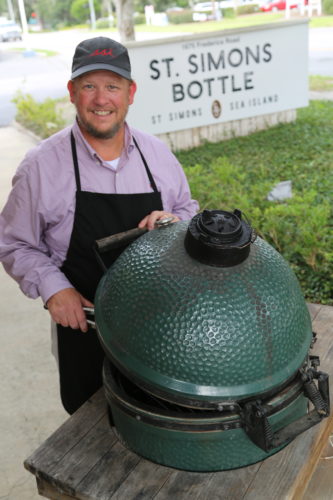 Matt Sligh's Pecan Pie
Ingredients:
9 inch frozen pie crust

2 cups pecans (best from Wade Plantation)

2 tablespoons all-purpose flour

2 tablespoons butter (sweet cream, salted)

¾ cup real maple syrup

¼ cup dark brown sugar

¼ teaspoon cinnamon

2 teaspoons vanilla

¼ teaspoon salt

2 eggs
Instructions:
Set up Big Green Egg for indirect cooking. Light it and bring to steady 375 degrees. Spread pecans on a baking sheet. Roast lightly for 5-7 minutes. Remove and set aside. In a sauce pan, melt butter. Whisk in flour, cook 2-3 minutes medium heat until light brown and bubbling. Don't get distracted. Whisk in water, continue to whisk for 2-3 minutes. Add maple syrup, brown sugar, cinnamon, vanilla and salt. Whisk together. Remove from heat and let stand to cool. In a bowl, whisk together eggs. Add 2-3 tablespoons of the brown sugar syrup mixture to the eggs (once sufficiently cooled) and stir together. Eggs should not cook (or scramble). Add the eggs back to the brown sugar/syrup pot and stir until smoothly blended. Place pecans in the bottom of the pie crust and spread evenly. Pour egg/brown sugar/syrup mixture over pecans in pie crust. Pecans should disperse and rise. Place pie in center of Big Green Egg and bake for 25-30 minutes until center is firm. Check at 20 minutes and foil crust edges if getting too brown.
To Market … To Market
How did you get into the bottle shop business?
I have always wanted to live on Saint Simons … or at least as long as I can remember. My family would vacation here and we brought our children here on vacation so we have known Saint Simons for a long time. When we saw that the store was available for purchase, it seemed like a good way for us to finally make the move down and do something together as a family. Everything kind of came together and here we are, working harder than ever, but working together and having fun in the process. The funny thing is, with the close ties that Saint Simons has with Athens, Macon, Columbus, Augusta, Atlanta, Memphis, etc. it is like I have moved across the street from all of my old UGA friends. I have seen tons of people in the last six months that I have not seen in 20 years. It truly is like I never left home.
What makes Saint Simons Bottle unique?
Location – We have the largest store on Saint Simons Island and are working hard to have one of the finest stores from Savannah to Jacksonville.
Attitude – If there is one thing I learned from my mom Jenny Sligh and from watching her and Kitty Culpepper these last 30 years at Appointments at Five, it is that nothing is more important than treating people the right way. We are grateful for every single person that comes to our store, and know that a smile, good manners, and extra effort can make all the difference. People have many choices of where they can shop and if they choose to shop with us, we will absolutely make sure they know we are grateful.
Selection – The beer, wine and spirits industry is in the middle of a bit of a renaissance with the vast selection of craft beer that are available, the emerging dominance of American wines, and the explosion of craft spirits. We are in the thick of that and have already built one of the finest beer and wine selections for miles. We are in the process of upgrading our spirits section, so soon we will be able to add that to the list as well as our premium mixers and accompaniments.
Social Scene
If you could take over an Instagram account for the day, who's would it be and why?
Well here's the problem … I am terrible at Instagram. There is no way I could do it unless Betsy (age 12) could help … but it would be fun to take over Kirby Smart's account so we could reach out to the Dawg Nation and tell all of them to come down to Saint Simons for the Georgia-Florida game. People here are tremendously fired up about us whipping Florida. When I was at Georgia, we did not do so well against those folks and it is payback time. Just like Munson's great call from all those years ago when he talked about all those Dawg people on Saint Simons … they are still here and this island is going to be rocking when we kick those Gators back in to the ocean or the swamp or wherever the heck they came from. Every Georgia fan should make the trip at least once … and I think they should all come this year!
If you could ask one person or brand to take over YOUR Instagram account, who would it be? 
Jeff Dantzler. I would hope that perhaps then I could capture 1/1000 of the infinite knowledge he has of all the history of the University of Georgia for future reference. How does he keep that all in his head? Could you imagine the statistics he could put out about the store? I think JD could come up with some interesting historical references to former UGA greats and probably even knows their favorite beverages of choice!