[su_spacer size="20″]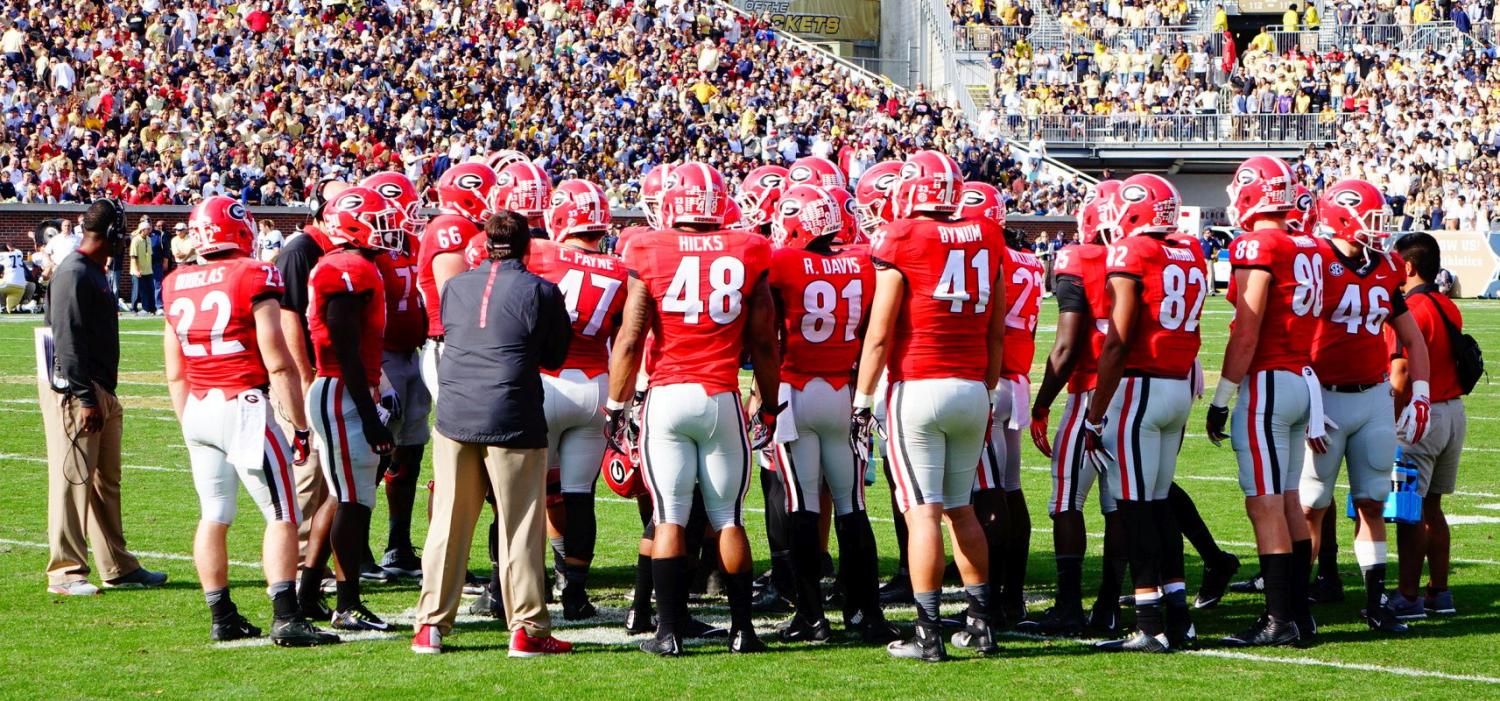 [su_spacer size="40″] ATLANTA − Although there may have been signs, little did we know for sure as we watched Georgia battle state rival Georgia Tech for the 110th time here on Saturday, Nov. 28, that it was Mark Richt's final game as head coach of the Bulldogs.
[su_spacer size="20″]
Having covered Coach Richt for all 15 of his years at UGA, I have to say I have never met a guy with more class, more compassion than Georgia's head mentor. Not only did he treat his Bulldog players and fellow coaches with the utmost respect in those 15 seasons in Athens, likewise, he also dealt with us here in the media in a first-class manner, always setting aside time for personal interviews when his busy schedule allowed.
[su_spacer size="40″] Mark Richt loved his football players, coaches, the Georgia fans and, most of all, loved his Lord. He's been a walking testimony of how a public figure should conduct himself this past decade and a half.
[su_spacer size="40″] And his record guiding the Bulldogs − 145-51 with a school-best .738 winning percentage − speaks for itself. The only reason he won't continue as Georgia's head coach following the upcoming bowl game is because of the fact he hasn't been able to take the Dawgs to an SEC championship over the past 10 seasons. And in this what-have-you-done-for-me -lately society in which we now live, that is pretty much a career-ending statistic. Like I've said several times, the Bulldogs' greatest coach of them all, Vince Dooley, may not have made it to the Herschel years of 1980-82 if he were coaching this day and time … what with the 5-6 and 6-5 records he posted in 1977 and 1979, respectively.
[su_spacer size="40″] Bottom line, whatever field Coach Richt chooses to now enter (and he said in his follow-up Monday press conference he might welcome a return to coaching), he will be ultra-successful. Just like he was in this final game at Bobby Dodd Stadium when he guided the Bulldogs to a 13-7 win over the Yellow Jackets − boosting his final record against state-rival Tech to a brilliant 13-2 − and capping the regular season with four consecutive wins and a 9-3 mark.
[su_spacer size="40″] So best wishes and luck to a truly outstanding person and football coach as he moves forward in his life.
[su_spacer size="40″] Now, time for our last Stats That Matter game review of the regular 2015 campaign. Again here, you will see the outstanding performance Jeremy Pruitt's defense rendered and also, some good things by the Georgia offense, despite the Bulldogs scoring their only touchdown of the game on their very first possession.
[su_spacer size="40″]
Plays of 20 plus yards (offense/defense)
[su_spacer size="40″] Sophomore tailback Sony Michel capped Georgia's opening drive with a 35-yard touchdown run. Michel also reeled off another 33-yard scamper in the game as well as catching a 21-yard pass from Greyson Lambert. Lambert also had pass completions of 30 yards to Terry Godwin, 34 yards to Malcolm Mitchell, 24 yards to fullback Christian Payne and, finally, a 25-yard strike to tight end Jeb Blazevich, which got the Bulldogs out of trouble late in the game when Tech had trimmed the lead to 13-7 and had Georgia backed up at its own 7-yard line. The Jackets' only plays over 20 yards against the Georgia defense came via a 28-yard run by Clinton Lynch and a 20-yard pass from Justin Thomas to Lynch.
[su_spacer size="40″]
Untimely mistakes (turnovers, penalties, clock management miscues, etc)
[su_spacer size="40″] The Bulldogs were assessed with a 5-yard offsides penalty when Tech had a 4th-and-3 to go at the Georgia 35, thus giving the Jackets a first down; there were consecutive penalties called on the Bulldogs for illegal procedure and a delay of game; due to burning several timeouts early on both offensively and defensively, Georgia had used up all its allotment with still 6:31 left in the game and, finally, senior linebacker Jake Ganus was slapped with a 15-yard, unsportsman-like penalty for crossing his arms to signal a Tech pass incompletion on a fourth-and- 7 play. The penalty kept the Jacket drive alive and ended with a 15-yard TD pass from Thomas to Ricky Jeune with just 3:24 left in the game … thus denying the Bulldogs a chance to shut out Georgia Tech for the first time since 1964.
[su_spacer size="40″]
Special teams wins vs. miscues
[su_spacer size="40″] The Bulldogs generally had outstanding coverage on Tech's kick returns and senior Collin Barber, relieving Brice Ramsey when Georgia punted inside Jacket territory, had two kicks inside the Tech 20, one being downed at the 2-yard line, while averaging 40 yards per punt. Senior Marshall Morgan booted field goals of 19 and 37 yards to give the Bulldogs' their only points of the second half but missed a 40-yard attempt with nine minutes left in the game.
[su_spacer size="40″]
Missed Tackles
[su_spacer size="40″] The Georgia defense whiffed on several tackles in the first half when the Jackets ran the option pitch to the outside but Jeremy Pruitt's guys were pretty much sure tacklers the rest of the day as they limited Tech's running game to just 194 yards, well below the Jackets' average of 262 yards per contest.
[su_spacer size="40″]
Yards after contact
[su_spacer size="40″] Michel, boosting his season rushing total to 1,076 yards, continually pulled away from would-be Tech tacklers while running for 149 yards on 24 carries, thus capping an outstanding regular season after assuming the starting tailback duties when All-America Nick Chubb was lost for the year with his knee injury.
[su_spacer size="40″]
Turnovers (gained/lost)
[su_spacer size="40″] An outstanding day for the Georgia offense here as the Bulldog backs showed no fumbles and QB Lambert threw no interceptions. Conversely, senior tackle James DeLoach recovered a Tech fumble while Dominick Sanders and Malkom Parrish had interceptions for the Bulldogs, Sanders' pick coming at the Georgia 1-yard line and halting what looked to be a second-quarter scoring drive.
[su_spacer size="40″]
Red Zone (offense/defense)
[su_spacer size="40″] Georgia cashed points on two of its three trips inside the Tech 20 while the Jackets entered the red zone only twice, getting its lone score via the late 15-yard TD pass.
[su_spacer size="40″]
Third down conversions
[su_spacer size="40″] Neither offense flourished here, the Bulldogs converting on 4-of-14 third-down opportunities and the Jackets even worse with a 2-of-13 showing against the Georgia defense.
[su_spacer size="40″]
Run/pass attempts (total plays)
[su_spacer size="40″] The Bulldogs ran the ball 34 times for a 178-yards rushing total and Lambert drilled 18-of-25 pass attempts for 224 yards and, most importantly, Georgia bested the usually ball-hogging Jackets in time of possession, 31:18 minutes to Tech's 28:42.
[su_spacer size="120″]