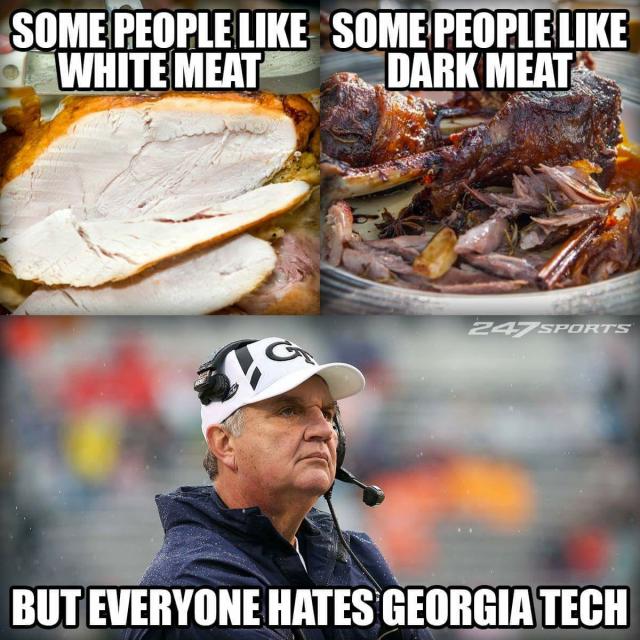 After consuming the turkey and sleeping off the cranberry sauce, check out this SEC Thanksgiving quiz from our friends at SEC Banter.


Use a sharpened No. 2 pencil to circle your answers. An answer key appears at the end. No cheating, Auburn fans!

1. The Iron Bowl is the SEC's best rivalry which, by default, makes it the greatest rivalry in all of college football, if not the entire sporting universe.
A. True
B. You're stupid if you don't choose A.

2. The winner of the Iron Bowl has gone on to play in the national championship game in how many of the past 8 years?
A. 6
B. 4
C. 7
D. I can't remember what I had for breakfast yesterday, so how in the heck can I remember this, Banter?

3. My favorite thing about SEC football is:
A. Spending time with family and friends
B. Tailgating in a Southern college town on a beautiful fall Saturday
C. Pulling for my team as if my life's happiness depends on a win
D. C'mon, you know the answer is all of the above.

4. The ideal time to sit down for Thanksgiving dinner is:
A. Noon
B. 7 pm
C. 2 ish
D. You'll sit down when the head honcho cooking the meal tells you to, damn it.

5. Your plans for Black Friday include:
A. Hitting big-box retailers at midnight to beat the crowds and score the best deals
B. Um, ever heard of the internet?

6. The hands-down best Thanksgiving dish is:
A. Brown sugar-glazed sweet potatoes with marshmallows
B. Brown sugar-glazed sweet potatoes with marshmallows
C. Brown sugar-glazed sweet potatoes with marshmallows
D. Brown sugar-glazed sweet potatoes with marshmallows

7. If Alabama plays Georgia in the SEC Championship and loses, should the Tide make the College Football Playoff with one loss and not winning its conference?
A. Yes, with its history of success and only one loss, Bama gets in
B. No way, losing your last game and conference championship means no playoff
C. If it gets two SEC teams in the playoff, sure
D. I'm so sick of Alabama

8. How many coaching changes have there been in the SEC since Nick Saban was hired at Alabama in 2007?
A. 14
B. 19
C. 25
D. 32

9. The Traveling Wilburys are:
A. A British-American supergroup from the late 1980s consisting of music legends Bob Dylan, George Harrison, Jeff Lynne, Roy Orbison, and Tom Petty
B. A Southern supergroup from the 2000s consisting of fired coaches Les Miles, Hugh Freeze, Butch Jones, Jim McElwain, and Bobby Petrino

10. Typically one of the season's most exciting games, rivals Florida and Florida State enter Saturday's annual tilt with losing records for the first time since:
A. 1977
B. 1959
C. 1704
D. Don't know but sure hope it happens more often.


Answers:

1. A, clearly. It could be the most intense, most passionate rivalry in American sports, period.

2. C. Saturday's Iron Bowl only has a berth in the SEC Championship and the College Football Playoff on the line.

3. D, duh.

4. Banter says C, as 2 pm is the ideal time for the Thanksgiving meal. It gives you time to dive back in later that night. My wife says B, 7 pm, but the real answer of course is D, whenever your host tells you supper's ready.

5. While I never like to lose readers, if you go to a store for Black Friday shopping at midnight, please stop reading SEC Banter.

6. Really no room for debate here.

7. C. The more SEC teams in the Playoff, the merrier.

8. C, 25 coaching changes! The man has single-handedly decimated the SEC.

9. A, even though that group of five fired SEC coaches could sing about their football demises in their own version of "End of the Line."

10. B, pretty darn impressive when you think about it.


Happy Thanksgiving