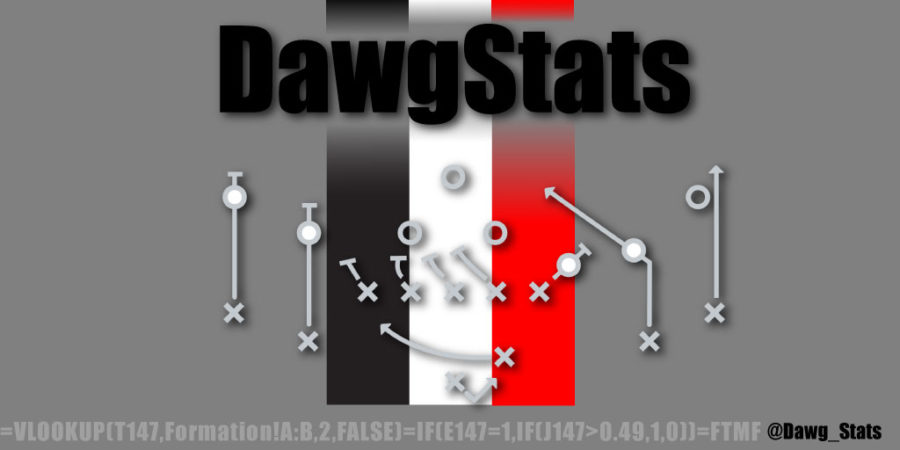 I have been looking at numbers, plays, personnel groups all season. Dawgs still run an efficient offense, but lacks a lot of big chunk plays and highlight film TDs. So, with nothing left to crunch, I went through my spreadsheet and looked at UGA pass plays that gained over 10 yards. Let's look back at those plays – if for no other reason – to watch if Dawgs can string some of these plays together against the Gators.
Thanks to SEC StatCat for the play concepts that I paired with my data. If you like this stuff, you should definitely check out that site.
Vanderbilt
Dawgs had 6 pass plays that gained over 10 yards in the opener. Here are a couple of highlights
Vert Curl out of 11 Personnel to Cager on 1st and 10 for 38 yards
Wheel+Post Dig route on 1st and 10 to Jackson, play ended in a fumble after 31 yard gain. Again, 11 Personnel.
Notre Dame
Curl Route to Cager on Critical 3rd down when Dawgs were down 7
Vertical for 36 yards to Cager. One of UGA's longest completions of year against Power 5 opponents
Cager hauled in another curl route on 2nd down for a 15 yards completion
Tennessee
UGA had completions of 38 and 31 yards against the Volunteers, but my Hulu screwed up and all I got was the Re-Air. But, here is a sweet TD to Pickens on 1st and Goal.
South Carolina
Dawgs had 16 pass plays that gained over 10 yards against the Gamecock. But, only one play went over 20. Not going to rehash it. Here's a look at a few of them
Nice gain out of 12 Personnel early in the game.
Corner Route to Pickens on a 2nd and 16 for huge first down
Curl + Comeback on 1st Down for 12 yards (this play is a "go to" for Dawgs and has been successful in every game this season)
D Rob moves chains for UGA on a 11 Personnel TE Flex for 17 yards
Game Tying TD. 11 Personnel with TE Flex. Another Curl variation
Kentucky
Yup, even found a successful 10+ yard play in a game where we had Pass YPA of under 3 yards. 22 yard completion early in the game. Same play that gained a 1st down early in SC game. 12 personnel running a crossing pattern.
Keep in mind as we call the Dawgs on Saturday, that Fromm steers an offense that is just as capable as the Gators moving the ball through the air. If Cager is back at close to 100%, look for some of these looks and plays to be successful