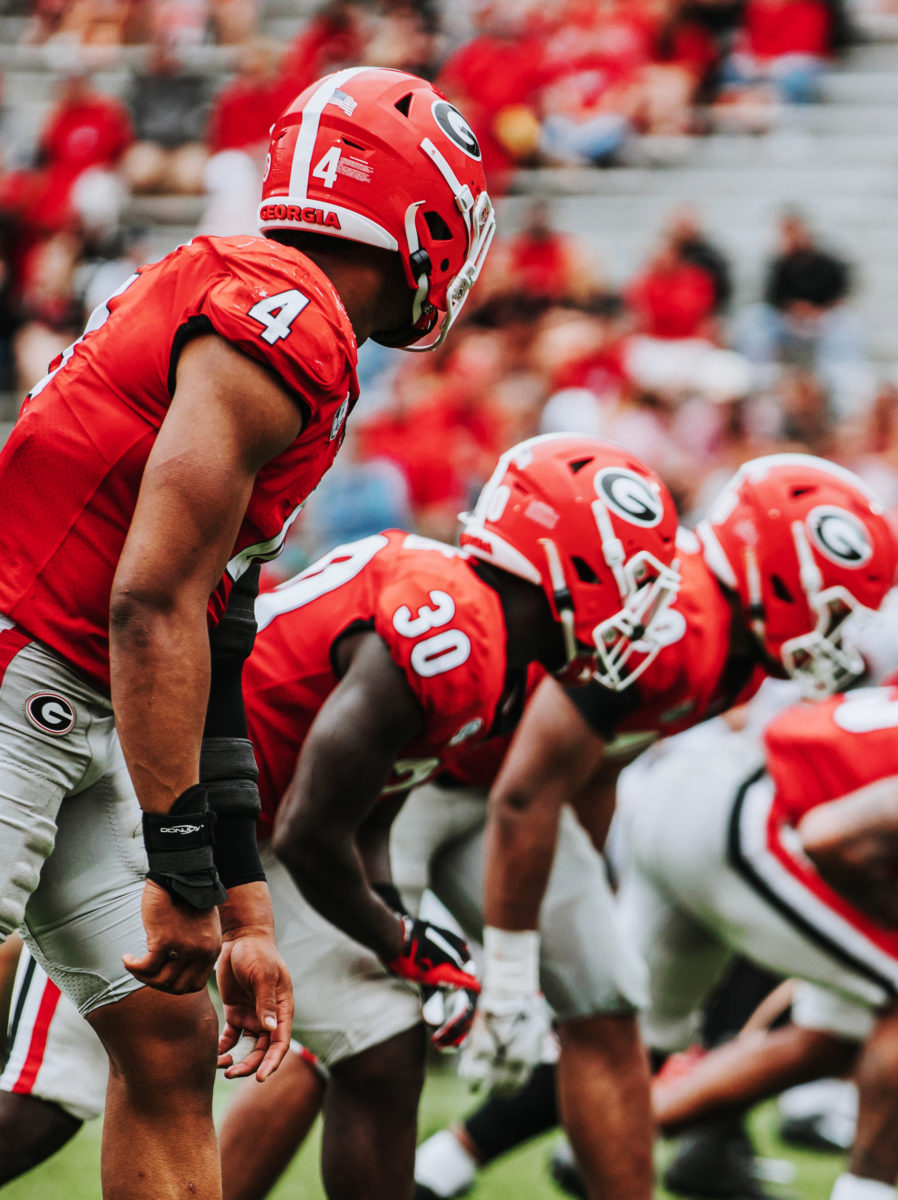 September 3 – Oregon – Atlanta (Mercedes-Benz Stadium)
Most of the greatest seasons in Georgia football history began with a high-profile opener. Legendary coach Vince Dooley always said you know a lot more about your football team if you play somebody good in that first game. Teams get battle-tested for conference play. In fact, some openers are against conference foes. Bulldogs coach Kirby Smart points out that the focus of the team is much stronger when that elite opponent awaits in the season opener. It's a lot easier for a coach to get his team's attention. That was certainly the case for Georgia's two most recent national championships. In 1980, Georgia won at Tennessee in the season opener. In 2021, the Bulldogs beat Clemson to start the year.
This season, the Bulldogs open against one of the top programs in the PAC-12, the Oregon Ducks. As an added twist, it will be the first game for Oregon's new head coach Dan Lanning, Smart's defensive coordinator from 2019-2021. Speaking of Tennessee in 1980, the Volunteers had a new offensive coordinator that year, as Bill Pace had moved from Athens to Knoxville following the 1979 campaign. Adding to the familiarity, Oregon's starting quarterback will likely be Bo Nix, Auburn's signal caller for the last three years.
There will be no secrets, though this will be the first meeting between the two since Georgia defeated the Ducks 27-16 to kick off the 1977 season, the lone Dooley team that finished with a losing record.
Athens is America's greatest college town, and Eugene is great too. Hey, they filmed "Animal House" there. This game should be part of a home-and-home on one of these campuses. Fortunately, these early-season neutral site games are going away and returning where they should be, on campus. There will be no Athens early September heat and humidity advantage with this one inside Mercedes Benz. Along with the importance of getting this season-opening victory, it would be great for the Bulldogs to get some good mojo going in a building where Georgia has suffered a lot of heartbreak. "The Benz" will again be the site of the Southeastern Conference Championship Game, and the Chick-Fil-A Peach Bowl will be one of the semifinal sites for the College Football Playoff (12/31/2022).
Lanning's Ducks figure to be a prime challenger for the PAC-12 title, and if they can pull this off, they are an early playoff front-runner. All five starters are back on the Oregon offensive line, and Lanning knows as well as anyone just how much Georgia must replace up front. Nix is savvy and athletic. Getting the defense to play with more physicality will be one of Lanning's top priorities. He has a tremendous linebacker in Noah Sewell. A Butkus Award (won by Georgia's Nakobe Dean) semifinalist and All-PAC 12 performer with 106 tackles, Sewell will be locked in as the leader of the Ducks' defense.
September 10 – Samford – Sanford Stadium
Last season, Samford set a lot of records in "The Swamp," but fell to Florida 70-52. The Bulldogs from Birmingham led 42-35 at the half. Samford is looking for a bounce-back year. The final record was 4-7. Five of those seven setbacks came by seven or fewer points. Those things tend to average out.
Chris Hatcher is in his eighth season as the Bulldogs' head coach and has consistently had Samford amongst the top contenders in the Southern Conference. A record-setting quarterback at Mount de Sales in Macon and at Valdosta State, Hatcher is entering his 23rd season as a collegiate head coach. Amongst his accomplishments, Hatcher led his alma mater Valdosta State to the 2004 Division II National Championship. His first season as a head coach was in 2000 at Valdosta State. The Blazers' defensive coordinator that year, another young "up-and-comer," Kirby Smart.
These old friends will be going head-to-head at their respective Bulldog helms for a second time. In 2017, Georgia beat Samford 42-14 Between the Hedges to improve to 3-0 en route to the SEC title and College Football Playoff. The win came a week after winning at Notre Dame and a week prior to rolling past Mississippi State in Athens.
This season, Samford falls between the Oregon game in Atlanta and a trip to South Carolina. The Gamecocks, by the way, will be at Arkansas on this date.
This will also be the home opener for the reigning National Champion Georgia Bulldogs. Kickoff is set for 4 p.m., and Smart will drive home the danger of sleeping on Samford. Hatcher's Bulldogs will get a couple of extra days, as they open at home on Thursday, September 1 against Kennesaw State.
Hatcher returns and welcomes in several transfers, including quarterback Nik Scalzo, who left Kentucky for Samford.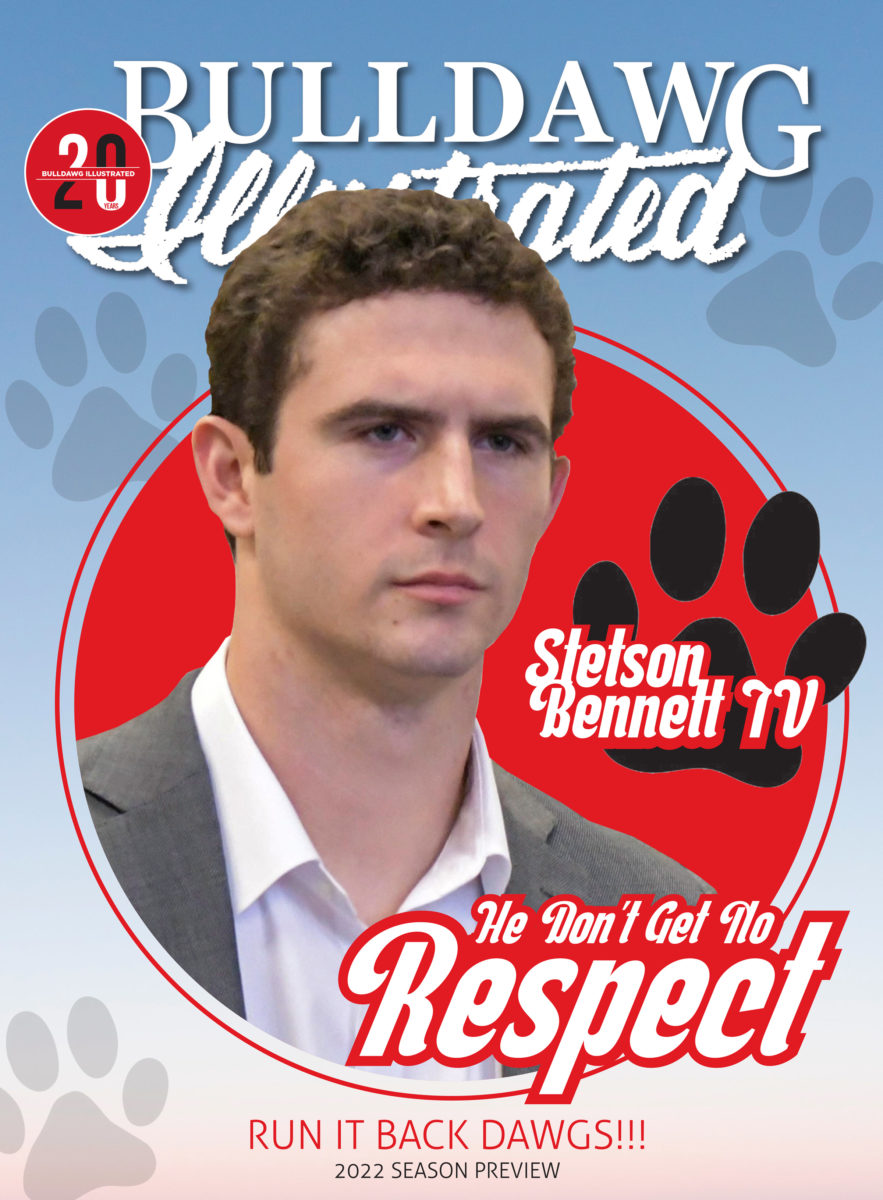 September 17 – South Carolina – Williams-Brice Stadium
Sandstorm will be blaring, the towels will be waiving, "Cocky" will be crowing at Volume 11 and South Carolina will have the full arsenal ready for the national champion's high noon visit on what promises to be a sun-sided face of Planet Mercury hot day in Columbia. It should be noted that in 2010, Steve Spurrier's Gamecocks beat defending national champion Alabama at Williams-Brice Stadium.
That was Nick Saban's last loss as the Crimson Tide's head coach to an SEC East team until the Bulldogs vanquished Alabama on 1/10/2022 to capture College Football's ultimate prize.
Smart was on the sidelines that day in Columbia, as Alabama's defensive coordinator. One of his old assistants will try and pull it off against Georgia this time.
Shane Beamer, on Smart's first two staffs at Georgia in 2016 and 2017, is in his second season at the Gamecocks helm. There is a lot of momentum for the Garnet and Black moving into 2022. One of the surprise teams in the SEC, South Carolina beat both Florida and Auburn (granted those weren't vintage Gator and Tiger teams, that is a huge deal in Columbia or any college town), and then topped North Carolina to win the Duke's Mayo Bowl in Charlotte to finish 7-6.
There is a lot of talent back for South Carolina, particularly on what should be one of the SEC's best defensive lines. And the Gamecocks were a big winner in the preseason transfer portal sweepstakes, pulling in former Oklahoma quarterback
Spencer Rattler, who was on the cover of many a 2021 college football preview magazine as a Heisman front-runner. Rattler will be expected to be the Gamecocks best quarterback since Connor Shaw in Spurrier's glory days. His top target will be one of the SEC's most dangerous wide receivers, Tucker, Ga. native Josh Vann. The speedy super senior gave Georgia's generationally great defense more problems than any receiver in the regular season, chalking up 128 yards through the air. The Gamecocks started three different quarterbacks last season, so it figures Vann's numbers will go way up with Rattler behind center.
As a redshirt freshman at Oklahoma in 2020, Rattler threw for over 3,000 yards, with 28 touchdowns against seven interceptions, helping pilot the Sooners to a 9-2 campaign. He was replaced last season in the Texas game by highly touted freshman Caleb Williams, who has since transferred to Southern Cal (or as South Carolina rivals would say, the original USC).
Prior to the Bulldogs visit, the Gamecocks battle Sam Pittman's Razorbacks in Arkansas. No doubt, both teams will be battle tested heading into this showdown, which is back in its more familiar early season spot on the schedule.
The story is a familiar one for the Gamecocks. Are they capable of pulling out the big win, coming up with the upset of Georgia? If they are, is South Carolina then good enough to string together enough wins for a great season and berth in the SEC Championship Game?
September 24
Kent State
Sanford Stadium
One of the most improved programs in the Mid-American Conference, Kent State makes its second visit to Athens. Back in 1998, Jim Donnan's Bulldogs blew away the Golden Flashes in the 1998 season opener. Fifth year senior Kirby Smart and Champ Bailey captained the Bulldogs secondary that year.
Kent State has proven it will play anyone. The Golden Flashes last season lost at Texas A&M (41-10), Iowa (30-7), and Maryland (37-16) all by respectable scores.
They had a 7-5 regular season, but were 7-2 against teams in the weight class, earning a berth in the MAC Championship Game. Kent State lost there to Northern Illinois and then fell to Wyoming in the Famous Idaho Potato Bowl, ending the '21 campaign at 7-7.
This one kicks off at high noon. It's the final game of September, and then comes eight straight SEC games. Then the Yellow Jackets.
October 1
Missouri Tigers
Memorial Stadium/Faurot Field
Missouri is always a wild card in the Southeastern Conference. Eli Drinkwitz heads into his third season as the Tigers head coach having only had mixed results, thus far. Hey, it's the SEC. Last season after falling 43-6 in Athens, the Tigers pulled out significant home wins over South Carolina (31-28) and Florida (24-23 in overtime) to improve to 6-5. But Mizzou lost to Arkansas in the regular season finale and then fell to Army in a 24-22 thriller in the Lockheed Martin Armed Forces Bowl to finish 6-7.
Solidifying the defense and settling on a quarterback are the top priorities for Drinkwitz, as the Tigers aim for an upper division finish in the SEC East. Since joining the SEC in 2012, Missouri has consistently delivered top defensive line play.
That could be the case again this season, as a veteran unit gets a boost from Oklahoma State transfer Jayden Jernigan.
Missouri should have one of the league's top offensive lines, as four fifth year seniors/graduates are slated to start up front. That's great news for whomever the Tigers starting quarterback is. So is the addition of five-star freshman wide receiver Luther Burden III, one of the most highly touted Tiger signees of their SEC era. As for the quarterback position, Brady Cook and Tyler Macon battled it out in the spring after playing significant snaps last season. Highly touted Peach State signal caller Sam Horn figures to be in the thick of the fight for the starting nod, provided the Tigers can keep the top baseball prospect through the Major League Draft this summer.
Transfer Nathaniel Peat, an All PAC-12 kick returner at Stanford, heads into preseason camp as the front-runner for the starting tailback job.
Georgia heads to CoMo a week before the Tigers visit Auburn. This is the midst of a tough schedule stretch for Mizzou, which heads to Florida after hosting the Bulldogs.
It's usually tough and physical when Georgia and Missouri play. In recent years, the Bulldogs have been able to pull away in the second half. That was the case last year when the Bulldogs got off to a slow start, then rallied back to win 43-6 in a performance that Georgia's on field leadership deemed unacceptable if the Bulldogs were to reach their ultimate destination.
This will be Georgia's second true road game and each of the first two SEC games are on the road, at the two Columbia's. Smart knows his Dogs will be an upset target for every opponent this season, while Drinkwitz looks for a signature win in 2022 to jumpstart the Tigers into SEC East contenders.
October 8
Auburn
Sanford Stadium
Georgia and Auburn in October will take some getting used to for a while, for a lot of us, on both sides. But it's always big. The tradition, the stakes, the rivalry, the history, the recruiting implications.
From 1983-1990, Auburn beat Georgia seven times in eight meetings. Dominance.
From 1977 through 2001, Georgia beat Auburn just twice in Sanford, in 1981 and 1991, while losing 11 times to the Tigers Between the Hedges.
Georgia has turned the tables in this ancient rivalry, which got it all started back in 1892. Since upsetting the Tigers in 2006, Georgia has won 14 of the last 17 meetings with the Tigers, including the 2017 SEC Championship Game and seven in a row in Athens.
Bryan Harsin is entering his second season as Auburn's head coach. A tumultuous off-season was tough on the Tiger faithful. A near-miss upset of Alabama at Jordan-Hare hurt. It also showed that it is always dangerous to sleep on Auburn. Working out the quarterback situation is the top priority. Bo Nix took most of the snaps the last three years, but he has transferred to Oregon.
Tank Bigsby is back at tailback. One of the country's top running backs was rumored to be in the transfer portal, but decided to stay at Auburn. That gives this offense a huge lift.
As always, the Tigers will be strong and physical on the offensive front and defensively. Harsin's biggest charge heading into his second season will be getting more consistent play from his team in all three phases. At times, like when leading SEC champion Alabama late in the fourth quarter, and while building a big lead over Mississippi State, Auburn looked like one of the best teams in the league.
The schedule will be mighty tough. The SEC West is the toughest division in college football, plus – at least for now – Auburn draws Georgia every year.
Following games against Mercer and San Jose State, the Tigers host Penn State. Auburn lost in State College a year ago. That's a game that certainly could have gone the Tigers way. Then comes the grind of the SEC. Missouri and LSU both visit Jordan Hare, making it five straight home games to start the season. That's great. If things are going great. Then comes the trip to Athens to take on the Bulldogs.
If Auburn can take care of business at home, and be 4-1 or 5-0 heading to Sanford Stadium, the Tigers will be in position for their breakthrough game under Harsin's watch.
Dating back to Auburn's 2010 national championship, no annual opponent has played Alabama tougher than the Tigers. Auburn's two biggest rivals have won the last two national championships. Their now third biggest rival, LSU, won it the year before that.
The Tiger faithful are hungry to get back amongst the SEC and national elite.
October 15
Vanderbilt
Sanford Stadium
It was a tough first season, not surprisingly, for Clark Lea as Vanderbilt's head coach. The Commodores finished 2-10, beating Colorado State and UConn. Vandy lost Lea's debut to East Tennessee State 23-3, and got pummeled by Georgia (62-0), Florida (42-0) and Mississippi State (45-6).
Granted there are no moral victories in the SEC, the Commodores did give their fan base some optimism with a more respectable close to the season. Over the final four games against Missouri, Kentucky, Ole Miss and Tennessee, the Commodores lost by between nine and 24 points. The first sign of an uptick was a 21-20 loss at South Carolina, but that came between the blowout losses to Florida and Mississippi State.
Can Vandy find something good consistently on offense? That's the biggest question to be answered, as the Commodores fight to get out of the SEC East basement.
Vanderbilt gets an extra off date, as the Commodores travel to Hawaii for a "Week Zero" season opener on August 27. Wake Forest comes to Nashville, followed by a trip to Northern Illinois and then a road game against the Crimson Tide. Following an open date, the Commodores host Ole Miss and then head to Athens to take on the Bulldogs. Vandy will hope to catch Georgia sleepy, coming off the big showdown against Auburn, and with the open date looming ahead of the Cocktail Party.
Ken Seals is back at quarterback for the Commodores, and paces the offense. The offensive line is a mix of veterans and youth. Can the 'Dores find that big play threat on offense? Re'Mahn Davis has transferred in from Temple, and is first on the depth chart at running back heading into preseason camp.
The defense, so often a strength under Derek Mason's watch, must be rebuilt. Clemson transfer Kane Patterson could give the 'Dores a lift at linebacker.
Vandy is once again looking for steady progression and an identity.
October 29
Florida Jacksonville, Fla.
TIAA Field (JAX)
Both teams will be coming off of open dates to get ready for the Jacksonville showdown. Georgia won 34-7 last season, capitalizing on a barrage of turnovers in the closing minutes of the first half to turn a 3-0 lead into a whopping 24-0 halftime edge. The win was the Bulldogs fourth in the last five meetings with the Gators, and seventh in the previous 11, dating back to 2011.
Florida has a new head coach, with Billy Napier coming to Gainesville from Louisiana. Dan Mullen led Florida to 10-3 and 11-2 records in 2018 and 2019, and had the Gators in playoff contention in 2020. Then things went south. Quickly.
Florida sputtered home with a three-game losing streak and then went 6-7 last year.
It was Florida's third losing season in the last nine years. Since Tim Tebow's senior season of 2009, the Gators have lost at least four games in nine of 12 campaigns. In six of the last 12 years, Florida has lost at least five times.
Napier is the fourth Florida head coach, not counting interim head coaches, since Urban Meyer's last year at the Gator helm in 2010.
At the top of his to-do list is to get the Gators recruiting back to the Steve Spurrier and Meyer era levels.
There is talent in Gainesville. There always is.
Quarterback, where Florida, with such a great tradition at the position, has struggled to find consistency since Tebow's Gainesville glory days, is the big question. Anthony Richardson is the starter. Some mock drafts have him projected as a first round pick. The redshirt sophomore has lots of tools. He also has a veteran offensive line, filled with seniors and juniors. The Gators have hit the portal for talented backs, including 2021 Sun Belt Freshman of the Year Montrell Johnson, and former Clemson five star signee Demarkcus Bowman.
Florida will be physical and fast on defense. You've been able to safely say that since the 1950s. The Gators are young on the line and in the secondary. Florida has been loaded with big play-makers in the defensive backfield for decades. Who will that next guy be?
Much of the Gators story will be told by Richardson's progression.
The September schedule is more challenging than usual. Utah and Kentucky come to Gainesville for the first two games of the season. After a tuneup against South Florida, the Gators head to Knoxville. Florida hosts LSU October 15th. That will make six of seven games in the Swamp. The week after Jacksonville, it's off to Texas A&M. Only one of the last five games is in Gainesville. Florida and Florida State play in Tallahassee the Friday after Thanksgiving
November 5
Tennessee
Sanford Stadium
The Pitt and Florida games in September will paint the picture of whether Tennessee is a legitimate top ten and Southeastern Conference Championship Game contender. The Volunteers, after cratering out the year prior under Jeremy Pruitt's watch, was a surprise 7-6 in Josh Heupel's debut season. The losses were to: Pitt, Florida, Ole Miss, Alabama, Georgia and then Purdue in the Music City Bowl. No shame there. What got the fan base extra energetic was the performance of Heupel's offense. Not exactly an offensive juggernaut in recent years, Tennessee beat Missouri 62-24, South Carolina 45-20, Kentucky 45-42 and Vandy 45-21. In all, Tennessee scored at least 34 points in nine of its 13 games.
Hendon Hooker's return at quarterback is the biggest reason the Vols are optimistic that this could be the year they make the jump and legitimately challenge for a spot in Atlanta. He was 206 of 303 with 31 touchdowns against just three interceptions last season while throwing for 2,945 yards. A dual threat, Hooker, rushed for 616 net yards and five scores. Cedric Tillman is one of the SEC's top receivers, and the Vols welcome in transfer Bru McCoy. The offensive line is comprised of juniors and seniors. Establishing a consistent run game is a must for the Vols to make it to the SEC Championship Game.
The Tennessee defense should be much improved. All 11 projected starters are seniors and juniors. In last year's Vols losses, Tennessee gave up an average of 41.8 points per game, allowing at least 31 points in each of the six losses. It's vital for the Vols to topple Florida in Knoxville. The Gators have won 16 of the last 17 meetings, going back Urban Meyer's inaugural season at the Florida helm in 2005. Tennessee's coach is in his second season. Florida's in his first.
The Vols could also use a cushion in October. Following the Gators game and an open date, Tennessee goes to LSU and then hosts Alabama. Heupel's team closes the month with Kentucky in Knoxville before heading to Athens. Will Tennessee be in position to challenge Georgia for the East title? After the Bulldogs, the Vols host Missouri, go to South Carolina and venture to Vanderbilt. If Tennessee is going to take that next step, the Vols will need to win a couple against Florida, LSU, Alabama and Georgia. And the ones they are 'supposed' to win.
November 12
Mississippi State
Scott Field
This one is dangerous for Georgia for so many reasons. Coming off the annual showdowns with Florida and Tennessee, there is no room for any kind of a letdown.
Mike Leach has a lot of juice back and his teams can always throw it and score.
Junior Will Rogers is one of the top quarterbacks in the SEC. Remembering State's visit to Athens in 2020, a 31-24 Georgia win, Rogers was terrific as a freshman and showed the looks of a All-SEC caliber quarterback.
Plus Mississippi State is always tough and physical.
MSU went 7-6 last year, highlighted by wins over N.C. State, Texas A&M, Kentucky and a record-setting comeback win at Auburn. But the season ended on a sour note, with State falling to Ole Miss 31-21 and then Texas Tech 34-7 in an embarrassing Liberty Bowl loss. That surely served as some extra off-season motivation for the Maroon and White.
State's schedule is tough from start to finish. MSU jumps right in with Memphis, which beat them last season, a trip to Arizona and then the SEC opener at LSU. The October schedule is tough. Texas A&M and Arkansas visit, then the Maroon Bulldogs go to Kentucky and Alabama. Mississippi State will host Auburn the week before Georgia visits.
Jo'Quavious Marks, an Atlanta native, is the starter at running back, and one of the top pass-catchers out of the backfield in the SEC. Like so many of Georgia's foes, MSU returns a veteran offensive line, with all five projected starters juniors or seniors.
This scouting report sounds similar to Tennessee's. MSU also has a veteran defense. All 11 projected starters are juniors and seniors.
A big key will be Mississippi State's special teams and if Leach can fix the kicking game woes that so infamously proved costly in a 31-28 loss to Arkansas.
Georgia's most famous win over Mississippi State came in 1982, as the undefeated Dogs edged the Maroons 29-22 in Starkville to make it 4-0 on the season. At that point, en route to a perfect regular season and third straight SEC title, Georgia was unquestionably the king of the league and the premier program in college football. That was the first ever nationally televised game at Scott Field. This game could have a similar feel, especially if Georgia is riding high in 2022, sniffing another trip to the SEC Championship Game and College Football Playoff berth.
There is a huge target on Georgia's chest. This could be one of the toughest challenges of the season and a landmine in a challenging November schedule.
November 19
Kentucky Wildcats
Commonwealth Stadium
Well the same goes for Kentucky. The Bulldogs hit the road for back to back weeks, and it could be mighty chilly in Lexington in mid November. Mark Stoops has done a fine job as the Wildcats head coach. This is the definitive basketball school. Last season, Kentucky posted a 10-3 record for the second time in four years. That's extremely impressive in Bluegrass country in the shadows of John Calipari.
Kentucky and Georgia met last season in Athens, with both teams sporting perfect 6-0 records. The Bulldogs won 30-13. Kentucky lost three straight. But recovered to win the last four games of the season, including a 20-17 victory over Iowa in the Citrus Bowl.
The Wildcats have high hopes offensively, with quarterback Will Levis, a projected first round pick, and one of the league's top backs, Chris Rodriguez, leading the running attack. The Wildcats will miss Wandale Robinson at receiver and in the return game. Finding a big-play maker will be imperative if Kentucky is to have a chance to make it to Atlanta and the SEC Championship Game for the first time in program history. The Wildcats sport a big, veteran offensive line, and an experienced defense.
Stoops teams are always physical, and this one has the potential to be a big slugfest in the trenches.
Georgia has experienced great success against Kentucky, winning 12 straight games in the series. The Wildcats last beat Georgia in 2009 and last topped the Bulldogs in Lexington in 2006.
Kentucky has a tough (hey, it's the SEC), but manageable schedule. If the Wildcats can win at Florida on September 10th, they'll have a leg up in contention in the East.
An October stretch of a trip to Ole Miss and back to back home games against South Carolina and Mississippi State must be navigated with at least a 2-1 mark for the 'Cats to be in position.
While the Bulldogs will be in a grueling stretch, Kentucky will be coming off a home game against Vanderbilt.
In 2018, Georgia and Kentucky battled for the East title, with the Dogs dominating the Wildcats 34-17. This one could carry similar stakes.
A big key for the Bulldogs navigating this Florida through Kentucky will be the maturation of a revamped defense.
November 26
Tech
Sanford Stadium
It's the biggest game of them all. Tech for the state championship. The Yellow Jackets have won three of the past six meetings with Georgia Between the Hedges. After those wins, many of their players ripped off pieces of the famed green Sanford frame as souvenirs. That includes a 28-27 win over the Bulldogs in 2016, Smart's first season. Following that loss, sensational Georgia running backs Nick Chubb and Sony Michel said they weren't going out like that, and returned for their senior seasons. That still represents the two biggest recruits of the Smart era.
Over the last four meetings (there was no game in 2020), Georgia has demolished the Yellow Jackets. The Bulldogs won 38-7 in Atlanta in 2017, 45-21 at Sanford Stadium the following year, 52-7 at Grant Field in 2019 and 45-0 last year on the Flats. That's a cumulative count of 180-35 in the Bulldogs favor during the four-game winning streak. Since 2001, the Bulldogs have won 17 of 20 games against the Jackets, with Tech coming back from second-half deficits of 28-12 in 2008, 14-7 and 24-21 (the squib kick) in 2014 and 27-14 in 2016. Georgia has won 11 straight over the Jackets at Grant Field since the infamous Al Ford officiating crew call against Jasper Sanks and Georgia in 1999. The Bulldogs had won the previous four at Tech from 1991-1997 prior to that.
This is the fourth season at the Tech helm for Geoff Collins, and the Jackets are hungry for a big jump. Tech has gone 3-9, 3-7 and 3-9 the last three years. When Paul Johnson, with his dangerous triple option, and Tech parted ways, the Jackets wanted to overhaul the offense. This is the year that the pressure is on to produce.
The Jackets bring back a lot of experience, they've gotten much bigger on the offensive line and have done very well in the portal.
The opener is Labor Day night against Clemson at Mercedes-Benz, where the Tech faithful figure to be outnumbered. Following a short week game against Western Carolina, the Jackets host Ole Miss and then go to Central Florida. That is a tough September slate. Back-to-back road games at Florida State and Virginia Tech will test the Jackets. Miami then visits. The following week, the Yellow Jackets will be at North Carolina before visiting Georgia in Athens.
The ACC Coastal has been one of the hardest divisions to pick in all of college football. From 2013-2019, all seven teams in the division made an appearance in the ACC Championship Game. Pitt's win over Virginia Tech was the first by a Coastal team over an Atlantic foe (Clemson and Florida State combined to win 10 straight ACC title games from 2011-2020), since Virginia Tech beat Florida State in 2010. A winning record and ACC Coastal contention are top priorities for Tech in 2022. An upset of the Bulldogs, with souvenirs from the Hedges, would be the biggest prize for Collins and the Jackets.