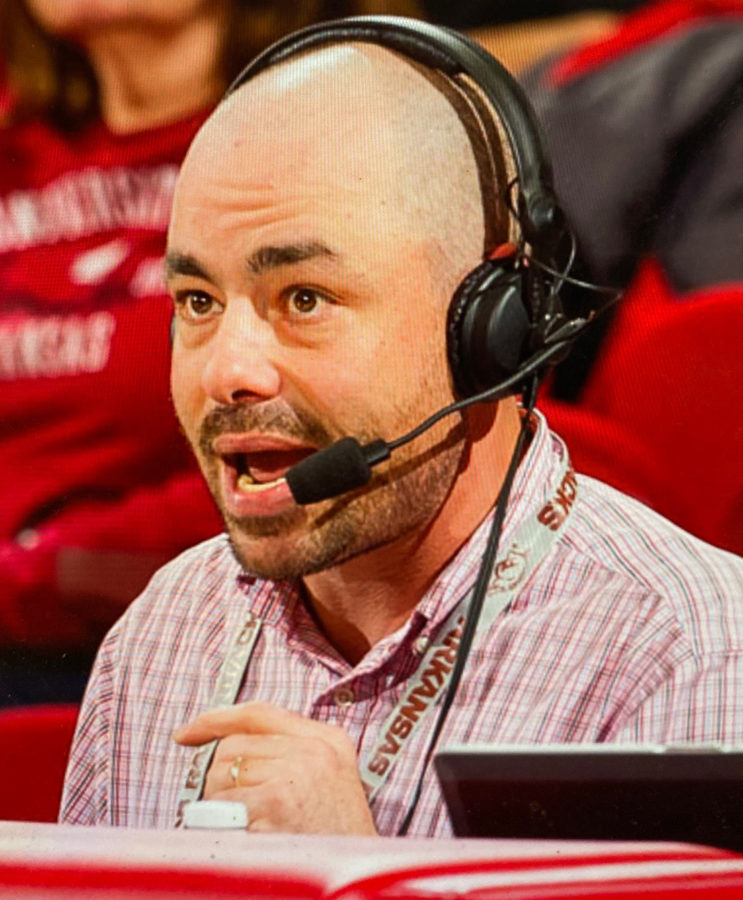 One of the top announcers and nicest guys in the Southeastern Conference, my friend Phil Elson from Arkansas, gives us his perspective on the Bulldogs and Razorbacks Southeastern Conference opener. An award-winning announcer, Phil is the play-by-play voice of Arkansas baseball and women's basketball, is part of the football broadcast crew, and has a popular daily talk show in Fayetteville. A three-time state of Arkansas broadcaster of the year, Phil is also a connoisseur of the best places to eat around the league. We thank him for his insight.
Talk about the excitement Sam Pittman has brought to the program.
As far as football is concerned, Arkansas has been a beaten down fan base for a few years. What Coach Pittman has brought with him is a plain-spoken, ego-less honesty that I think everyone feels is refreshing. Fans, players, media, all feel that. I also think Razorback fans feel excited to be wanted desperately by their head coach. By that I mean, Coach Pittman wanted to be here badly. He's expressed that over and over again. But more than anything, what I think excites people across Arkansas is that Coach Pittman stands for tough play at the line of scrimmage and a tough overall attitude that has been lacking for a while.
Do you see the experience of Feleipe Franks giving the Razorbacks a big lift at quarterback?
I don't see any way that he doesn't provide a lift at quarterback. Seven different QBs started a game for Arkansas over the previous two seasons, and nobody ever really cemented themselves as the QB of the present or the future. Franks most definitely provides a lift in just about every area, including previous on-field success winning games during his time at Florida. He has a good supporting cast of ball-handlers to distribute to, but he doesn't have the overall depth of talent around him that buoyed any of his misplays in Gainesville.
Rakeem Boyd is an outstanding running back, can you talk about him and the strength of your skill positions?
Rakeem has been a very productive running back for two years, the first of which he played with an injured shoulder. He was the fifth-most productive running back in the SEC in terms of rushing yards (1133 yards) on a team that had the second-fewest rushing attempts in the SEC last year. He has an amazing burst of speed to get to the outside, but he can go right through the middle on occasion too. He's as tough as anything. I'm interested to see whether he gets more involved in the passing game this year as a pass catcher. Trelon Smith will get some carries too after sitting last year following a transfer from Arizona State. He wowed the team last year on the scout team and should be productive as well. Arkansas loves their group of top three receivers in Treylon Burks, Trey Knox, and Mike Woods. These guys are all very talented.
What is the key to an improved defense?
Arkansas should be improved along the defensive line where injuries and inexperience plagued them previously. Graduate transfer Xavier Kelly came over from Clemson and I think he's a guy to watch at defensive tackle. Julius Coates was one of the top end rushers in JUCO ball last year, and Dorian Gerald returns after missing last year due to a neck injury. Still, Arkansas is thin at linebacker and could be exposed in the secondary. This team needs to generate a pass rush and just might be able to do it too.
How do you feel about the 10 – game conference only schedule?
Rather than focus on the idea that Arkansas might just have the toughest regular-season schedule in the history of college football after the SEC added Georgia and Florida on top of their usual SEC West foes, I'm just excited to watch ten weeks of SEC vs. SEC football. Who wouldn't be if you enjoy the sport? This is the best league in college football and now we get more league games? Thank you sir, may I have another!

What do the Razorbacks need to do to win? The simple question is also the $25,000,000 question. This team has lost 19 straight SEC games. And now they're playing 10 SEC teams in 2020. So…I'm not sure where to begin. They have to be more disciplined than in previous years. I think their trust and respect of Sam Pittman and his staff will reflect a team that is more locked in and disciplined. They need to be tougher than before. Toughness doesn't just all of a sudden show up. But that's what Coach Pittman seems to be constantly preaching. They need to have a winning attitude and that extends to the coaches, who I think have brought that attitude with them from their previous jobs. I think they're going to need to just win a couple of high scoring games here and there. This is an offense with firepower, but the questions for me are: 1) Can Feliepe Franks stay upright? 2) Can the O-Line improve as the season gets longer? 3) Can they generate a pass rush? 4) Can they stop the high-powered offenses of the SEC enough times to surprise some people?
What's your take on Georgia? Envy in terms of talent, expectations, depth. This is probably the best defense in college football. I think you have more dynamic quarterback play this year. UGA is going to be awfully tough, and I see them coming out of the SEC East for the league championship game.