[su_spacer size="20″]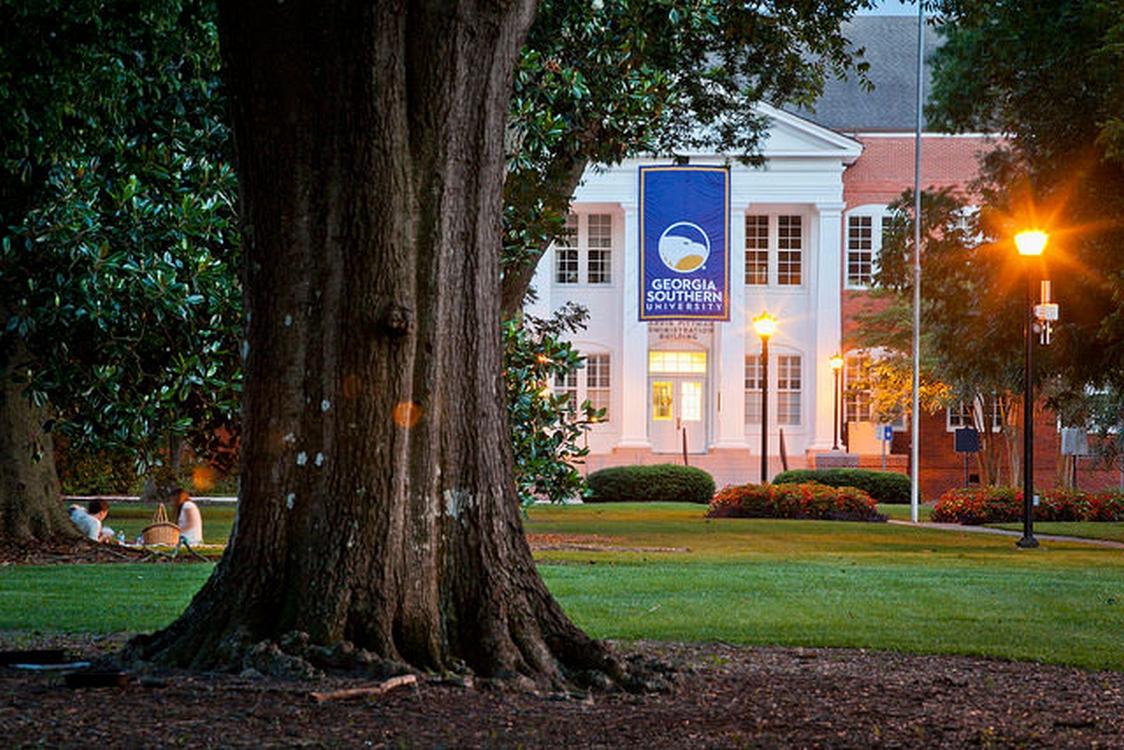 [su_spacer size="40″] It is our great honor to have the longtime Voice of the Eagles, Nate Hirsch, give us his insight on Saturday's game. Nate is one of the great radio play-by-play announcers the state has ever had the pleasure of hearing, and he was a great mentor to a once-young Statesboro broadcaster. Like Larry Munson will forever be the voice of the Georgia Bulldogs, Nate Hirsch will forever be the voice of the Georgia Southern Eagles.
[su_spacer size="20″]
Do you agree that a win at Georgia would top the win at Florida and the national championships as the most gratifying victory in Eagle history?
[su_spacer size="40″]
I don't think there's a question, if Georgia Southern ever beats Georgia, it would be the biggest thing ever in Georgia Southern athletics. It's not supposed to happen. The win at Florida was huge. But that was a transition year, we had already lost four games, and were 6-4, but it was the perfect storm. We caught Florida at their worst. But it happened, and still isn't supposed to happen. But a win at Georgia would be as big as it gets.
[su_spacer size="40″]
What does Georgia Southern need to do to win?
[su_spacer size="40″]
Besides the obvious, GSU has to somehow control the time of possession and somehow complete some passes. Our passing game is still non-existent. Our best receiver B.J. Johnson is supposed to be back for Georgia game. And on defense, we have to try and avoid the big play.
[su_spacer size="40″]
What did the win at Florida mean for the program?
[su_spacer size="40″]
At the time, it was our first FBS win ever. Georgia Southern has played mostly big boys, the who's who of the SEC, we went to Oregon State, but mostly SEC teams. It was the last game of that (2013) season, it also was Jeff Monken's last game, which helped him get the Army job. The win helped get a buzz, but that season, fans wondered what we were they playing for with no playoff. That was the transition season. That win was so stunning, it sold a lot of pictures … 'The Eagles Drained the Swamp.' I was in disbelief myself.
[su_spacer size="40″]
Is the feeling that the Eagles had some bad luck/missed an opportunity at Tech last year?
[su_spacer size="40″]
I think both games with ACC teams are looked at that way. We should have beaten N.C. State, they had a big comeback in the fourth quarter. But in the Tech game, we were getting beaten so bad at the half. Then to get four touchdowns in third quarter. Then there was the play that we thought was a forward pass, but called a lateral. Give Tech credit, they then drove 80 yards. We have same number of scholarships now, but a lot of those given to players who aren't FBS players. It was an opportunity wasted.
[su_spacer size="40″]
What is your take on Georgia?
[su_spacer size="40″]
I've been disappointed. We have a lot of people who pull for both for Georgia and Georgia Southern, and it is mystifying with the offense. We all knew the loss of Chubb was going to be big. A lot of people would have liked to have seen Nick Chubb and Matt Breida. It just appears that they didn't know what they had at quarterback. It hasn't been typical year for Georgia at quarterback. If Lambert was brought in when he was, they just weren't sure about the other guys.
[su_spacer size="40″]
Do you feel like this is the best chance Georgia Southern has had to beat Georgia?
[su_spacer size="40″]
There's no question, again it still shouldn't happen, Georgia will still be a two to three touchdown favorite, but the game is sandwiched between Auburn and Tech, I don't know how excited the Georgia players are going to be. I'm sure Georgia Southern thinks it will never have a better chance to get Georgia.
[su_spacer size="40″]
What has the move to Division 1-AA and the Sun Belt meant?
[su_spacer size="40″]
I had mixed emotions. It was fun to play for national championships. If you are really going to promote the school though, everyone felt they had to do it. You move up, the games are all covered by someone, the scores are out there. Nobody thought we would start off like we did. GSU and Appalachian State, the better teams from FCS can play with middle of pack. We're not SEC or ACC, but in that middle group. GSU is somewhere in the middle, but it is getting us more attention. This is the first year of being bowl eligible. Will people be excited about going to Orlando, Montgomery, Mobile or New Orleans? The stadium looks great with 25 thousand seats. They spent 10 million on a football ops center. Can you fill it up all the time? I certainly miss things from playoffs. The feeling is that football graduated from that level. For the long haul, five to ten down the road is where you'll see if it was the right thing to do. More people remember App State for beating Michigan than winning three straight national titles.
[su_spacer size="40″]
What is your prediction on the score?
[su_spacer size="40″]
I will say Georgia-27, Georgia Southern-17.
[su_spacer size="40″]
---
[su_spacer size="40″] Make sure to check out
Bulldawg Illustrated's
latest print edition:
Two Damn Good Dogs
, digital issue available for free online. CLICK
HERE
.
[su_spacer size="80″]