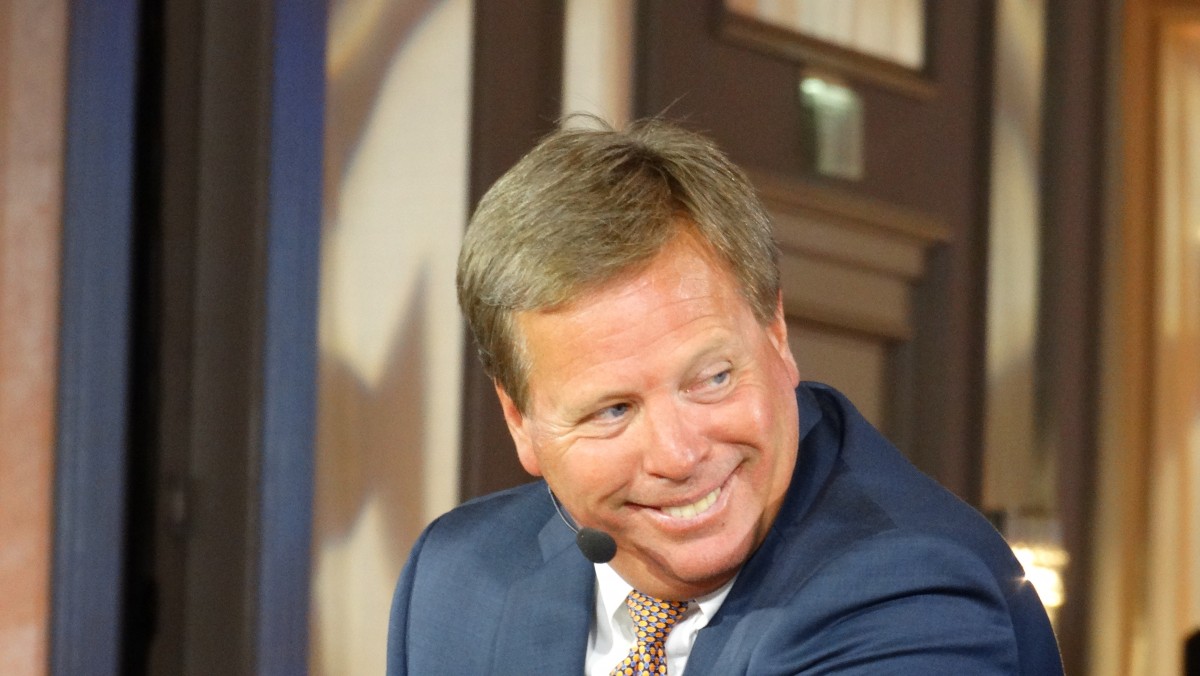 HOOVER, Ala. – The Will Muschamp era is over at the University of Florida and not a moment too soon for many in the Gator Nation, which watched the former Georgia player stumble mightily in his attempt to bring the Gators back to the glory days of Steve Spurrier and Urban Meyer.
Now, Jim McElwain is taking his turn at the Florida coaching helm. And the former Colorado State mentor is inheriting a Gator squad that could go only 7-5 overall and 4-4 in the SEC, although one of those conference wins was a 38-20 romp over a nationally-ranked Georgia team.
From Muschamp's final Florida squad, McElwain has seven defensive starters returning, including All-America cornerback candidate Vernon Hargreaves III, but only four returning offensive regulars back from a unit that sputtered greatly last season and is in dire need of coming up with a solid quarterback.
"First and foremost, I just want to say what an honor it is to be back in the SEC and how humbling it is to be the head ball coach with the University of Florida," said McElwain, who formerly served as offensive coordinator at Alabama under Nick Saban. "It's something
you dream of as you go through this profession, and I can't tell you how honored and excited I am to have this opportunity. Our guys have done one heck of a job in the transition. They've really embraced the new guy coming in. A lot of the things that we tried to implement, they were open arms, and I think did a really good job with it. Of course, we'll find out come this fall when we get back to camp on the 5th and start practicing on the 6th. Really excited to see how they've
affected all the young guys we've had coming in this summer and see how far along we are. It will be a lot of fun, and our guys have been working their tails off. I'm proud of what they've done in the weight room with the new strength staff."
McElwain said Gator fans shouldn't expect Florida to return to national prominence overnight.
"Being in this conference is realizing it doesn't happen just overnight," he declared. "It's something that we know. And yet every time we go to work every day, every time we wake up, our responsibility is to try to go out there and win. There's never been a game that we haven't been in that we don't think we're going to go out and be successful, and that's really what it's all about. We've got a ways to go, and yet there are some good things in place. Coach Muschamp and his staff did some really good things, obviously setting the table, and we need to just pick up from that and move forward."
Someone asked McElwain, what with Spurrier's Florida teams known for their pass-happy offenses and Meyer's Gator squads known for hard-nosed football and good offensive balance, what dynamic will the new coach bring to this Florida team?
"I think background-wise, just historically, growing up out West and kind of being in
the Big Sky Conference, as long as we were, we threw it around the park quite a bit, and that's something we believe in," McElwain answered. "Yet at the end of the day, you learn as you kind of go through that you've got to be able to run the ball and stop the run to be successful. So that being said, fitting the parts in that we have and finding out how exactly we're going to go about it is something that we look forward to building as we get there in August.
"I think one of the things, it's kind of great to have the expectations," he said. "That's something that we look forward to and we embrace. We obviously, from a recruiting footprint, we're in an area that I think we can probably attract some explosive playmakers along the way, and yet it all starts up front on both sides of the ball. So us rebuilding that offensive line to allow us an opportunity to be successful is something that we really need to do.
McElwain was further asked if he's been able to take away anything from Spurrier's style of coaching.
"I always enjoyed watching his  play, obviously. It's one of those things back when he was coaching there, the things he was doing, advancing the football through the air, and it was a lot
of fun to watch. Had an opportunity to meet him, speak with him a couple separate times, and just what a great guy and really a knowledgeable guy as far as it comes to the offensive side of the ball. But more than that, here's a guy that — I drive by work every day and pass his statue. That's pretty cool. There's a Heisman Trophy winner right there. I look forward to someday being really able to sit down and pick his brain because he's one of the true guys offensively that knows how to get it done."
McElwain said he's fortunate to be able to build the Florida defense around the play of two-time All-SEC cornerback Hargreaves, still just a junior.
"There's no doubt," McElwain said. "I love the way this guy comes to work every day. The way he practices, the way he thrives in competition, and not only that, the way he takes care of himself in the classroom and other things that go along with being successful in life. Growing up the son of a coach, he obviously has been around it, and I think that that is huge. I'll tell you, here's the best thing, he's fun to watch practice. The guy loves it. That's what I think separates some of the guys at times is the ones that really, truly go out there and compete every day to perfect their craft. He's one of those guys. He's a lot of fun to be around, and he's great to watch on tape."
Now for that Florida quarterback battle. Sophomore Treon Harris started six games last season but freshman Will Grier finished spring practice with a slight edge on Harris.
"I think it's one of those things that's kind of exciting for both guys," said McElwain. "Really what it comes down to is when we get there in August is which one of those guys affect the play of the other people around them to help them be successful. There's a lot of talented guys out there that can throw it and do all that, but for some reason don't click with the guys around them. And how they help those guys play better, that's something we're looking for. I know those guys have done a good job of getting the guys together, doing the off-season workouts. To see which one of them kind of stood up, maybe did some other things. What I mean by that, just a little extra work in the weight room, maybe a little pulling the guys aside here or there and communicating with those O-linemen that are going to be their bread and butter as far as being successful. So I think the biggest thing is who's going to move the football team up and down the field is really what it's all about."
And certainly, Florida fans are hoping it's all about their team being much better than it was in 2014.