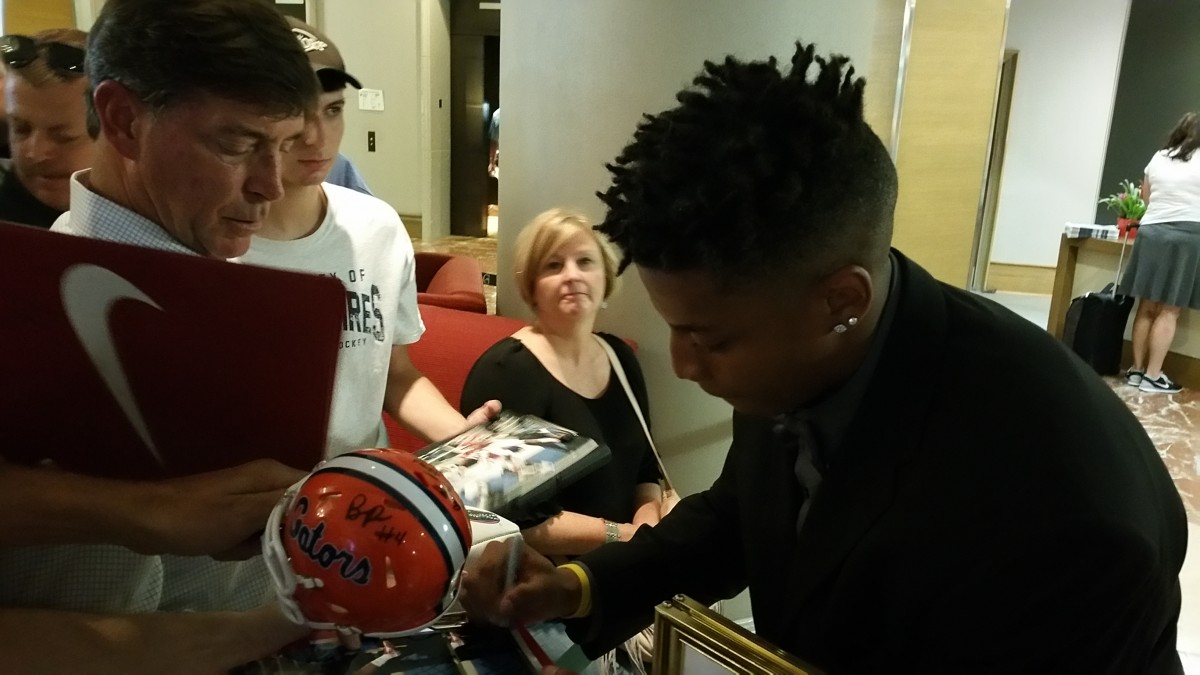 HOOVER, Ala. – Florida junior cornerback Vernon Hargreaves III is arguably the finest defensive performer in the Southeastern Conference.
But one thing you won't see from Hargreaves this season is this Gator tooting his own horn The 5-11, 198-pound speedster from Tampa doesn't like to talk about himself, not at all. And even on the field, he lets the Florida opponents do all the trash talking.
"I'll say some things but that's just not my game," said Hargreaves, speaking on Day 1 of SEC Media Days here Monday. "I think when people say something and I don't talk back it gets in their heads. Most of the time I'm too tired to talk from trying to chase them down," he added, laughing.
Hargreaves says the Gators are fast adapting to the coaching of new Florida mentor Jim McElwain after McElwain succeeded the beleaguered Will Muschamp at the Gators' helm.
"People react differently to change," he said. "But as far as how Coach Mac is handling it he's letting us get used to his ways. He's not trying to prove a point and hasn't made an example out of anybody yet. And you know what, we're coming along."
Hargreaves, a solid All-America candidate and two-time All-SEC performer who has six interceptions and 24 pass breakups in his UF career, said the team is determined to return to the SEC championship game.
"It's a process," he said. "That's our vision. Everybody understands the mindset and wants to be back at the top and like I say it's a process and we'll just have to wait for the season to see what happens."
Someone then asked Hargreaves if, say, Florida and Arkansas making it to Atlanta this December is realistic? "I don't see why not," he replied, smiling. "And it will be us winning, without a doubt."
Everyone is aware, if the Gators are to make a run at the SEC East title this season, the Florida offense will have to make major improvement over last season's poor performance.
"I guess we'll see," said Hargreaves. "I didn't get to see a lot during spring because they were learning all the base stuff first but I guess fall camp we'll see what we're going to do and how we'll attack teams, and that's just something we'll have to see Sept. 5."
Hargreaves said, without a doubt, former Alabama All-American Amari Cooper is the best receiver he's ever gone against.
"He can do anything … he's fast and he's strong and can catch the ball. He lets his play do his talking."
While the Gators clearly had their ups and downs during the 2014 season, one game in which they put it all together was the stunning 38-20 upset win over rival Georgia.
"To me that was a weird game, how it all played out," said Hargreaves. "We ran the ball 50-something times but it worked. That's just how that game was."
"My expectation this season is just to win," concluded Hargreaves. "I'm cynical when it comes to expectations and even for myself I don't have any self-expectations. All I want to do is win. That's what everybody likes and that's what I like."