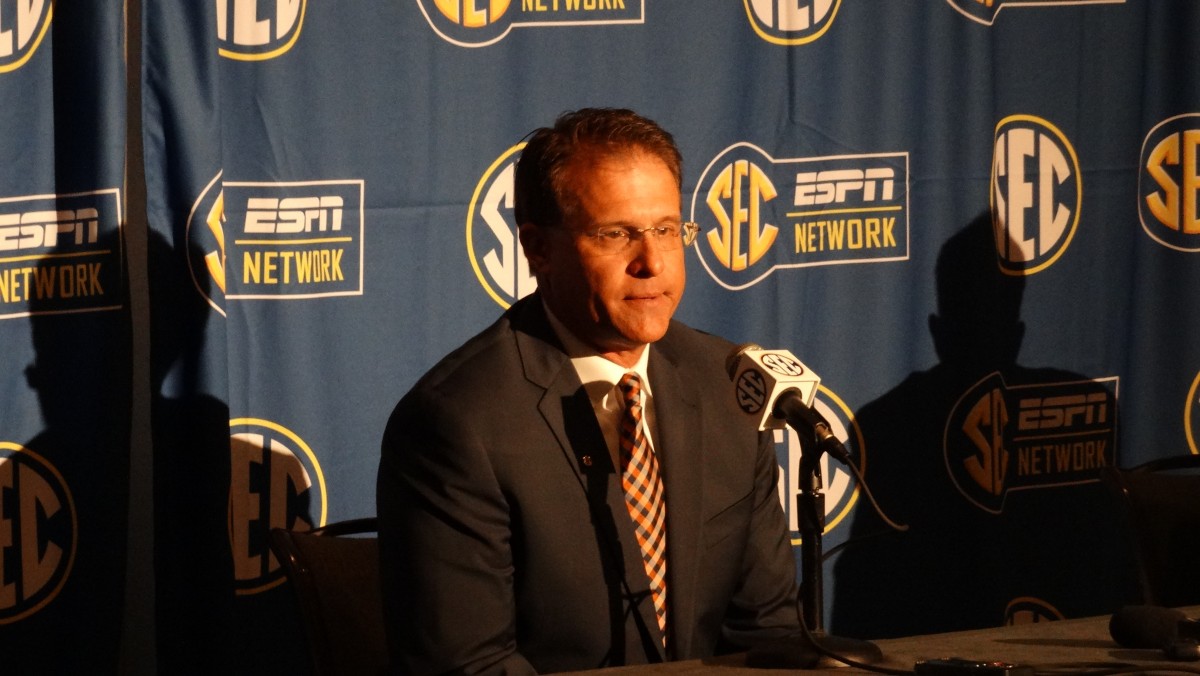 HOOVER, Ala. – For the most part, there was no problem with the Auburn offense last season but as for the Tiger defense, this was a unit that gave up more than 30 points and 400 yards in each of  Auburn's final seven games against power-conference opponents.
Thus, the Tigers' final 8-5 record in 2014, which included a 34-7 pasting at the hands of the Georgia Bulldogs and a 34-31Outback Bowl loss to Wisconsin.
But with former Florida head coach Will Muschamp now having left Gainesville and guiding the Auburn defense, head coach Gus Malzahn is anticipating much better results on that side of the ball this coming season.
"Defensively in the offseason, we hired Will Muschamp, in my opinion, the best defensive mind in all of football, not just college football," said Malzahn, the first coach to come to bat in 2015 SEC Media Days here Monday. "Our defensive players have taken on his personality, which I really like.
"His approach, his energy, his enthusiasm for the game. He just has that presence around him that he gives all the coaches confidence. He gives his players confidence. And he's got the it factor," said Malzahn. "So we're very blessed to combine his defense with an offense that we've been running. We think the future's very bright.
"Our front seven should be the strength of our team," Malzahn continued. "We have some quality experience back, and with the addition of Carl Lawson, a healthy Carl Lawson, we think that could be a definite strength for us. Our secondary will be thin," said Malzahn. "We do have some of our main guys back, but we're going to have to ask some young guys to step up as far as that goes. And just like our offense, our defense has a chance to improve each game as far as that goes."
Malzahn also thinks the Auburn offense could be even more potent this fall, what with talented junior passer Jeremy Johnson succeeding Nick Marshall at the quarterback spot.
"I'm very excited about Jeremy," Malzahn related. "Even in high school — I started recruiting him in ninth grade, and he ran a very similar offense. The fact this will be his third year in our system, even though he's the backup, he got a lot of reps with the ones in practice. He has two starts, of course last year starting out against an SEC opponent in the first half at home. I feel very good about where he's at. His coaches and his teammates have a lot of confidence in him, and he's earned that. I really appreciate the way that he responded to not being the starter the last couple of years, when he could have started for the majority of the teams, and the way he's really responded is really something special."
Malzahn, with five offensive starters and six defensive regulars returning from the 2014 squad, simply thinks his 2015 team has the potential to far surpass last year's record and make a strong bid for the SEC West crown this coming autumn.
"I really like this team. I'm very excited about football, not just being great coaches, but great examples for our players, which is the most important thing for me. Bottom line is our future is very bright at Auburn, and I'm excited to be the head coach for the Auburn Tigers."
The Auburn-Alabama rivalry did come up when Malzahn fielded questions from the media as it was pointed out that in 2011 Crimson Tide coach Nick Saban posted the sign "never again" all throughout the Alabama complex after the Tide's loss to the Tigers in 2010. Malzahn was subsequently asked if he was going to do something similar after Auburn's 55-44 loss to the Tide last season.
"No," he replied. "We're really just focused on playing better defense. We played extremely well on offense, didn't play very well on defense, gave up a lot of points, specifically in the second half. But we're playing at home this year, and I like our chances."