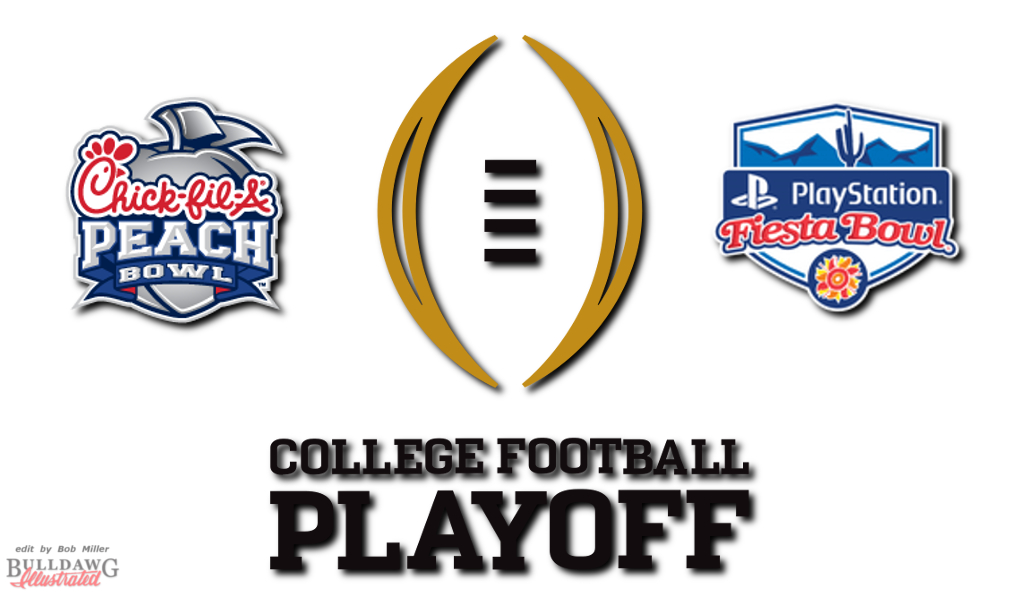 The college football season has flown by and so has 2016. It's New Year's Eve which means … the College Football Playoffs! If you are a college football fan, even if your team is not playing today, these two semifinal games should be a whale of an afternoon and evening of pigskin delight.
CHICK-FIL-A PEACH BOWL
(12-1) #4 Washington vs. (13-0) #1 Alabama
Date: Saturday, December 31st
Time: 3:00 p.m. ET
Location: Georgia Dome, Atlanta, GA
TV: ESPN
Stream: WATCH ESPN
For more information CLICK HERE
In one corner we have the number one team in the land and defending National Champions from 2015, an undefeated Alabama Crimson Tide representing the SEC, and in the other corner we have the fourth-ranked Washington Huskies, 12-1 on the season and fresh off winning the Pac-12 conference championship. It has been 25 years since the Huskies have been in contention to win a National Championship in college football. Chris Peterson is in his third year coaching Washington and has some big time bowl wins in his 10-year coaching career, but I am sure both he and Huskie fans would like to see him add a Natty to the belt.
Can the Dogs of the Pacific Northwest and Coach Peterson play spoiler and knock off mighty SEC Champion Alabama; keeping the Tide and Nick Saban from advancing to the National Championship game? The boys and girls in Vegas don't think so and have the men in Crimson favored by two touchdowns. That may seem high at first glance, but Alabama has been one of the best teams this season in scoring non-offensive touchdowns; thus, their success at covering the spread in their games this year. This Peach Bowl will come down to whether or not the Huskies can outlast the Tide's ground and pound attack the whole game. This game should be close for 2 quarters and part of the third, and I then expect Bama's depth to start to show. Gimme Bama 33-16.
FIESTA BOWL
(11-1) #3 Ohio State vs. (12-1) #2 Clemson
Date: Saturday, December 31st
Time: 7:00 p.m. ET
Location: University of Phoenix Stadium, Glendale, AZ
TV: ESPN
Stream: WATCH ESPN
For more information CLICK HERE
If your pigskin fun meter can handle it, then my fellow college football fans, you and I should all be in for a treat come approximately 7 p.m. ET when #3 Ohio State will look knock the ACC Champion and 2nd ranked Clemson Tigers out of the playoffs on their way the National Championship finale. Oh, but DeShaun Watson and company may have something to say about that.
Both teams have one loss on their record, and both had some very close calls against teams they should have put away more handedly given their ranking. Then there is some debate as to whether or not the Buckeyes belong here over B1G Conference Champions Penn State, but that is all mute at this point as these are the two of the four teams that the College Football Committee have set against one another. When it comes down to it, this could be one doozie of a game too. Unlike the Peach Bowl and Washington vs. Alabama, the kids in Vegas have this one being decided by less than a field goal.
This may be obvious or over simplified, but this semifinal will come down to which quarterback will make a few more plays than the other one against two pretty darn good defenses. The game will ebb and flow on how well DeShaun Watson plays for the Tigers and J.T. Barrett plays for the Buckeyes. I expect both signal callers to give it their all with the bright lights shining a little bit brighter than other college football Saturday nights. In the end, I think Watson will make a couple of more plays than Barrett; so, grab a Tiger by the tail and ride into the National Championship game. Clemson 27-21 over the Buckeyes.
OTHER BOWL GAMES TODAY
TAXSLAYER BOWL
(8-4) Georgia Tech vs. (7-5) Kentucky
Date: Saturday, December 31st
Time: 11:00 a.m. ET
Location: EverBank Field, Jacksonville, FL
TV: ESPN
Stream: WATCH ESPN
For more information CLICK HERE
You'll have to get up early for this one, as the Yellow Jackets of the ACC look to sting the boys in blue from the SEC in Kentucky. As a Bulldawg fan I find it hard to ever pick the Bugs, and I cannot bring myself to do so now. I'm going with the Wildcats 38-31.
CITRUS BOWL
(7-4) #20 LSU vs. (9-3) #13 Louisville
Date: Saturday, December 31st
Time: 11:00 a.m. ET
Location: Camping World Stadium, Orlando, FL
TV: ABC
Stream: WATCH ESPN
For more information CLICK HERE
How many bowl games have been hosted in Camping World Stadium this year so far? I've lost count, but another early Saturday morning game before the two "mack-daddy" semifinal games later on in the day. This one is another ACC vs. SEC match-up with 13th ranked Louisville taking on 20th ranked LSU. It will be Heisman trophy winner Lamar Jackson and that high-flying Cardinal offense pitting their weapons against a stout and steadfast Tiger defense that sports some pretty deadly claws and teeth that the birds will need to avoid. If LSU's offense shows up, they should win, but if not, it could be a long day for new Head Coach Ed Orgeron. But I think the Bengals play with their tails on fire for 'ole Ed; so, LSU grounds the Cards 30-23.
---
---