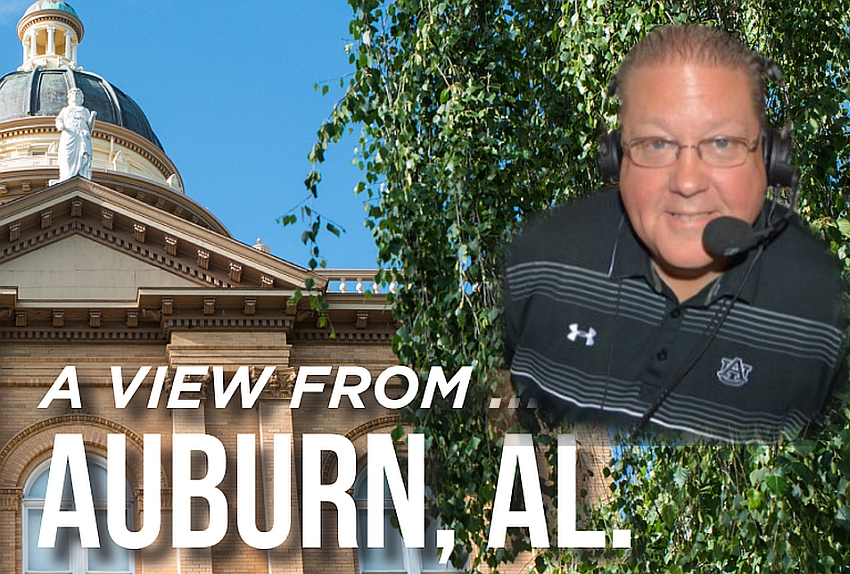 Andy Burcham, one of the great voices of Auburn athletics and one of the great guys in the SEC, is kind enough to once again give us his insights into the deep south's oldest rivalry. The first road SEC Lady Dogs game I broadcasted, Andy bought me a coke, and three years ago he gave me great tips on how to call soccer on TV.


Of Auburn's three SEC championship teams in the 21st century – with Cam Newton being the best player – would you consider the 2004 squad to be the best of those?

I believe the 2004 Auburn team was the most complete, offense, defense and special teams. Cam was the most spectacular player on the plains since Bo Jackson, but that 2004 team is my favorite since I've covered Auburn since 1988. It was a special group of men.


What does Auburn need to do to beat Georgia?

Good question. Health is a big part of this game because of the rivalry and time of the season. Auburn wasn't healthy last season and it showed. Georgia is much better this season and that's obvious. Auburn didn't establish a running game last season in Athens and losing Kam Pettway won't help the Tigers in that regard. It's imperative that Kerryon Johnson be healthy when the Bulldogs roll into Jordan-Hare Stadium.


What makes this rivalry so special to you?

I've only observed this rivalry since 1988. You hear all the stories about coaches and the time they spent at the other school … Shug Jordan, Vince Dooley, Pat Dye, Erk Russell, Rodney Garner, Tracey Rocker and the list goes on and on. Just look at that championships that these teams have won and this rivalry played a huge part in that season. I love the story David Housel tells about when the game was played in Columbus, Ga., and the gate was divided evenly after the game.


What is your take on Georgia this season?

An outstanding team that may be ahead of what most would have thought for Kirby Smart's second season. Don't mess around with lesser opponents.


Do you want to see the schedule get back to where the Tigers aren't at Georgia and Alabama – and from the Bulldogs standpoint at Auburn and Tech – both every other year?

That's a question for the athletic directors. It would certainly make it more even for Auburn to have Georgia or Alabama at Jordan-Hare every year.


Are there any changes you would like to see within the SEC, with the schedule, divisions, etc.?

Not sure it will happen, but I'd like to see the divisions realigned. I know that means Auburn and Alabama likely won't be in the same division, but it could be set up to play each other as a rival each year.


What are some things you would like to see done differently in college football?

I don't have an answer for this one. Can you make sure there are no more games in 90+ degree heat?




---
Recent Articles by Jeff Dantzler


[pt_view id="b358db4n1f"]