Aaron Murray may have never had a team realize its full potential when he was at the University of Georgia, but he left school with all of the major SEC offensive records. Four yards short of the Bama dethronement and ultimate glory in Atlanta in 2012, with penultimate glory on the table versus Notre Dame had he pulled it off, it didn't happen for him. For us.


The next season saw an unusual amount of injuries mount and even steel-heart Murray himself not available for the end of the season, where replacement Hutson Mason came on to take out Tech and drop a bowl rematch to Nebraska.


So 2012 was Murray, a play away. 2013 was four-year starter Murray's final campaign in Athens. We got no breaks and lost five games. 2014 was Hutson Mason's only year as a grad school starting quarterback. He went 10-3 that season, 11-4 overall.


2015 was Greyson Lambert's only full year as a starting quarterback. He was 11-2 as an unheralded grad school starter in his career at Georgia.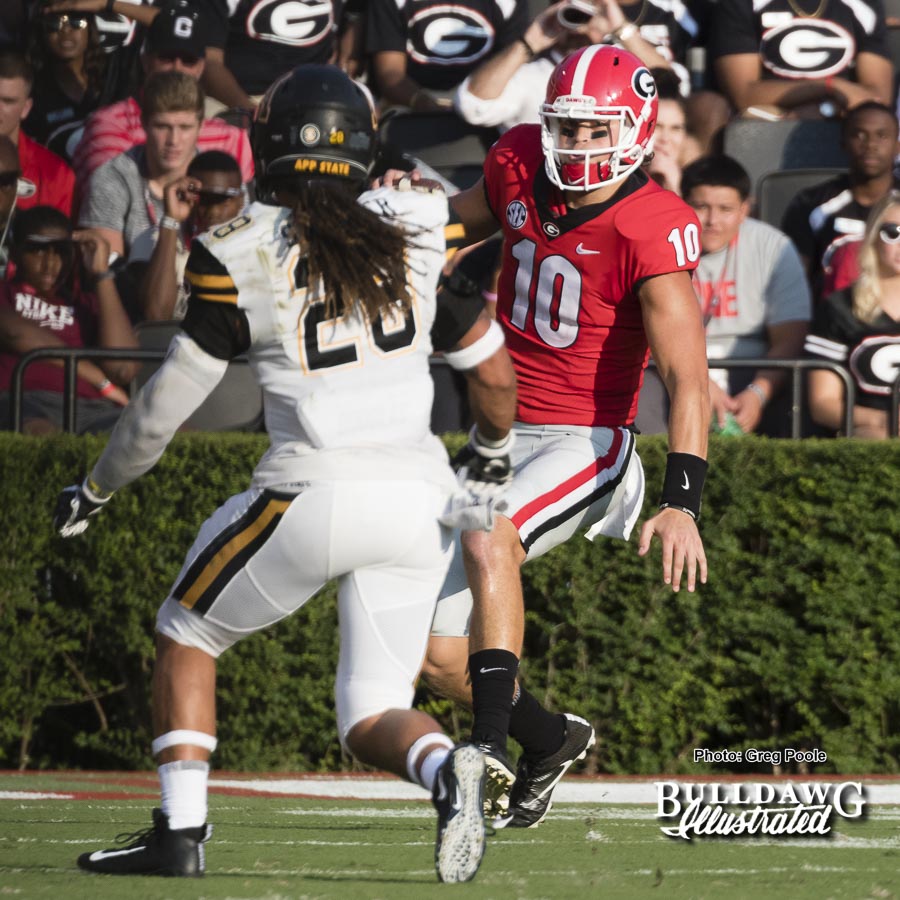 2016 was, perhaps, Jacob Eason's only healthy year at Georgia. True frosh.


When you have the arm talent of Eason, you don't stick around to ride the pine. The Fromminator gave the team a big boost with uptempo playing style, leadership skills, and ultimately catchable footballs. After, he said it was easy playing with so many athletes around him. It gets harder.


I'm wishing Jacob Eason a full recovery, of course, and you better all be or your head is very wrong. He crossed the country all the way over and all the way down, after a head coaching change, to play for UGA. He started as a true freshman in game two after coming on to win game one.


Now, young Jake Fromm has come on to win game one and starts game two…at freakin' NOTRE DAME. This stage may not be too bright for him, though, because that's how solid he appears to be. But Notre Dame appeared to be very explosive, opening against a defending conference champion.


While we built a 31-0 lead with almost no wide receiver help for Javon Wims. Also, the offensive line push was a good bit less than adequate against an undersized but scrappy App State defense. It gets much harder.


We are asking a whole lot of a true freshman, again. No quarterback continuity has been a glaring weakness at Georgia for some years now, as my brother Johnny pointed out early into the action Saturday. Another year, another QB. And what awaits? The SEC.



---


Han Vance is a regular contributor to Bulldawg Illustrated, writing on football itself and football culture. We will be publishing his fabled BIG HAIRY BLAWG every Tuesday & Thursday this college football season.


You can follow Han Vance on Twitter at: @hanvance


---
Recent Articles by Han Vance


[pt_view id="9a9402f8n5″]