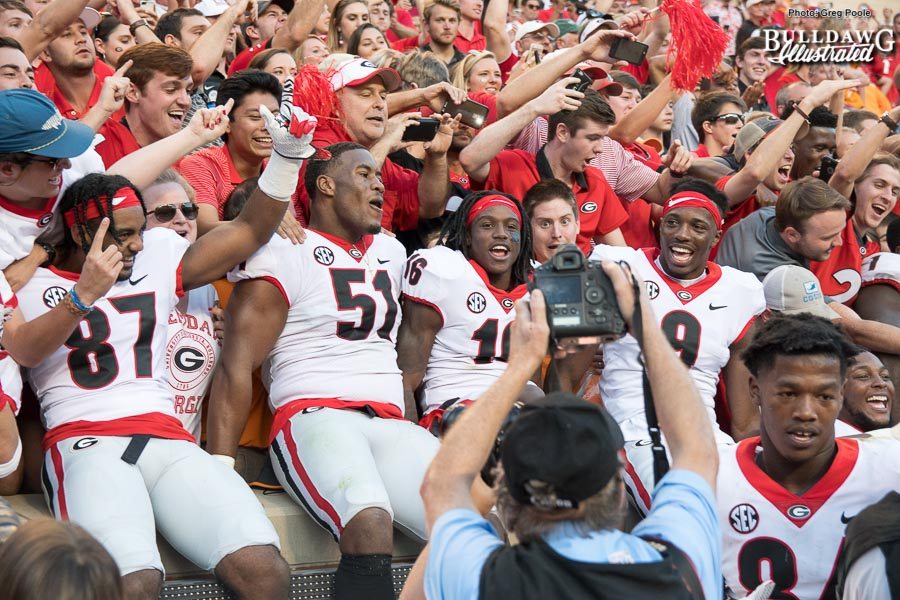 Our cool boss here at Bulldawg Illustrated, Vance Leavy, entitled the season opener print issue "Time to Unite in Totality." After a naysay-worthy tumultuous 8-5 season that featured a 1-of-5 middle stretch and another late loss to Georgia Tech, and free falling from being in the Top 10 after the 2016 season opener, basically into obscurity outside of the state, we really needed to hear that as a fanbase.

That sure struck a chord with me, as I knew this team was of CFP caliber, especially on defense, and senior-laden, and we had all hurt to stomach last year. Coach Kirby preached it, and we are just starting to see its results ~ UNITY ~ This is not a team of glamorous stars, this is instead a team of talented teammates.


Sony Michel is not having that big breakout year I dreamed of for him; Nick Chubb (480 yards) won't come close to catching Herschel's SEC mark. Swift, Herrien, Holyfield – all have the talent to start across the wide landscape of college football and all are just pieces, parts. Each a good to great runner doing the most with his opportunities, while still looking to a brighter personal future.


Godwin, Wims, Nauta – just dudes that catch an occasional pass. We are looking to be okay with them as our primary targets because they are mostly making the big plays with good hands when they get the chances. Though I do expect a much larger dose of the literally all-American talent at tight end sooner rather than later.


It's midseason, already, almost.


And we will be 6-0, we will be 7-0, we will be in preparation for that Cocktail Party. It's fully alright for the fans and media to look ahead, by the way, because nobody benefits much at all from us taking it one game or one play at a time. We are here to watch and cheer and talk…and cry. There is crying in football. Jacksonville is heavily on my mind already. With a little private school up next and a down Homecoming opponent after, everybody in the national media expects us to be 7-0.


Georgia was last 5-0 in 2012, five years ago, when we would late in the year enter the five-yard area of the winning SEC goal line and go no further. The South Carolina game had been moved back to the middle of the season, and we'd been badly blown out in Columbia. Won out before and after regular season, though, and almost did it to "their" Saint Nick in Atlanta. I presume that his guy Kirby wouldn't be here today if we had made that play unless he was coaching under Athletic Director Mark Richt.


We were undefeated heading into Jacksonville way back in 2002, the year of the bogus David Pollack forward lateral, the dumb DJ Shockley pick off the bench to end the half, the tragic Terrence Edwards drop. I was there. We were undefeated again when DJ Shockley was our starter in 2005 but didn't play due to injury, JT III instead taking a close loss. Both of those teams won the SEC and reached the Sugar Bowl; clearly neither won it all.


So, yeah, this is the rarified air we are and will be breathing just to get through the next two games unscathed. Mizzou has fallen on hard times and is a fitting Homecoming opponent when we need the win. Make no mistake about it, you can't lose Homecoming in consecutive years and plan to keep your job long at any football school. It was a tough ending to a slow game last year, Georgia dropping #Homecoming2016 to Vandy 17-16. But this is 2017.


The Dawgs are 55-20-2 in the history of the series, called by radioman Larry Munson for Vandy. Some forget, he was working there before he came to the Classic City. What a brutal scheduling stretch the SEC put the Commodores through – BAMA, Florida, and Georgia over a three-week run. Clemson couldn't survive that.


We haven't yielded 300 yards to any team this campaign, and Vandy's anemic offense can't be licking their chops. Our defense has yielded 9.2 points per game and 1.5 per game since we began SEC play. But…


Newsflash: Masked by winning huge behind the defense and gritty running game, Jake Fromm is suddenly struggling mightily, and even worse, the Georgia passing offense as a whole is pretty weak for a third consecutive season. You have to throw the ball to win at the highest level, these days. He ran a couple in and threw one in and had one pick, with nearly unlimited good opportunities Saturday. But, Jake will not be confused for Cam Newton ever. In my wildest fan fantasies, I don't envision him running effectively on Auburn or Alabama or Clemson come big boy time. He had 84 yards passing Saturday and was under 50%, and only completed one pass in the second half of the Miss State decimation, after his only great passing half of the year.


He still plays like a freshman. Gamer and all but looking at the math and extrapolating his numbers out (140 yards a game), he would have just 1,600 yards passing on the full year. In modern history, that total is very highly unlikely to win any rings, folks. Eason, on the other hand, was around a .500 passer last year, and sailed his lone opportunity too high Saturday, when he had an open man on the other side of the end zone. So, while I definitely say go with the hot hand, we will need much more to get where we want to be. Around 80 yards passing against a downtrodden defense stuck on the field the whole game is not a good sign. Statistically, Fromm played poorly enough to be benched. Instead, he was greeted by victory ovation. Only we sang Rocky Top.


---
Recent Articles by Han Vance


[pt_view id="9a9402f8n5″]