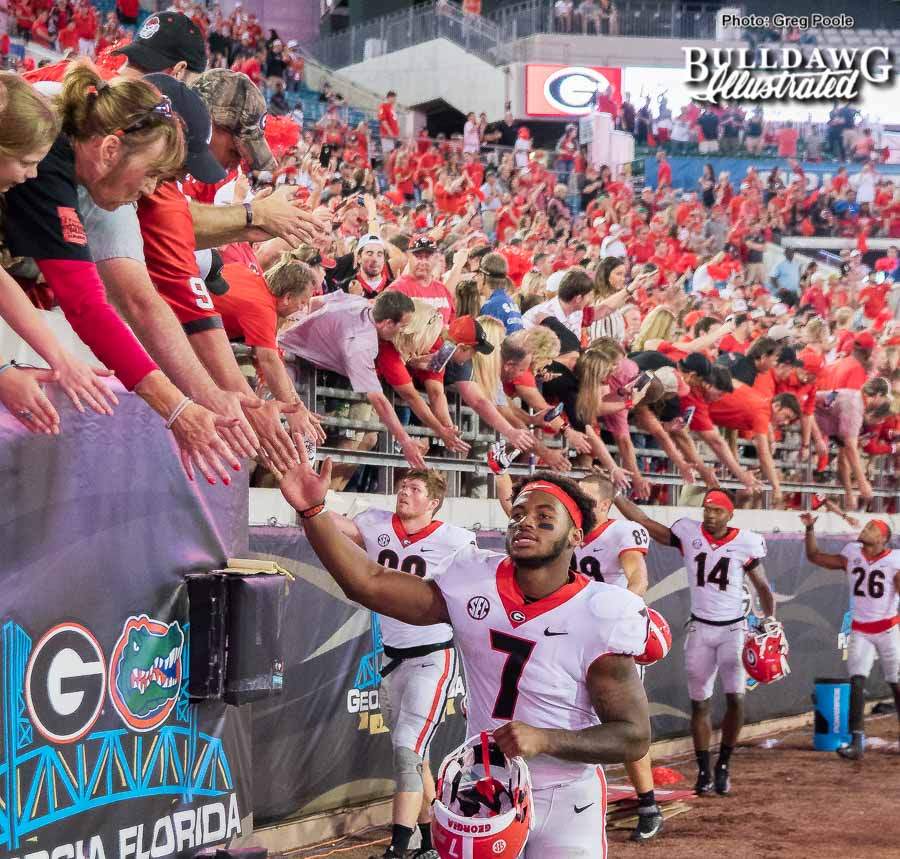 With three SEC games remaining, Georgia has a two-game lead in the SEC East. Barring complete conference collapse, the Dawgs are heading to Mercedes-Benz Stadium in downtown Atlanta for the new dome's inaugural SEC championship, a week after playing Georgia Tech on the flats of Midtown. Right up the street from me for Tech and a short train ride to the title tilt…Time to get excited!

You are watching perhaps the greatest single Georgia football team of all time, and the senior/junior upperclassmen leadership of the guys suiting up is at a clear peak in our storied program history.
While the biggest wins of the year, to-date, are beginning to be way back when, the 20-19 win at a top form and otherwise dominant Notre Dame and the league home opener versus (now 6-2, ranked) Miss State. The last four games have been easy wins over inferior SEC East competition. After not registering a total blowout in a remarkable two full calendar years, UGA whipped up on little guys Samford and App State, surviving ND in between. The Dawgs then easily smoked five consecutive SEC opponents in blowouts, including 41-0 at Tennessee and 42-7 over Florida.
Ah JAX – not so bad after all to be away in the sun of late October, having fun, when you win some of the time…now is it. Finally, Georgia has one record-statistic edge other than overall series history, after dropping three straight to the dreaded enemy. We've currently won 4-of-7 there.
After suffering through 21 years of utter Gator dominance, we have at last and, at least somewhat, broken through. While we do still need to win again here next year to further validate this win. If not, we would have then dropped 4-of-5 to Florida, which would instead not be any improvement to point to in Jacksonville.
We won under a third over three full decades, with a program generally expected to win three-fourths of its football games, 9-of-30 total Cocktail Parties, including the tail end of the Dooley coaching era. And a sad just 25% recently on a continuing trend: that's 1-of-4 currently and a terrible 7-of-28 since Spurrier was hired as head coach.
Coaches have come and gone on both sides over the years of this lengthy UGA downturn, and unless the trend takes a consistent hard turn toward Georgia, count me on the side that says play the series somewhere in our state at least a third of the years. It'd still be lots of fun, and fairer, to go say JAX-JAX-ATL in a rotational pattern. The site of the (formerly called) Gator Bowl in Florida can't be a legitimately neutral site regardless of even ticket distribution. While I do understand how much the game means to the legions of diehard fans in the southern parts of the largest state east of the Mississippi River, a game closer to being in-area, where they don't have to travel so far north to see their beloved Dawgs. We keep winning now, and by that I mean more than half the time like we have done over seven years, dating back to Murray's sophomore season, and JAX is great. It's a true midseason college football bowl game played in a festive location.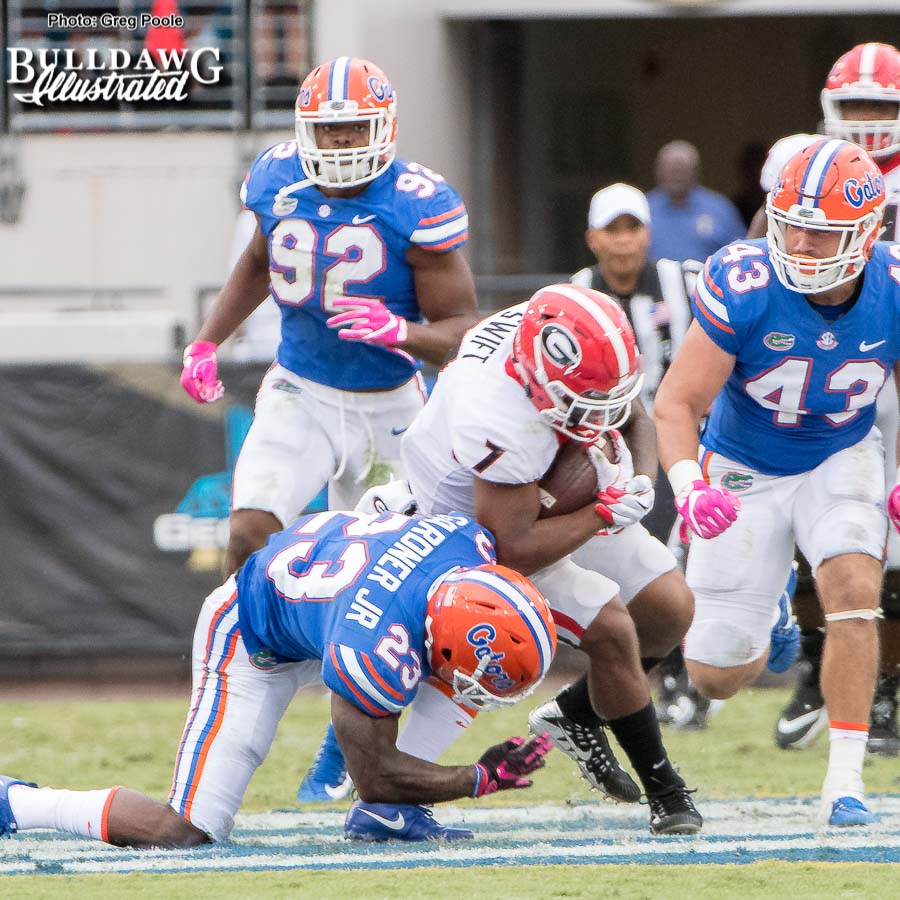 Down the line of those end zones the colorful battle lines are drawn every year, but here we gave MVP Michel 6 carries – nearly a buck forty! The SEC's leading rusher, Nick Chubb (765 yards), chipped in with grit; our impressive younger runners showed up. Fromm threw a few times, one a perfectly timed end zone riser to Wims, another a miscommunication play he should have thrown away way harder. And that was it. That was all we needed on offense, and as a Gator once said to me in Athens of Wuerffel/Spurrier when they scored 50+ on their way to the SEC championship, "That was too easy." Bet he feels the Dawg chomp today.
Big Trent was back and Reggie Carter is back, starting and solid for Natrez Patrick. John Atkins was truly huge and, of course, Roquan was on. The Human Missile and his super friends stuffed them so badly that we actually supplanted the dominance of leading UT 41-0, by edging up to 42-0 on our biggest rival. They scored late.
All the damage was already done. We were preparing for ATHENS LEGACY (at Flanagan's this year) party week. See, in my mind. I was already onto the next game by the start of the 4th quarter, and so was our program. It was Carolina Chicken week, already. 8-0. Floating on cloud nine, a dangerous position to be in, actually.
Wild to think that while Kirby is up for National Coach of the Year honors, his two closest competitor schools in the East are basically "Now Hiring" already. They quit the battle for divisional supremacy already at Tennessee and Florida, after both taking us down last year. Glory. Glory.
Yet, Georgia's next three games are all against two-loss teams having decent years, each actually still in contention to win their side of the SEC. We will go at old Auburn and then finish our SEC schedule at home against Kentucky, before Tech. First, alum Will Muschamp brings his improving and opportunistic South Carolina Gamecocks to the Classic City. My alum brother Johnny Vance and I will be sitting together.
Trey Shelton (of Party Dawgs fame) and Han Vance (of BIG HAIRY BLAWG) are hosting a 2nd annual ATHENS LEGACY party this Saturday before kickoff, 21 and up at Flanagan's downtown Athens from 11a-3p, no cover. Come see me, y'all.
And, as always, GO DAWGS!!!
---
Recent Articles by Han Vance


[pt_view id="9a9402f8n5″]