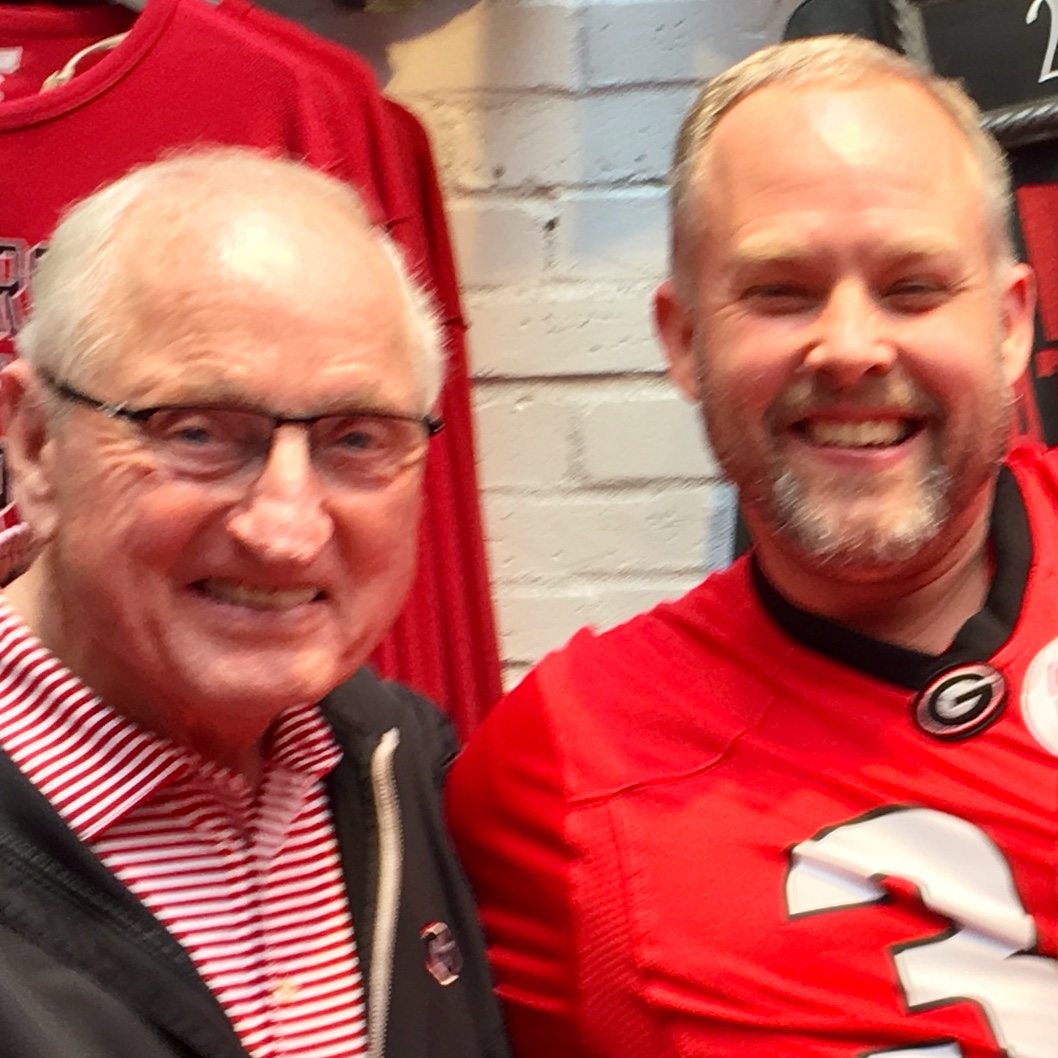 (A cool Coach Dooley and an obviously elated Han Vance at Homecoming 2017)
The Georgia Bulldogs are 7-0 in 2017 so far, and the Big Hairy Blawg has 7 points…

1. Dawgs are 7-0 (tied for first overall in SEC), as they were way back in Mark Richt's 2nd and 5th years, when UGA last won the SEC, after a long drought followed the early 80's success under Vince Dooley.
2. Both of Richt's SEC rings were earned after losses to Florida. Georgia has a two-game SEC East lead over the Gators. While UGA can actually afford to lose this game in the SEC race, it is still a must-win for the program.
3. Was startled and dismayed to read that Georgia was last in the SEC in sacks, until I realized that we are funneling to "The Human Missile" (#3) Roquan Smith and playing without two of our three leading tacklers from last season: big Trent Thompson is hurt and Natrez Patrick is suspended. This limits what we normally do as a defense, especially as our 3rd interior starter in linebacker rotation, Reggie Carter, has been hurt and unable to pick up the slack. Sacks are less important than quarterback pressures in my opinion, and Roq is a Midseason all-American always around the ball, but we will need to see LoCarter and Davin return to the form outside that they showed in their promising game at Notre Dame, if we are to win at the highest levels.
4. Could we really go four full years – a whole Frosh to Senior cycle – without beating Florida? (I say no.)
5. Georgia has a stable of five stud running backs contributing: Chubb, Michel, Swift, Herrien, Holyfield. Yet, Chubb still has the most rushing yards (688) in the SEC.
6. Of the seven wins so far, six were easy wins according to scoring margin. Florida is just 3-3.
7. True freshman quarterback Jake Fromm's seventh game was his statistical best. He threw for over 300 in a duel against the strong-armed Drew Lock, moving into first in the SEC in passer efficiency with the highest per completion yardage average of any passer in the league. And, unlike last year, the SEC is considered a quarterback-rich conference this season. Jacob Eason never saw the field Saturday night but remains a supremely talented backup. We are in easily the best position we have been at quarterback entering Cocktail Party week since Murray won three straight. I will say it again: THIS IS A MUST-WIN!
---
Recent Articles by Han Vance


[pt_view id="9a9402f8n5″]