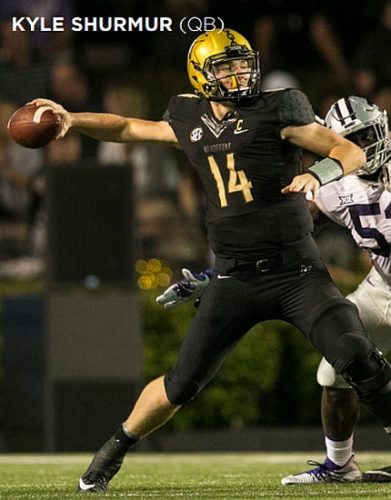 So who are the Vanderbilt Commodores to watch in their game with Georgia this weekend on Saturday?


RALPH WEBB (RB, #7)

One of the very top running backs in the Southeastern Conference, this 5-10 and 202-pound senior rambled for 1,283 yards as a junior in 2016 while tallying 13 touchdowns. Armed with both quickness and power Webb is Vanderbilt's all-time leading rusher and is on his way to becoming the SEC's all-time leader in rushing attempts. The Bulldog defense has gone against two outstanding backs the past two weeks in Mississippi State's Aeris Williams and Tennessee's John Kelly. Now, the Georgia defenders face another big challenge in the hard-running Webb.

KYLE SHURMUR (QB, #14)

Although Shurmur passed for 2,409 yards and nine touchdowns in his sophomore campaign last season, it was admittedly an up-and-down season for the 6-4 and 227-pound Philadelphia, Pa. native as he also had 10 of his passes picked off. But Shurmur has bounced back strongly this season as, entering the Commodores' game at Florida this past weekend, he had completed 63 percent of his passing attempts for 721 yards and eight touchdowns, with just one interception. Combining with Webb, Shurmur gives Vanderbilt a good run-pass balance.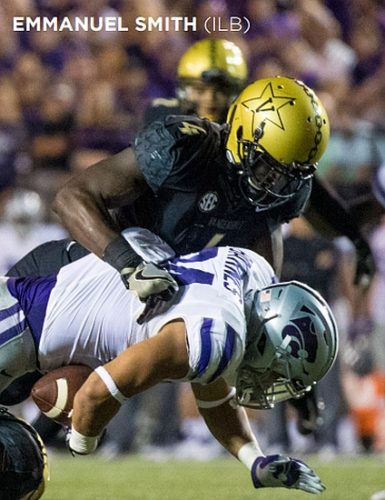 EMMANUEL SMITH (ILB, #4)

This 6-2 and 240-pound senior linebacker has climbed to the top of the Vandy tackle chart this season and with his penchant for being around the football, the Bulldog O-linemen will have to account for Smith throughout the afternoon on Saturday, along with his fellow outstanding senior linebacker, Oren Burks.

NIFAE LEALAO (NT, #77)

Lealao, a 6-5 and 312-pound senior, is the anchor of the Commodores' defensive line. With both strength and quickness, he can disrupt an opposing offense, especially on inside runs. Lealao is one of the highest rated recruits ever to sign with Vanderbilt … thus, another challenge facing Georgia's offensive line Saturday in Nashville.


---
Recent Articles by Murray Poole


[pt_view id="2fb799183g"]