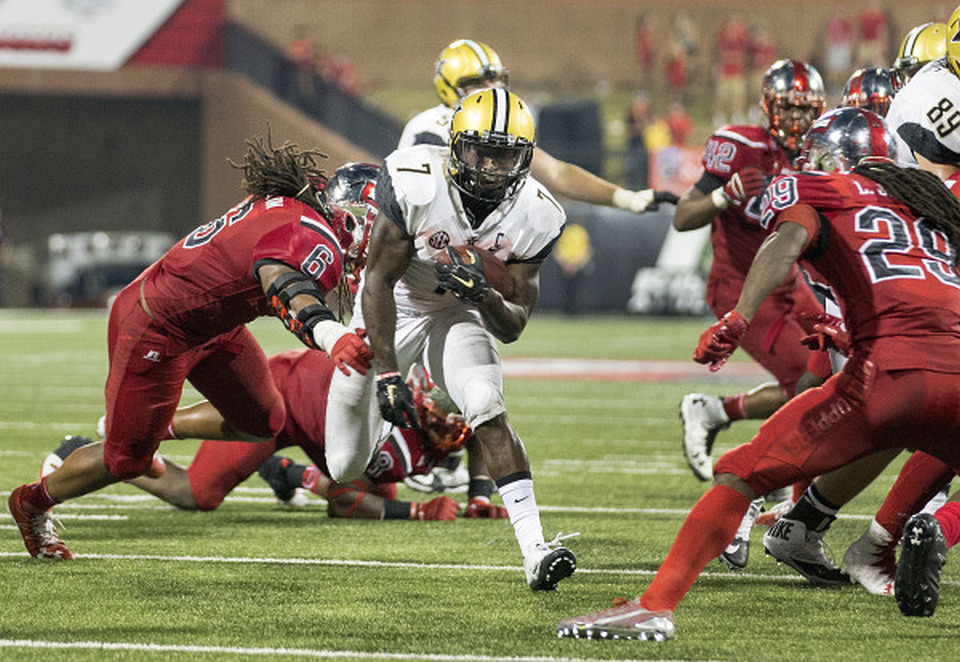 Georgia will host Vanderbilt for homecoming on Saturday, and Murray Poole has some Commodores to watch.
RALPH WEBB (TB, #7)
This 5-10, 202-pound junior is one of the very best running backs in the Southeastern Conference. Webb is again the Commodores' leading rusher after putting together one of the finest seasons ever by a Vanderbilt sophomore running back last season. Webb earned third-team All-SEC honors from Phil Steele publications in 2015 and broke several team marks along the way. Webb is certainly a player that makes the Commodore offense click and the Bulldogs' defense will have to be at its best on Saturday to slow down No. 7, who has the power to run inside the tackles and the speed to cause damage on the edge.
ZACH CUNNINGHAM (ILB, #41)
And on the other side of the ball, Zach Cunningham is indeed a force for the Commodore defensive unit. Cunningham earned All-SEC First Team honors from the Associated Press and Phil Steele as a mere sophomore last season as well as Phil Steele Third Team All-American laurels. The team leader in both total tackles and sacks in 2015, Cunningham (6-4, 230) has picked right up this season where he left off last year, again leading the team in tackles as the 'Dores prepare to come between the Hedges on Saturday. Dogs' offensive line, better get some hats on this guy!
TRENT SHERFIELD (WR, #10)
When the Commodores elect to put the ball in the air Saturday, the Georgia secondary must neutralize Sherfield, a 6-1, 200-pound junior wideout who became Vanderbilt's top receiving target in 2015, in just his second year on campus. And if you're wondering what Sherfield is capable of in a game, get this: Against Austin Peay last September he produced arguably the greatest game ever by a Commodore receiver, setting a team record with 240 yards on 16 catches. This guy excels in both the short and deep routes.
OREN BURKS (FS, #20)
While Zach Cunningham brings the heat on opposing ball carriers, Oren Burks patrols the Vanderbilt secondary — at both free safety and the STAR position — with much aplomb. The 6-3, 222-pound junior started every game in the secondary and ranked among the SEC's top 10 in interceptions in 2015. Having a real nose for the football, Burks is also a sure tackler when it comes to slowing a team's running game. He was a third-team All-SEC selection last season by Phil Steele publications and will be a challenge for both the Georgia receivers and ball carriers come