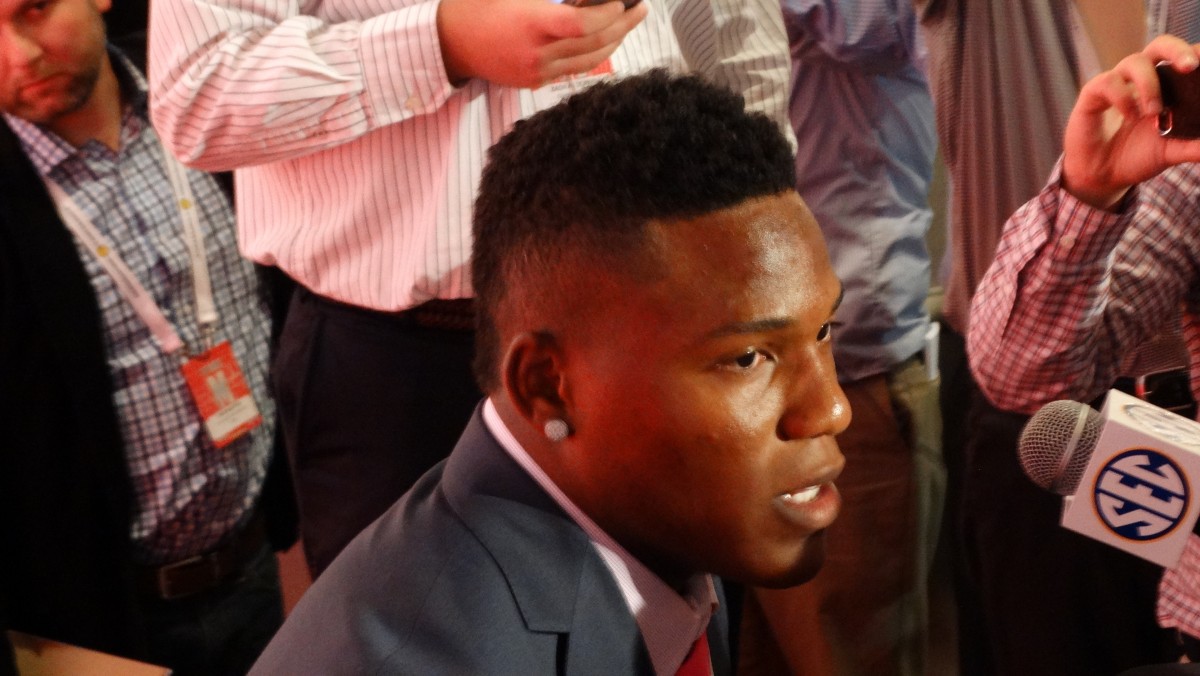 HOOVER, Ala. – During his talk at SEC Media Days on Tuesday, South Carolina coach Steve Spurrier said that horse racing had its Triple Crown winner this year in American Pharoah and "we've got our South Carolina Pharoh."
Like the now famous thoroughbred that captured the Kentucky Derby, The Preakness and Belmont races, this Pharoh can also run very fast and, to boot, can really catch a football as well.
Last season in his sophomore campaign for the Gamecocks, Pharoh Cooper snared 69 passes for 1,136 yards and nine touchdowns. The 5-11, 208-pound Cooper also ran for two touchdowns and threw for two as a Wildcat quarterback.
Named first team All-SEC in 2014, Cooper is a solid All-America candidate this season as he leads a Gamecock offense that will be breaking in a new starting quarterback.
Cooper, for one, thinks Carolina is ready to amend for last season's 7-6 record, one of the worst of Spurrier's illustrious coaching career.
"We lost three or four games by seven points and they were close games at the end but nobody was thinking about that," said Cooper while addressing the media on Tuesday. "They were just thinking we lost the games but coming off this win in the bowl game (over Miami in Independence Bowl) at the end gives us confidence going into this season.
"We're on the same page as Coach Spurrier this season," Cooper said. "We're going to do a whole lot better than people think we're going to do. That's our mentality. We know we're a good team. We're a young team right now but we're working hard to be a better team and get back to that 10 or 11-win season we're expected to do at South Carolina."
Cooper said he's not sure which of the three SC quarterback candidates … Connor  Mitch, Perry Orth or Michael Scarnecchia … will capture the starting job this season.
"They all throw the ball pretty well. They're out there competing every day. As far as starting goes, that's Coach Spurrier's decision – I don't have any say on that. I'm just going to go out there with the other receivers and run our routes and catch the ball, from whoever throws it. I know the coaches will make the right decision. It is a big concern on who will be our quarterback because that is the most important position on the team," Cooper admitted.
Despite the big numbers he put up, some thought  Cooper was overshadowed by Alabama's All-America wide receiver, another Cooper named Amari, last season.
"Last year, I wasn't expecting to come in and have a 1,000-yard season and be the second leading receiver in the SEC," said Pharoh Cooper. "I knew who Amari was but I wasn't expecting that year so I was fine with the year I had and I'm trying to have a better year this year."
Cooper said the Gamecocks won't be caught looking ahead to the big, early SEC showdown with Georgia, which arrives on Sept. 19 in Athens.
"We're going to take one game at a time. With the season we had last year, we're not looking ahead to any games. For the first game we're looking forward to that game and the second and so on. Georgia's a good team but we have Kentucky first (in SEC) and our mind's going to be on Kentucky that whole week, and then when Georgia week is upon us we'll be getting ready for Georgia."
Cooper said he thinks about the NFL a good bit "but right now I'm still a junior in college and all I'm thinking about is to help South Carolina win games."