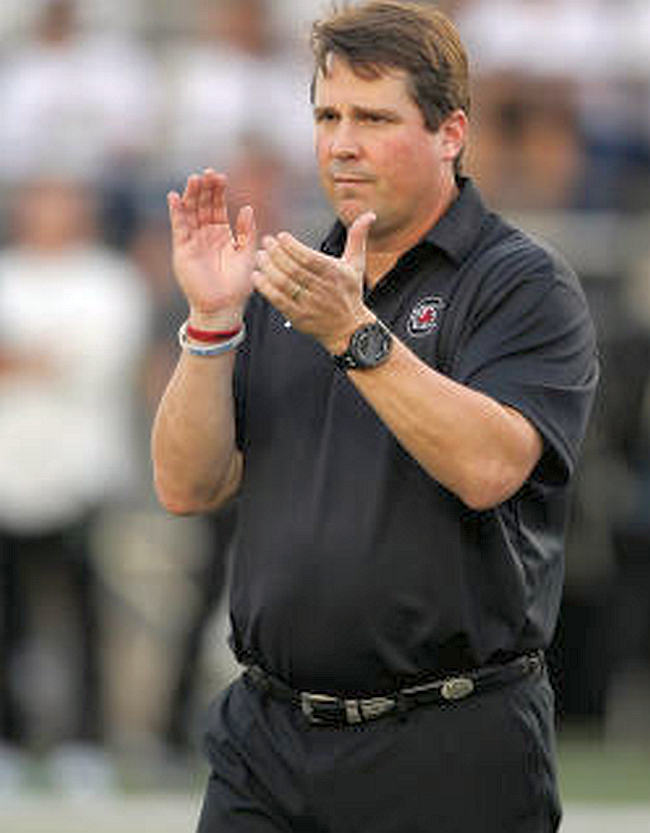 South Carolina will host the Georgia Bulldogs for some Saturday night SEC football, and Murray Poole has some Gamecocks to watch for up in Columbia.


WILL MUSCHAMP (SOUTH CAROLINA HEAD COACH)
It's certain that no South Carolina Gamecock at Williams-Brice Stadium Saturday night will want to beat the Georgia Bulldogs more than the head coach himself, Will Muschamp. The Rome, Ga. native was a strong safety at Georgia from 1991-94, earning his way from walk-on to a scholarship player by the spring of his redshirt freshman season and eventually being named the Bulldogs' co-captain his senior season. Introduced as South Carolina's 34th head football coach on Dec. 7, 2015, Muschamp is a 21-year coaching veteran, including 13 years in the SEC. Of course, he was a previous head coach at Florida, posting a 28-21 record from 2011-14. He led the Gators to three bowl games in his four seasons in Gainesville and was recognized as the SEC Coach of the Year in 2012 after guiding Florida to an 11-2 record and a Top-10 finish. In his four years at UF, Muschamp fell to his alma mater three consecutive seasons in 2011, 2012 and 2013 before leading his Gators over the Bulldogs in his final year in Gainesville, by 38-20. Muschamp, who served as defensive coordinator at Auburn, LSU and Texas, will surely have the Gamecock defense highly motivated to stymie a Georgia run game that had struggled mightily entering this past Saturday's battle with Tennessee.
T.J. HOLLOMAN (LB, # 11)
South Carolina absorbed a tough blow when senior linebacker and leading tackler Skai Moore was ruled out for the 2016 season with a herniated disc in his neck. Thus, it was mandatory that last season's second-leading tackler, T.J. Holloman, step up for the Gamecocks' defense. And the 6-2, 230-pound senior linebacker out of Stone Mountain (St. Pius) has done just that. Hollomon is a team leader in tackles and also has to his credit. One can bet Mr. Hollomon will be pumped facing the guys from his native Georgia Saturday night at Williams-Brice Stadium and it will be up to the Bulldogs' offensive front to keep Hollomon off the UGA running backs and QB Jacob Eason.
ELLIOTT FRY (PK, # 29)
If Saturday night's SEC East skirmish between Georgia and South Carolina comes down to a field goal contest, the Gamecocks will rate a heavy favorite to win that battle. That's because of the presence of senior Elliott Fry, who has been South Carolina's ace kicker for four consecutive years and one of America's best. Fry, who had been true on 5-of-6 field goal tries this season entering this past Saturday's game against the Aggies, is simply a guy who has won many games for Carolina with his right foot, that fact in stark contrast to Georgia's two freshman kickers this season.
HAYDEN HURST (TE, # 81)
Will Muschamp's team has struggled greatly on the offensive side of the ball … finding the going tough both on the ground and through the air. Still, Gamecock quarterback Brandon Mcllwain has been successful throwing to top receiver Hayden Hurst. The big sophomore tight end (6-5, 250) has pulled in over 19 passes for over 200 yards. Hurst is also a fine blocker on the edge and a guy Georgia's defense will have to account for when the ball is kicked off Saturday in Columbia.