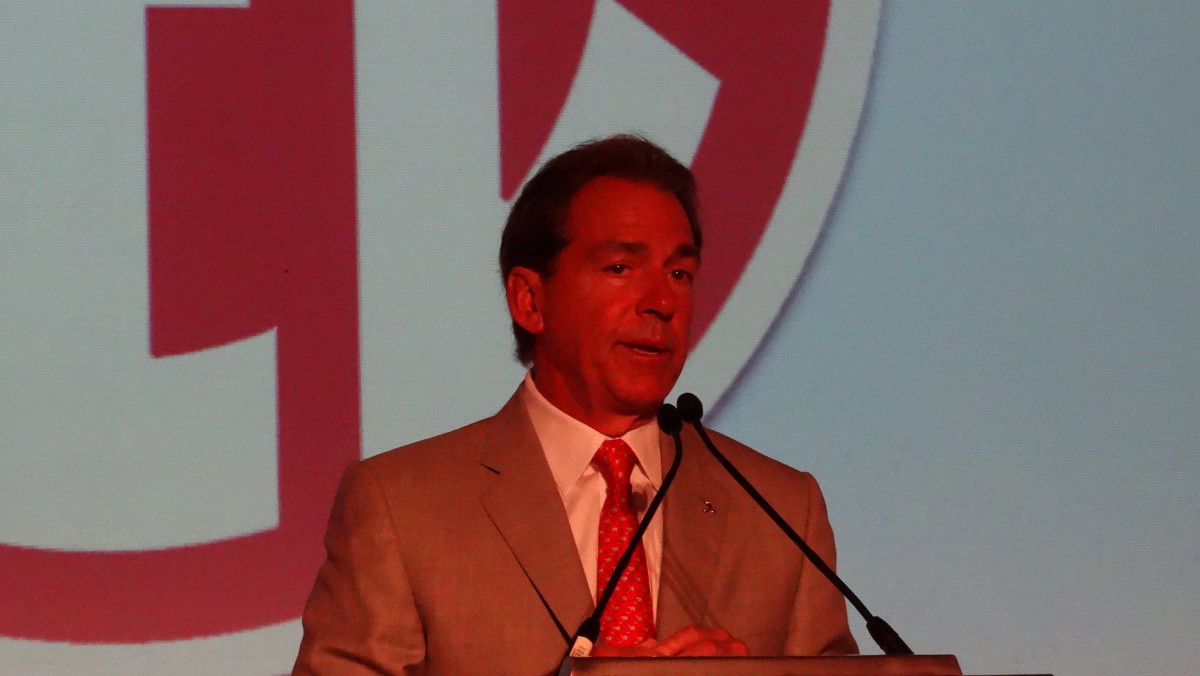 HOOVER, Ala. – When is a 12-2 season record not acceptable?
If you follow Southeastern Conference football even a little bit, you know that's only the situation in Tuscaloosa, Ala.
During the 2014 season, the Alabama Crimson Tide of Nick Saban rolled through 12 opponents while tasting defeat only twice. But, ah, those two setbacks, a 23-17 loss to an underdog Ole Miss team and a crushing 42-35 defeat at the hands of the eventual champion Ohio State Buckeyes in the College Football Playoff semifinals in the Sugar Bowl, well, that led the Crimson Tide Nation hurting a bit and licking its collective wounds at the end of an extended 2014 campaign.
Because, most certainly, Nick Saban's astounding success on the Capstone has surely spoiled Alabama's legion of rabid fans. After storming to three national championships in four seasons, the Tide has failed to make the national title game the past two football seasons.
So, as their team begins to gear up for the fast-approaching 2015 season, 'Bama fans are looking for Saban to regain his golden touch and steer the Tide back to what they consider its rightful place at the top of the college football world.
But the Alabama fans best be realistic. It's not going to be easy for the defending SEC West champions … not with the Tide returning only two offensive starters from last year's squad. Clearly, an Alabama defense that brings back seven starters on that side of the ball will have to carry the team early on, in a tough Sept. 5 season opener in Arlington, Tex. against the Wisconsin Badgers, in a Sept. 19 home game against Ole Miss, and in an Oct. 3 trip between the hedges of Sanford Stadium against likely SEC East favorite Georgia.
"It's going to be a challenge for our team to re-establish the identity that we would like to play with," said Saban, the first coach to the podium Wednesday morning at SEC Media Days. "We want to be more physical, tougher on the line of scrimmage, be relentless in the way that we compete so that we're never affected by what happens in a game, that we can keep playing at a high level on a consistent basis, and that we take care of the ball and do the kind of things to execute with consistency that's going to give our team the best chance to have success. These are things that we need to improve on.
"We did not finish the season the way we wanted to last year in terms of the way we played," said Saban, who has compiled an 86-17 record in this eight years at Alabama with the three national crowns under his belt. "And some of these things, we turned the ball over too much at the end of the season, we gave up too many explosive plays on defense, we gave up too many points because of a combination of all those things. So we need to improve in all those areas. So this year's team has its challenges, like all teams do. In college football, you probably lose 25 percent of your team every year, which is what makes it great, makes it fun to rebuild, but this year especially on offense, we're going to have a lot of new faces, and we have some talented players. They don't have a lot of experience. So how rapidly they develop is going to be a key to how well we come together on offense," he said.
"I know you're anxious to ask me about the quarterback situation, but that's going to be one of the keys to the drill in terms of somebody taking the bull by the horns at that position, being assertive, playing with confidence, distributing the ball and executing in a positive way, being a good decision-maker, and showing leadership at the same time. We do not have an experienced player at that position. We did not have one last year. Blake Sims did a fantastic job. So we need somebody to take the bull by the horns this year and be that kind of player for us at that position. I think we have several guys that are capable of it. I don't think anybody's come to the forefront as of yet, and I don't think it's something that we can force to happen. I think we've got to let it happen. And I cannot give you a timetable of when that's going to happen."
It's generally thought that senior Jake Coker will be the successor to Blake Sims at the QB position. The 6-5, 232-pound Coker, a transfer from Florida State, has yet to start a game at 'Bama but has a strong throwing arm and good mobility for his size. Coker will be challenged by redshirt freshman David Cornwell, another 6-5 quarterback who emerged as a top contender in spring practice after being slowed by injuries in his first season.
"Jay Coker has done an outstanding job for us," said Saban. "I think he's made a tremendous amount of improvement. I think that a better understanding, better knowledge of the system, better knowledge of what we expect, what's expected of him in our offense are all things that have contributed to his confidence and his performance level. We just want to see him continue to develop the kind of consistency to make the kind of decisions and judgments to process the information quickly and make quick decisions that allows him to play winning football at his position. We're encouraged by all the things that he's done to this point."
Georgia native Derrick Henry (6-3, 242, Jr.) leads the Tide running back corps after being the team's leading rusher last season with 990 yards and a 5.8 yards per carry average. And the Tide backfield will be bolstered by the return of senior Kenyan Drake, who suffered a horrific broken leg suffered in the Ole Miss loss. The speedy, 210-pound Drake is also most proficient at catching the ball out of the backfield.
Returning stalwarts for the Alabama defensive unit include senior cornerback Cyrus Jones, junior nose guard A'Shawn Robinson, senior end Jarran Reed, junior end Jonathan Allen, senior inside linebacker Reggie Ragland, senior outside linebacker Denzel Devall and junior safety Eddie Jackson.
"Defensively," commented Saban, "we have a lot more experience, a lot more veteran returning players. We're going to have a very, very good front seven, and I think it's important that the secondary does not give up the kind of explosive plays we gave up at the end of the season last year. And I think it's also important that, if we're going to be a no huddle team like we were last year, I think we have to manage the season better with our team, because I think at the end of the season last year, we ran out of gas a little bit. We played more plays, I think by 170 on defense, which is like a couple, three more games. And our players showed it. So we're going to have to do a better job of keeping our team where they need to be so that we can finish strong. We have some outstanding specialists on our team. We have a great punter. I think a good field goal kicker who seems to be healthy again. And because we have good team speed and some pretty good depth, especially on defense, it should contribute in a positive way to being very, very strong on special teams.
"So even though this team has its challenges," added Saban, "it also has a lot of very good returning players that can provide leadership and example for a lot of other young players so that we can have a very competitive team. As always, our schedule is going to be, as I think everyone's schedule in our league is, very, very difficult. We're going to play a number of teams in our division that are outstanding teams, and we're going to play several teams from the East that are outstanding teams. So I think in our league you have to look at it like there are always going to be seven or eight teams that can beat you. So it's important that you build a team that looks at every game as the challenge and plays to a high level on a consistent basis. So that gives you the best opportunity to have success long term."
Saban was asked what factors have enabled the SEC West to achieve the competitive balance that it has.
"Well, I think the SEC as a league is still one of the, top to bottom, one of the best leagues there are, and that includes the East and the West," he answered. "We just happen to have in the last few years a lot of really, really good programs in our division in the West, a lot of good coaches either do a great job of recruiting and a great job of developing players. I think the footprint of our league has changed a little bit, which probably enhanced us in the West a little bit more. I can't really answer beyond that. I just know that there's a lot of good football players and a lot of good football coaches in our division, but I have that same respect for everyone in our league. I know the teams that we play in the East are very, very good as well. I can't really — I don't really have an explanation for it. I just have a tremendous amount of respect for the people who have accomplished what they've accomplished in our division."
 Even though his team fell just short last season, Saban thinks the new College Football Playoff format is good for the overall game.
"I think the playoff is — was a great competitive venue for us," he said. "I think in our league, I think we learned that playing a team like Auburn at the end of the season, who is a very good team, playing an SEC Championship game against a very good team, and then going to play in a College Football Playoff is — you know, your players really have to be geared into what it takes to finish the season because, before, maybe you didn't have to do all this. I think it's better. I think it's better for college football, and I think it's better for fans. The only thing that I've ever been an advocate for is to maintain the quality of bowl games because bowl games provide a positive self-gratification for a lot of college football players. So hopefully, we can get this playoff and the college system to work together so that bowl games are still a very positive experience for a lot of young college players."