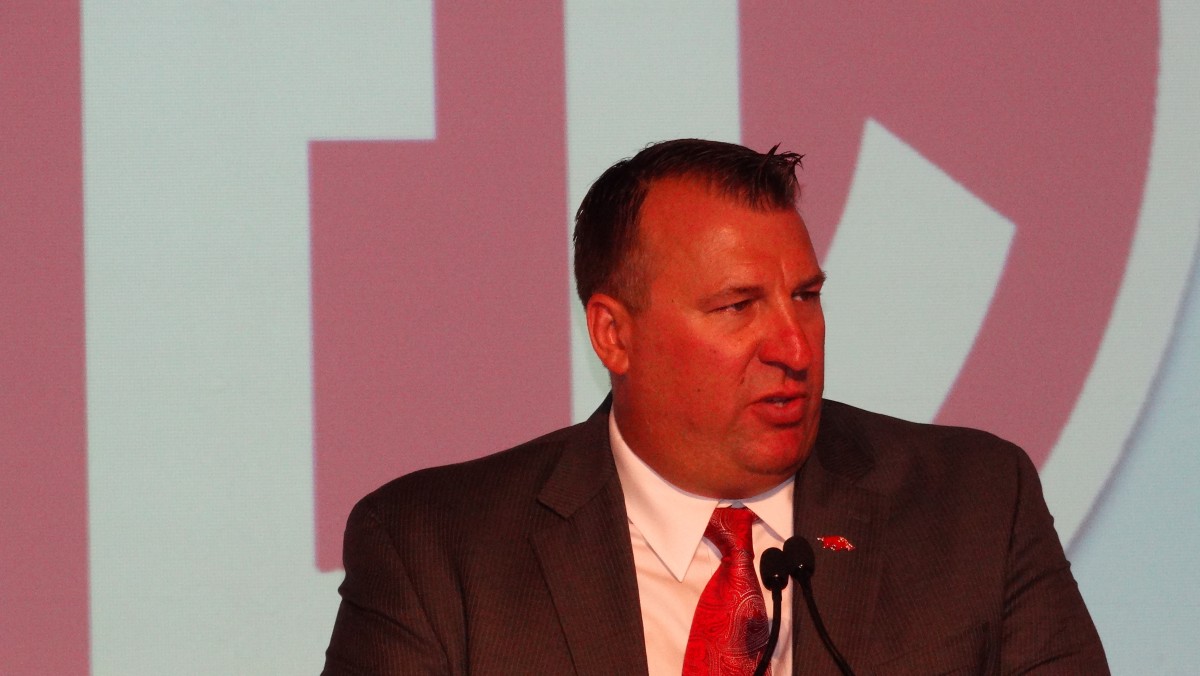 HOOVER, Ala. – Could this be the season that third-year Arkansas coach Bret Bielema brings his Razorbacks to the top of the rugged SEC West pack?
Indeed, can the Hogs leap into the division stratosphere and somehow find a way to steal the West crown away from the preseason favorites, defending champ Alabama and the Auburn Tigers?
Don't completely dismiss such talk. From last year's 7-6 team which toppled LSU and Ole Miss on back-to-back weeks and hammered Texas 31-7 in the Texas Bowl, Bielema brings back no less than nine offensive starters and five defensive regulars from a unit that leaped 66 spots to No. 10 in the FBS, led the nation in fourth-down percentage and held eventual SEC champion Alabama to 14 points in a bitter 14-13 loss to the Tide.
And among those offensive regulars back are four starters in the offensive line, likely the nation's top running back tandem in senior Jonathan Williams and junior Alex Collins (each listed at 224 pounds) and senior quarterback Brandon Allen. With both Williams and Collins running for over 1,000 yards last season – the only 1,000 duo in the FBS last season – and Allen throwing for 2,285 yards and 20 touchdowns, with five interceptions, these Hogs should be able to move the ball on about any defense they face.
As for Bielema, he feels good about his 2015 Arkansas edition but he's also realistic enough to know all about the many land mines the Razorbacks will have to hurdle to win SEC West.
"We'll start up next Wednesday, and we'll bring our players on campus August 5th," said the Arkansas coach, speaking Wednesday at SEC Media Days. "Then obviously have our opener in September (hosting UTEP), play three games before we have our first SEC game. That will be in Dallas Cowboys Stadium against A&M. We'll open up with them. On the road at Tennessee and on the road with Alabama before we have a bye week and come back and play Auburn. We have a tremendous challenge up front, but one we're excited about.
"I am very excited about our defense," Bielema said. "I think they can be a very special group. I've kind of been giving them the tag line, the Bad News Bears. For those of you that have the vintage to remember that movie, they're a bunch of guys that nobody really had a strong game but played well together. I think that's what our defense is. We've got a bunch of no name guys that could be very successful together and excited to see them work. I think our biggest asset that we have going right now is we were a 3-19 and became a 7-6 team. Now 7-6 by no means is a landing point. It's more of a launching point. It shares the same record with the worst record I had at my previous institution (Wisconsin). After we went 7-6 on my last stop, we went on to win 10 games every year, three straight championships, and had a lot of success. I see a lot of the same things coming for us here, but the bottom line is you've got to make them happen. That's what we'll be able to start doing here in a couple of weeks."
Bielema says Arkansas has to man up and deal with its rugged 2015 SEC slate.
"First, the schedule coming in the SEC is going to be what it is," he related. "The SEC West, what it has and what it will be in the future is never going to really change that much. It's probably become tougher since our arrival, I think because of us and because of some other schools, the rise that they've had. But the schedule is kind of what it is. I always tell our players don't take issue or complain about something you can't control. Our schedule is what it is. It's made by some computer somewhere. I'd like to know where it's at because I'd like to see if it really exists. But it's kind of made randomly and drawn up that way. The A&M game, I say it's an away game, but really that's our home game. It's just at Cowboy Stadium, that's a choice that we made, which it's one that I love because we get to go to Dallas every year and play in front of a bunch of great fans and spread the Arkansas love in Texas. But I do know we're the only school in the league that has two different segments during the course of the year where you have two back-to-back road games. And that's an advantage that we've got to take advantage of.
"I do know this, this is an amazing stat," he continued. "I've been preaching to our guys the importance of winning on the road. We had two games last year we won, but we still haven't won a road game. The last five years — I love to say that the biggest indicator that something will happen in the future is because of what's happened in the past. The last five SEC West champions are 18-2 on the road. Three of those teams went undefeated and two teams lost one game apiece. So we have two of our three, but all three being on the road. So if we lose more than one game on the road, history tells you you're not going to win in the SEC West. That's something I've addressed to the players and will continue to address with them and make them understand that."