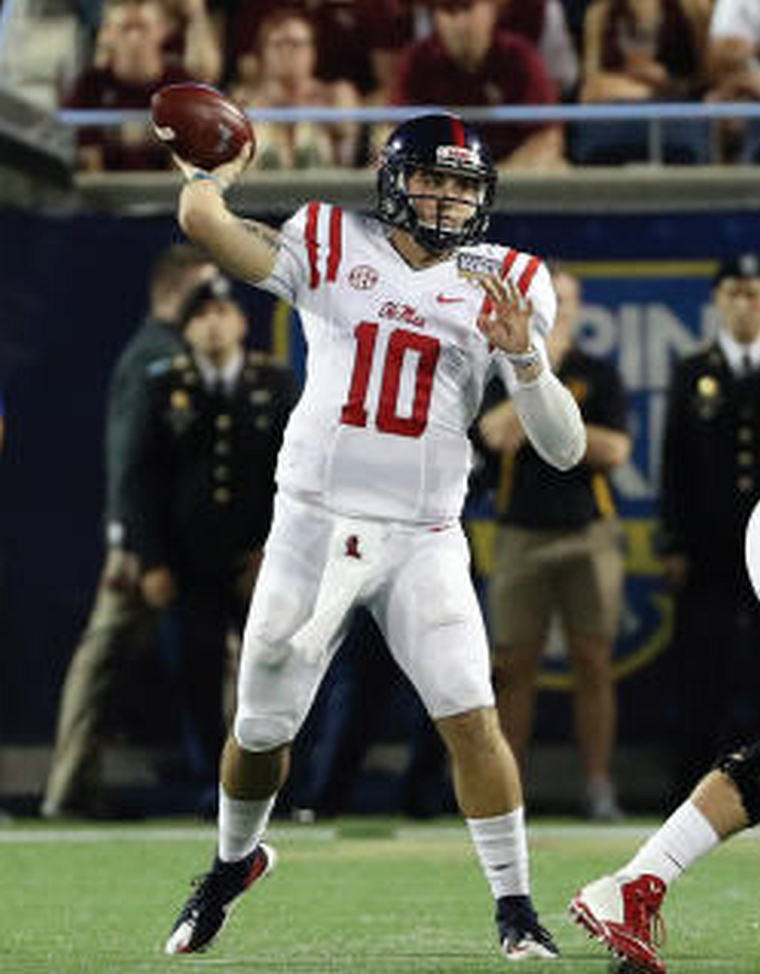 On the road again … just can't wait to get on the road again. Georgia heads to Oxford to take on Ole Miss. Murray Poole has three Rebels to watch in this one.
CHAD KELLY (QB, #10)
This 6-2, 224-pound senior is the top returning quarterback in the SEC after passing for 4,042 yards and 31 touchdowns last season. Kelly was a Preseason All-America second team (Phil Steele) and Preseason SEC Offensive Player of the Year (ESPN The Magazine, Lindy's). He was rated by NFL.com as having the strongest arm in the nation and the No. 5 most accurate passer. Kelly, who missed the final week of spring practice due to sports hernia surgery, broke or tied 14 Ole Miss single-season records, including total yards (4,542), passing yards (4,042), passing TDs (31), touchdowns responsible for (41), completions (298), completion percentage (65.1), passing efficiency (155.9) and 300-yard passing games (8). His 4,542 total yards and 4,042 passing yards are both third-most in a season in SEC history, while his 41 total touchdowns are tied for seventh all-time in league records. In the Rebels' 45-34 opening loss to Florida State this season — a game in which Ole Miss led 28-6 in the second quarter — Kelly threw for 313 yards and four touchdowns. This guy is undoubtedly the most prolific passing quarterback the Bulldogs will encounter this season.
MARQUIS HAYNES (DE, #10)
Can the Bulldogs' offensive front neutralize this top professional prospect? Won't be easy as the 6-3, 222-pound junior was named All-SEC second team last season when he was a three-time SEC Defensive Lineman of the Week. Haynes tied for fourth among SEC players and was 19th in the nation with 10.0 sacks, which matched the school record for a season. He also ranked fifth in the SEC and 27th in the nation with 16.5 tackles-for-loss. Furthermore, Haynes tied for fourth in the SEC and was 26th nationally with three forced fumbles and his 7.0 sacks against SEC opponents were tied for second-most in the league. Truly, Marquis Haynes is a load for opposing offenses coming off the edge.
EVAN ENGRAM (TE, #17)
The 6-3, 235-pound Engram is the all-time Ole Miss leader in receptions (97) and receiving yards (1,394) by a tight end. Entering this season he was tied for fifth all-time among Ole Miss TEs with seven touchdown catches. A three- year starter for the Rebels, Engram was an All-SEC second team pick in 2015, earning all-league honors for the third straight season He tied for second on the team with 38 catches and entering the 2016 season, Engram was a Preseason All-America third team (Athlon) and fourth team (Phil Steele) as well as being picked Preseason All-SEC first team by Athlon and Lindy's. The Georgia secondary had best have an answer for No. 17 Saturday at high noon (Georgia time) in Oxford, Miss.