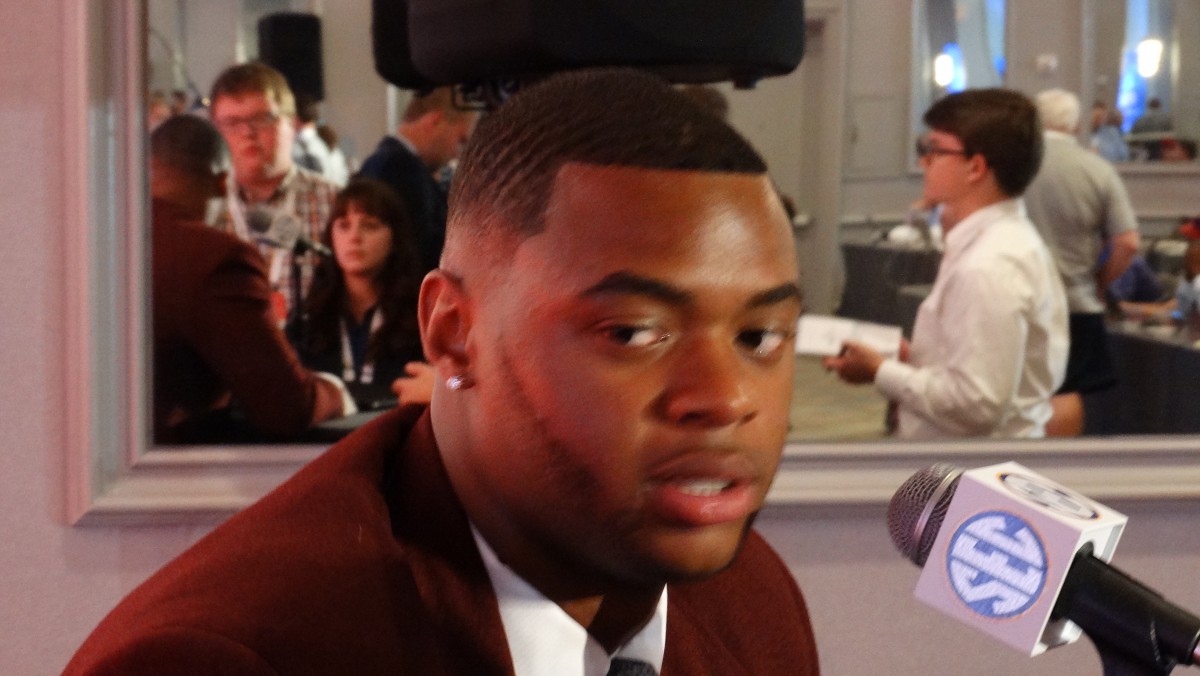 HOOVER, Ala. – The 2014 football season was a record-breaking one in many ways for the Mississippi State Bulldogs.
En route to a 10-3 season mark and a 6-2 SEC mark, the Bulldogs got a spectacular performance from junior quarterback Dak Prescott.
The 6-2, 230-pound Prescott set 12 school single-season records including touchdowns (42), passing yards (3,449) passing efficiency (151.7). With his 4,470 combined yards, he became the first Bulldog ever to finish a season with more than 3,000 total yards. Prescott finished 8th in the Heisman Trophy voting.
But despite Prescott's heroics, Mississippi State dropped three of its last four games, losing tough 25-20 at Alabama, falling to rival Ole Miss and then being pounded in the Orange Bowl by Georgia Tech.
"When you look at what we have, we had a historic year really for Mississippi State last year, spent five weeks at No. 1," said State head coach Dan Mullen, speaking Tuesday at SEC Media Days. "I think we were ranked No. 1 in the country as much as any team was all of last season. I think it was a great experience for our young men, a first-time experience for our young men to get there, to get that opportunity. We had that opportunity to go play a game in Tuscaloosa, which ended up deciding the SEC West champion, to go play that game. It was a tough game on the road. We came up a little bit short, but I think that experience certainly helps us moving forward.
" When we look at our guys, how we've gone to work this off-season, the focus that our guys have going through this off-season, you know that they want to get back to that spot," declared Mullen. "They want to get back to playing for a championship level game at the end of the season. I think now we have a lot of guys that have played in those games that have that experience, that now know what to expect. We lost a bunch of guys last year, but we — you look at a lot of different positions across the board that are coming back for us. We have 14 players returning that have started a game in their career. We have 52 guys on our roster that we've charted have significant experience, game experience at critical moments in games. So even though I know a lot of people think we're going to be a young football team, I like that people think that, but the fact that we rotate, we play a lot of guys in the course of games, guys have experience. They've been on the stage. They've been in the moments. And they're going to be ready for this season as we move forward. It certainly helps having a fifth year senior quarterback to lead the way, a guy especially during the summer months that can help the team grow, help the team develop, really teach the young guys what the standard is within the program. And we have a great leader in Dak Prescott to come back and lead the team this year for us. I am excited about everything that's going to happen for us and the type of team that we're going to be able to go put on the field. Defensively, we have Manny Diaz returning as our defensive coordinator, which it's really good. He and I have spent a lot of time, it's kind of a unique situation. A lot of guys don't get a second opportunity, I guess, to be a D coordinator with a head coach."
Mullen, who is returning just four offensive regulars and three defensive starters from last season's squad, thinks his ace quarterback, Prescott, can be even better this year.
"I think the first thing that you see that Dak's really improved on this off-season is getting rid of the football in his hand," Mullen said. "Understanding where he wants to go with the ball in any situation, getting to the third or fourth read in a progression, knowing where his check-down is, knowing when to hold the ball for a second and take a shot down the field, or just get it out of my hands quick and let's worry about playing the next play. With that experience with a guy like Dak is certainly going to help us. It's certainly going to help us continue to move the chains and hopefully keep him healthy where he's relying on being a quarterback more than being a great athlete to make things happen out there on the field.
Mullen is just thankful Prescott opted to return for his senior season in Starkville, rather than bolt early to the NFL.
"I think the great thing with a guy like Dak, he and I are very, very close. So it's easy to have conversations about his future. It is very well-based. He applied, got all of his NFL paperwork. We did some research and study of looking at quarterbacks that were coming out, where he might fall. Also, I think the one thing to look as a young football player, and especially at the quarterback position, he's got an opportunity to get over 1,000 game reps at Mississippi State next season. If he had gone and maybe mid-round draft pick that's going to sit the bench in the NFL, he'd have a chance to get zero game reps, and I think that experience in the long run will help his career of getting those live game reps. It might not be at the NFL speed or in that offense against those schemes, but he's out there making decisions, getting the reads, getting the progressions, getting the ball out of his hands, and when you look at that opportunity and that experience to grow and develop this year to help set him up for his career.
"I know he and I talked — I know we'd both like to see him play for the next 15 years," Mullen said.  "So when you look at how this year is going to affect him in the big picture of football over the next 15 years, it's a great experience for him to come back and get all those reps. On a personal level, I love having him back. He's a great leader. He's a great young man. Love being around him. And I know he loves our university and really wants to leave his mark at Mississippi State University on what he's been able to accomplish, what he's been able to do, and I know he wants to come back and try to finish his career off with a championship."