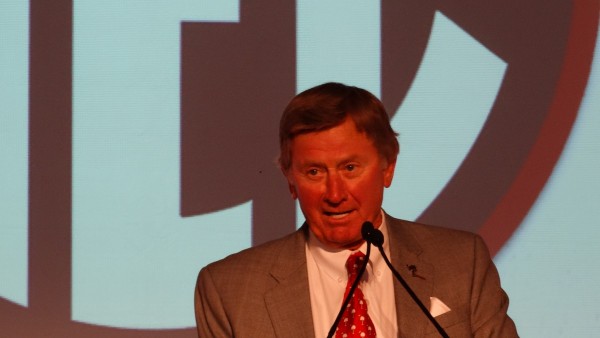 HOOVER, Ala. – He's the same old ball coach  he's always been and, as usual, South Carolina head coach Steve Spurrier kept the members of the press chuckling in his presentation Tuesday at SEC Media Days here Tuesday morning.
Spurrier and the Gamecocks are coming off a frustrating 7-6 season in 2014 and only a 24-21 victory over Miami in the Independence Bowl saved South Carolina from just the second losing season in Spurrier's 25-year collegiate coaching career.
From that team, the Gamecocks return just four offensive starters and will again be breaking in a new quarterback, along with six returning defensive regulars.
"A lot of familiar faces out there after a lot of years coming to this event," Spurrier began his talk. I figured a bunch of you guys would have retired by now. (Laughter). Just kidding. Good to be here.
Good to be back. We've got a good team at South Carolina ready to go this year. We had a little bit of a
struggle in the middle of last season. As most of you know, we lost four out of five in the middle of the year, and it looked like we were definitely heading for a losing season, but really proud of the team, the players, everyone involved with the team. We won three of the last four. Somehow or another, won a game down in The Swamp, very fortunate, and then beat Miami in a bowl game. So we got rejuvenated. We got new life.
"We were 7-6, same as Tennessee and the same as Arkansas," quipped Spurrier, "and I think they're sort of celebrating big seasons last year. So we were celebrating also. We were doing some cartwheels and high fiving after that Independence Bowl game because it was a year that could have gone real south, and guys hung in there and somehow or another found a way to win the game.
"Got a new coach, John Hoke. John was with me in Florida in 2001, 14 years ago. We led the SEC in total defense and in scoring defense that year."
With the loss of Dylan Thompson to graduation, Spurrier will be selecting his new quarterback starter from the likes of sophomore Connor Mitch, junior walk-on Perry Orth, redshirt freshman Michael Scarnecchia. Mitch seemed to be the leader after the conclusion of spring drills but Spurrier isn't handing him the job just yet.
"No, it hasn't been resolved," he said. "We've had three that rotated around during spring practice, and statistically in the spring game, they're very even. Percentage-wise, about the same, yards, touchdowns, all that. So we're going to keep competing during preseason practice. We've got a month before the first game. So we should be able to figure out who can play the best. Connor Mitch, good player. Perry Orth, Michael Scarnecchia. And we've got a freshman kid, Lorenzo Nunez, excellent runner, pretty good passer also. I know you can't get four ready to play, but we'll have maybe some plays for
Lorenzo Nunez and the other guys. I've been a coach to play two quarterbacks. I think you all know that. And you can win with two."
The Gamecocks must also shore up a shaky 2014 defensive unit that gave up a whopping 36.8 points per game in SEC contests.
"Getting John Hoke there is, I think, going to really be helpful," said Spurrier. "We've got good coaches, but for whatever reason, we just didn't communicate. We can play a lot better defensively, and I think everybody's going to see that this year. So that's given all of us, I think, an extra life there at South Carolina."
One position Spurrier doesn't have any worries at is wide receiver where All-SEC first teamer Pharoh Cooper returns. The 5-11, 208-pound junior had 69 catches for 1,136 and nine touchdowns last season, ran for two and also threw for two as a Wildcat quarterback.
"We call him the South Carolina Pharoh, not the American Pharaoh, South Carolina Pharoh," smiled Spurrier. "But he's a really good player. He can play receiver, shotgun, quarterback, throw, run. He's really an All-American type player."
When the Gamecocks dropped four of five in mid-season last fall, there were flying rumors that the nearly 70-year-old Spurrier was on the verge of ending his fabled coaching career.
"I don't know how close I came to walking away, but when you lose four out of five, and three of them we had a two-touchdown lead with four minutes to play, 13 points against Missouri with about 4:30 or 5:00; and Kentucky and Tennessee, 14-point leads. We didn't stay on the field offensively, and then, of course, we didn't stop them on defense," he said. "Those were some tough losses. After we
sort of blew a game, or you can say Tennessee beat us, but we couldn't hold on to a 14-point lead with a little over four minutes, yeah, I felt like getting away a minute. I was quickly at the press conference and left.
"So hopefully, people can understand, some losses are tougher than others, especially when you have a good lead and you can't hold it. But we're rejuvenated with the end, with the Bowl game, 7-6, huge win for our program, for me, for all of us."
Spurrier was then asked how he's been able to keep his sanity and health in the dog-eat-dog
world of college football and how does he evaluate himself at the end of every year to say, "okay, I'm going to go another year."
"Same way you sports writers do it, I think," he answered. (again laughter). "Yeah, I really think the program I own helps to hang around a long time. Somebody said, why are you still coaching? I said, well, I forgot to get fired, and I'm not going to cheat. That's about the way you lose your job. You get fired for losing or you cheat, and then they get somebody else. So I've not done any of those to any extent big time, I guess. But I do get away probably more in the off-season than a lot of coaches. I know I work out more during the season than most all coaches. And I've got excellent assistant
coaches. It's not near as stressful as maybe some people make it out to be. And I've got about my whole
family right there in Columbia, so there's not a pull to be around grandkids all over the place as much. Just one daughter lives in Panama City, Amy. She came to every game last year. But the big thing is we're winning. That's the big thing. We're winning, and it's fun. And we still have never won an SEC. Nobody gives us a chance this year, which is good."
And when someone suggested to Spurrier that he seems to get extra satisfaction in beating the Georgia Bulldogs, he quickly changed the play call on that question.
"I don't think so — you didn't see me after the Miami game, Independence Bowl?" he replied. "I think that was the most fired up all of us were because we went from losers to winners. When you go into a game 6-6, there's a lot on it. Just to change the subject a little bit, I've learned a lot better appreciation for all the bowl games. I really have. Everybody can't play in the SEC Championship game. Only two teams can get there. Teams can have winning records or even 6-6 with a chance to have a winning record, a chance to win a bowl game, and when you watch the team that wins celebrate, you watch Wisconsin in Capital One, the Gators in that Birmingham Bowl, and us in Independence, I'll tell you, it's a thrill to win that last game. I like the four-team playoff certainly, but there is a place for all these bowl games. There's a place because somebody's going to be very, very happy when that last one's over.
After South Carolina took that thrilling 38-35 win over Georgia in Columbia last season, the two teams will meet in the third game of the new season this year, on Sept. 19 in Athens.