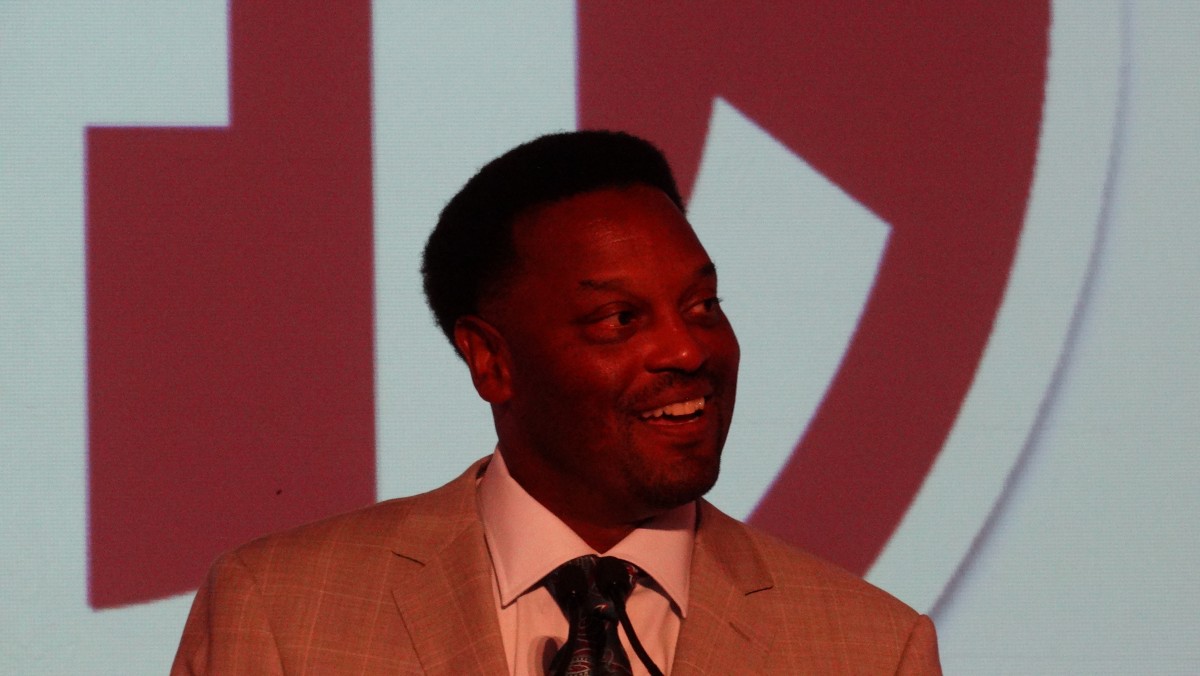 HOOVER, Ala. – The Texas A&M Aggies continued to light up the scoreboard in 2014 but they simply couldn't stop anybody, thereby having to settle for an 8-5 season record and a final 3-5 mark in SEC West.
And that's why head coach Kevin Sumlin brought in veteran defensive coordinator John Chavis, hoping the former Tennessee and LSU assistant can patch up a defensive unit that gave up 28.1 points a game and was ranked 109th in the nation against the run.
From last year's Aggie team, Sumlin returns six offensive starters including sophomore quarterback Kyle Allen, who started the final five games as a true freshman and passed for 1,322 yards and 16 touchdowns. Allen, this year, will be throwing to Speedy Noil, who also had an impressive freshman season.
Defensively, where most of the Aggies' problems came last season, A&M also returns six starters including sophomore defensive end Myles Garrett, who has already evolved into one of the most feared pass rushers in the nation.
"We're always looking at everything, and the way I've always done things is whatever we're doing well, we need to continue to expand that to try to stay ahead of the curve," said Sumlin, speaking at SEC Media Days here Tuesday. "And what's not working well, we've got to get better. Obviously, we made some changes starting on defense with John Chavis coming in and up front in our offensive line with a new run game coordinator in Dave Christensen. So for us, one of our biggest goals in the off-season was to become a tougher team physically and mentally. In order to do that, you've got to practice a certain way. The presentation of the offense to the defense has to be one that has a physical aspect to it. I think we brought that into play with our run game and to prepare our defense to be able to stop those types of things instead of just seeing it during the week.
"So basically, in a nutshell, that was really the goal in the off-season, really throughout the spring, to become a more physical team and being able to run the ball in a big time league when we want to, not just when — and when we need to. And then to be able to hold up defensively and stop that type of attack. In order to do that, we had to make some changes to get that done, and that's schematically but also how we practice and the way we do things. I've been very, very pleased with the development on both sides of the ball. Like I said, during the short 15-day window of practices, but we're going to continue down that road during training camp."
With the Aggies playing many more freshmen than they wanted to last season, does Sumlin feel his young players are ready to take the next step up this year and help A&M become a solid contender in SEC West?
"I think so," the coach said. "I'm a little bit like Coach Spurrier. Everybody can't win. We won eight games. So it wasn't a complete flop. We need to get better. I think our guys going through the season that we went through, should have been able to learn from that. From a preparation standpoint, from how you deal with week to week, how to take care of your body, what the mental stressors are, and one of the few teams that played eight straight games without a bye last year with young players. So all those things we can learn from. As I said, in year two, what you hope and what you try to do is relate those experiences to your young people, have them learn from them and grow from it, and it's okay to make a mistake, but let's not make the same mistake again. Let's learn from that, maybe not know what to do, but let's not do that, and move on. So we've placed a big emphasis on how we practice, how we approach practice, what we're doing in the off-season to really try to be more consistent.
"The good teams I've been on don't ride roller coasters," Sumlin concluded. "Young teams have really kind of done that in the past, play up here, some games down here. Really great teams are consistent, and that consistency level comes with maturity. Hopefully, we've helped try to develop that in the off-season, but certainly we're going to have to have some guys step up in sophomores and juniors and be the leaders that we need them to be. Because we've got pretty good guys as seniors that are represented here and three guys we brought."