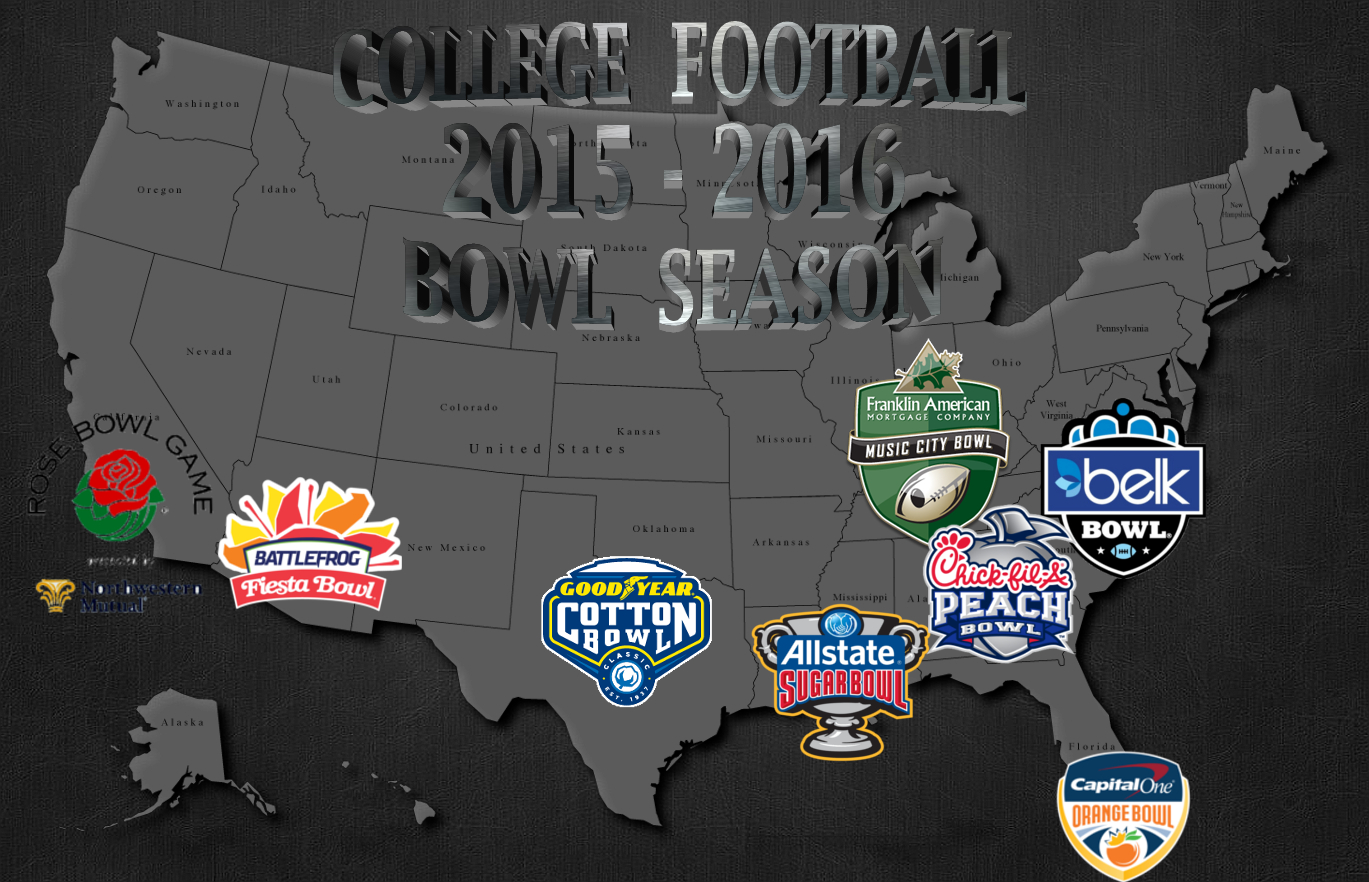 Writer Han Vance is the founding voice of popular Dawgs fan site BIG HAIRY BLAWG (www.bighairyblawg.com) and the author of the forthcoming book "Richt Era" (2016). A frequent contributor to sports talk radio in Atlanta, Vance has hosted a Bowl Show for four consecutive seasons and here for a 2nd straight season talks all the SEC bowls for Bulldawg Illustrated.


You very well may not be cheering for BAMA to win it all this year, but the greatest conference in the history of sport has had significant tarnishing lately, with the Tide losing to Ohio State of the Big 10 in the inaugural college football playoff last year after dropping another Sugar Bowl the year prior to Oklahoma, when an explosive Auburn team had also blown the dynastic conference championship record run, versus Florida State late.

Our other big bowl New Year's 6 entrants last season were Magnolia State schools. While Miss State had been number one much of the season, they could not handle the fireworks Georgia Tech of the ACC provided in the Orange Bowl. And, Ole Miss was undressed in front of my eyes by TCU of the Big 12 in the Peach Bowl.

In all, those holidays went as planned for Arkansas alone from the more-heralded SEC West division. The suddenly hot SEC East, as a whole, had to carry the torch to respectability for our powerful football league, as Nick Chubb had easily his best game for the Georgia Bulldogs in a massacre of Louisville of the ACC.

A little diluted, we had placed a record twelve teams and barely eclipsed the .500 threshold in final win tally. That was then this is now. Ten SEC teams earned postseason bids, with Ole Miss back in a big bowl and Alabama getting another crack at winning it all. Each SEC West team grabbed a bowl this time out, with only traditional powers Florida, Georgia and Tennessee still playing for the SEC East.

As I put fingers to keys on a December morning, Leonard Fournette had just run wild through the Texas night and right into my living room. The SEC West having already matched last year's minimal accomplishment by winning the Texas Bowl. Texas Tech had a record offense – which is saying something at a program routinely excelling with the ball – but the Bayou Bengals refused to be outpaced. Surest way to lose a Heisman Trophy is to be the frontrunner early, as Fournette was in 2015.

LSU reached nine wins after keeping their coach. Les Miles now has the best bowl winning percentage of any active SEC coach at just two games over .500. That distinction formerly went to Mark Richt, who was ousted at the University of Georgia. Richt settles in at his alma mater in Miami, while Kirby Smart bolts Bama for UGA fulltime only after we find out how long their dynasty really lasted. See, if Nick Saban and crew get the big trophy this year, Alabama will have won four of eight. For all of his accomplishments, Saban is sub .500 in bowls throughout his remarkable career. Should the Tide fall short again, it will have been awhile. And the dynasty is suddenly dumped way down to a four year, three-championship period.

Three conference games going later today as I write, with lowly (6-6) Auburn facing the best Memphis team in memory in the Birmingham Bowl. Mississippi State (8-4) is off to the Queen City of Charlotte to meet NC State in the Belk Bowl, in legendary-but-still-underrated quarterback Dak Prescott's final collegiate contest. My grandfather 's school Texas A&M (8-4) gets Louisville in the Music City Bowl in Nashville. Both talented young Aggie quarterbacks have decided to bolt the program, and Kevin Sumlin's seat is suddenly heating way up in College Station.

New Year's Eve sees a Peach Bowl without the SEC and the biggest bowls of the season for the first time, as Alabama, a 12-1 SEC Champion, hosts a similarly smash mouth Michigan State at the Cotton Bowl, played in the Dallas Cowboys stadium in Arlington, Texas.

The bowl bonanza rips into 2016, as (8-4) Tennessee is on a five-game win streak after going 1-1 in close games versus Georgia and Bama. Have they finally arrived? A ten-win Northwestern will test the Vols in the Outback Bowl in Tampa. Meanwhile, Michigan and Florida (10-3) had similar rebound years and tee it up on ABC at the Citrus Bowl in beautiful downtown Orlando.

That night, Ole Miss (9-3) gets a chance to cement another strong season by besting Okie State in the Sugar Bowl in NOLA. Only an injury-propelled late collapse by both TCU and Baylor positioned the Cowboys for this spot, and the talented Rebel junior class gets one more shot to shine before bolting for NFL riches.

The final day of bowl season has more good action for you, as (7-5) Arkansas gets Kansas State in the Memphis Liberty Bowl.

A time slot before that is the (9-3) Dawgs in the nooner. Up-and-down Georgia could actually still finish with the second best final record in the SEC. Be nice to gain back a little respect, after ousting a winning coach in Richt after fifteen years.

In the most devastating loss in school history, Herschel Walker's last college game saw the (now-fallen) legend Joe Paterno outcoach UGA legend and man of honor Vince Dooley for the national crown. Herschel was held in check that night as an era ended in college football. Trump and the USFL yanked him from school early.

Dawgs owe them one. The SEC's longest bowl streak continues, with Bryan McClendon getting the nod as interim coach for Georgia.

---

You can follow Han Vance on Twitter at @hanvance, and on Facebook at Big Hairy Blawg.

---
---