The Bulldogs host Missouri for Georgia's homecoming game on Saturday; so, who are the Tigers to watch?


DREW LOCK (QB, #3)

Although the Tigers have struggled this season, the 6-4, 225-pound Lock is coming off a 2016 sophomore season when he threw for 3,399 yards and 23 touchdowns. And entering the Kentucky game this past weekend, Lock had totaled 1,115 yards and 10 touchdowns this season. That shows he can attack opposing secondaries with his right arm and the Bulldogs defense will have to cover well on the back end to prevent Lock and his Mizzou receivers from inflicting damage Saturday night.

MARCELL FRAZIER (DE, #16)

After recording 7.5 sacks in his junior season in 2016, the rugged 6-5, 265-pound Frazier was touted to be one of the SEC's most disruptive rush ends this campaign. Frazier can indeed be a force coming off the edge and can't be allowed to wreak havoc in the Bulldogs' offensive backfield.

THOMAS WILSON (SAF, #8)

A seasoned veteran in the Tiger secondary, this 5-10, 200-pound senior safety shines in both run support and pass coverage. He was Missouri's third-leading tackler last season. Don't be fooled by the Tigers' won-lost record this season. This team still has talent and would love nothing better than to put a blot on the Bulldogs' SEC record.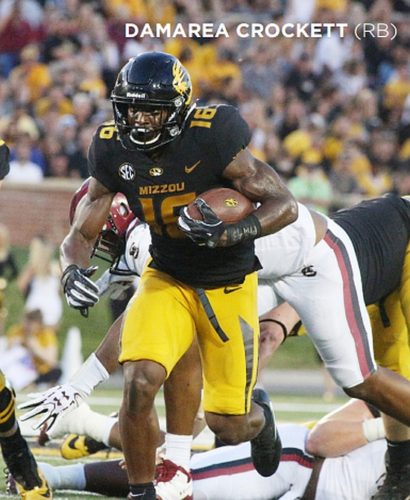 DAMAREA CROCKETT (RB, #16)

The other key cog in the Tigers' offensive backfield that the Georgia defense must deal with, the 5-11,225-pound Crockett is once again Missouri's leading rusher after running for 1,062 yards as a mere freshman last season. Crockett runs with both speed and power, thus providing another challenge for the Bulldogs' tenacious defense on Saturday between the hedges.

CALE GARRETT (LB, #47)

This 6-3, 235-pound sophomore has become the Tigers' leading tackler this fall. Garrett, from his middle linebacker spot, always seems to be around the football and with his speed and strength must be accounted for by Georgia's offensive front Saturday evening.

J'MON MOORE (WR, #6)

Missouri's ace senior receiver, the 6-3, 205-pound Moore is a guy Drew Lock will be looking for Saturday night in Sanford Stadium. After all, Moore led the SEC in regular season receiving yards in 2016 when he pulled in 62 passes for a whopping 1,012 yards. Get ready, UGA secondary!


---
Recent Articles by Murray Poole


[pt_view id="2fb799183g"]