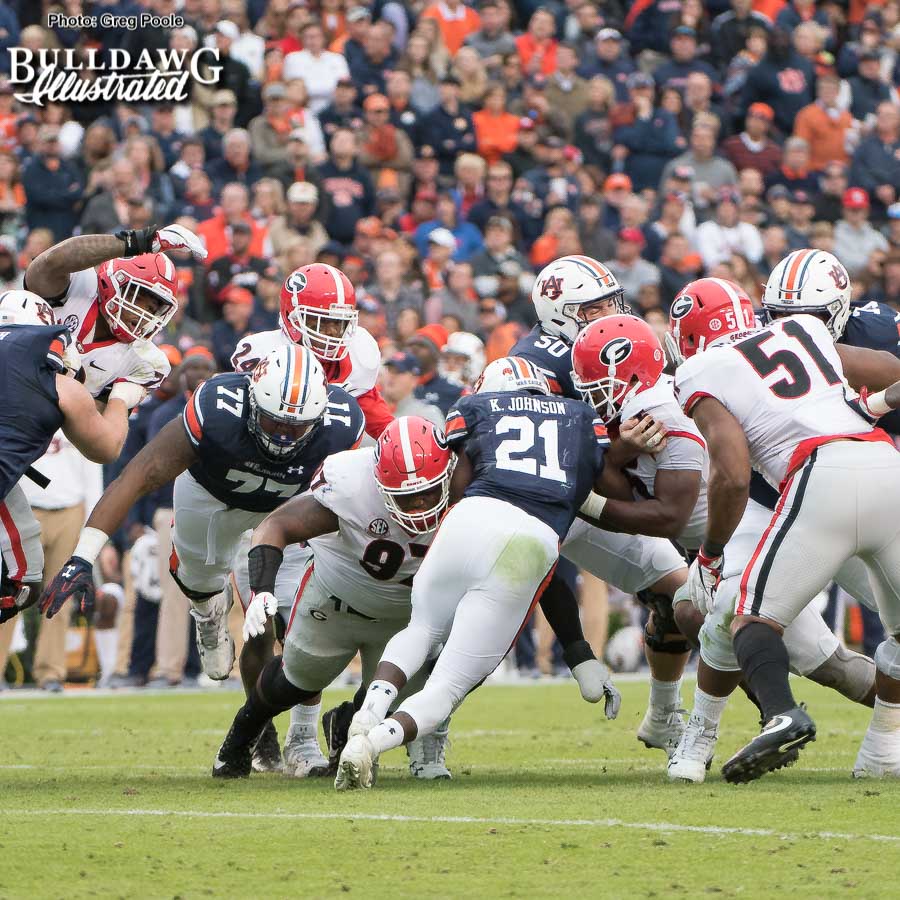 Who are the Tigers to watch for Saturday's 2017 SEC Championship game at the Mercedes-Benz Stadium in Atlanta?


KERRYON JOHNSON (RB, #21)

The man who makes the Tiger offense go, this 6-0, 212-pound junior, who ran for 104 yards on 30 carries while scoring a touchdown and also throwing a jump pass for another in the SEC West title-clinching win over Alabama, couldn't be stopped by the Bulldog defense in Georgia's earlier 40-17 loss to Auburn. Johnson ran for 167 yards that day and also scored on a 55-yard screen pass. Johnson, who did sustain a shoulder injury against 'Bama, has run for 1,276 yards and tallied a total of 19 touchdowns on the season and if the Bulldogs are to win the SEC crown Saturday, it's a must that they clamp down on Kerryon Johnson.

JARRETT STIDHAM (QB, #8)

The Auburn offense will bring tremendous balance into Mercedes-Benz Stadium on Saturday, what with Johnson's running ability and Jarrett Stidham's passing. Since transferring from Baylor, the 6-3, 214-pound sophomore has added explosion to the Tigers by passing for 2,682 yards and 16 touchdowns this season with a completion percentage of 68.5 and has thrown just four interceptions. Stidham, like Johnson, also helped decimate the Bulldogs' defense in the earlier game on the Plains with two TD passes and after completing 21-of-28 passes for 237 yards in the win over Alabama last weekend, must be put under heavy pressure by the UGA rush defense, else the Bulldog secondary could be in for a long afternoon Saturday.


TRAY MATTHEWS (SAF, #28)

This former Bulldog, now a 6-1, 209-pound senior safety for Auburn, has performed well for the Tigers this season, with 45 tackles and an interception. Matthews was the co-leader in tackles in the takedown of the Crimson Tide with seven and will be bringing much physicality against the Georgia receivers and running backs in the title game. Matthews must be accounted for by the UGA offense.

DERRICK BROWN (DT, #5)

This 6-5, 316-pound sophomore from Lanier High in Sugar Hill, Ga. is one who slipped through the UGA recruiting net and who has lived up to his high school press clippings at Auburn. Brown has recorded 45 tackles this season with eight tackles-for-loss and 3.5 sacks. He will again be primed to disrupt the Bulldogs' offense on Saturday and Georgia simply can't allow Brown and the Tigers' defensive front to dominate, as they did in the first meeting at Auburn.

DANIEL CARLSON (PK, #38)

One of the SEC's all-time kickers this 6-4, 223-pound senior has made 21-of-27 field goal attempts this season and has been perfect on all 53 of his PAT kicks. Auburn's leading scorer with 116 points, Carlson helped beat Alabama with field goals of 44 and 33 yards. The Georgia defense must not only contend with Johnson and Stidham but must deal with this guy, who is deadly even up to 55 yards out.


GUS MALZAHN (Head Coach)

After getting into hot water with early losses to defending national champion Clemson and LSU, Malzahn regrouped his Tigers and proceeded to run the table the rest of the way, including huge wins over two No. 1-ranked teams, Georgia and Alabama. Now, Malzahn brings his West Division champs into the SEC title game Saturday with the Tigers eyeing a second win over the Bulldogs and a berth in the College Football Playoffs. Malzahn has a repertoire of razzle-dazzle plays in his offensive bag and the Bulldog defense must be prepared for everything this weekend.


---
Recent Articles by Murray Poole


[pt_view id="2fb799183g"]