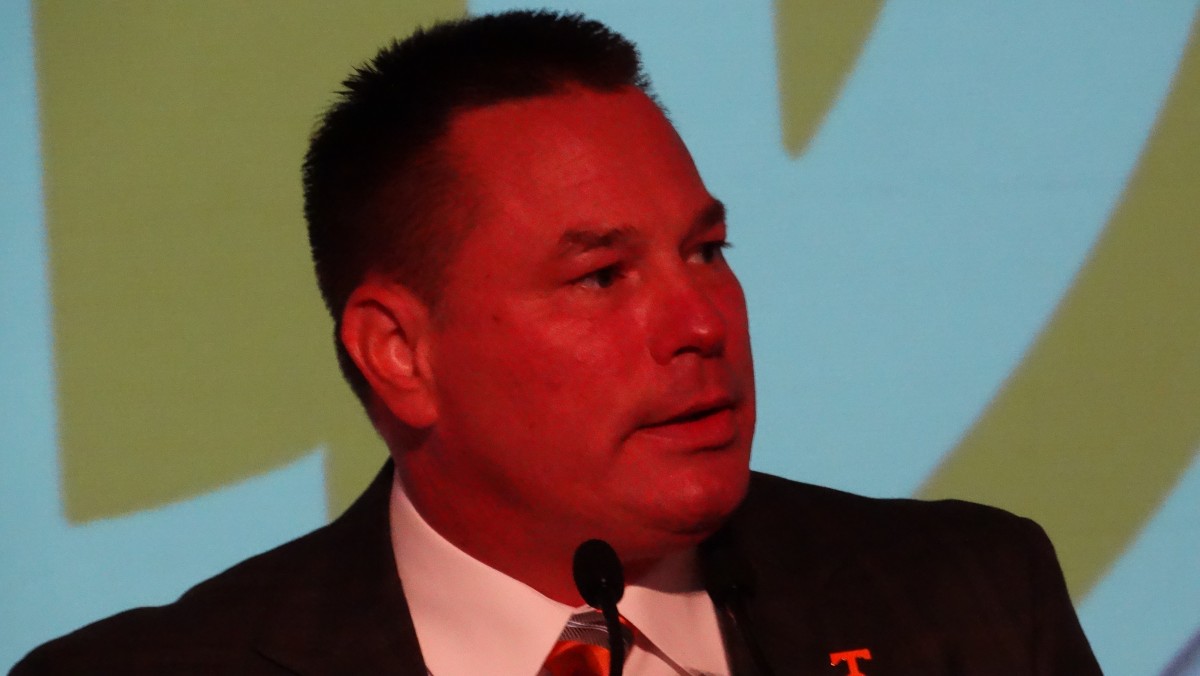 HOOVER, Ala. – Some SEC football observers have made the Tennessee Volunteers a so-called "trendy" pick to capture the SEC East title during the upcoming 2015 football season.
And, just maybe, there's sound logic with that sort of reasoning. After all, the Vols of now third-year head coach Butch Jones return nine offensive starters and 17 of 22 overall regulars from last year's team that went 7-6 overall including a close 35-32 loss to a Georgia team that is looming as the favorite in the division this year as well as a 45-28 romp over Iowa in the TaxSlayer Gator Bowl.
"With Tennessee football, obviously, we have a lot of positive energy, a momentum, and enthusiasm that's surrounding our football program right now," said Jones, the final head coach to take the podium here Tuesday at SEC Media Days. "I think a lot of it is the by-product by the way in which we ended the season, going 4-1 and having our first Bowl victory since 2008. Obviously, also our recent recruiting classes.
"Now, I want to make one thing clear," added Jones, smiling. "Contrary to reports, there were no back flips, and there were no somersaults, but I think in the world of college football, you're judged by wins and losses, but also you're judged by does your team overachieve or under achieve. And I thought last year's football team, team 118 overachieved. And being the youngest team in all of college football, not having any returning offensive linemen and defensive linemen, I'm really, really proud of our players. And for our seniors to leave the program with a bowl victory and experience that, that's why you coach, and I am very, very proud of that."
Jones said the expectations surrounding this year's team have changed the Big Orange landscape a bit.
"Obviously, the expectations have changed a little bit," he said, "but as we're all aware, when you're at the University of Tennessee, you always have high expectations. But this year is different for each and every player in our football program. But really that's what you want. You want the expectations to be exceptionally high. That's why they chose to come to Tennessee to play in a program that has high expectations. But the expectations will never be as high as they are internally, and we have very high expectations for this football team. But anything worthwhile really does take time to build. We're not just building a team, we're building a program. We all want success immediately. But over a long period of time, that's not really how sustained success works. The struggles, the adversities, the triumphs, the victories — all the things that go into it, that's part of the building process. Also, part of that building process is learning how to win, and that's the most difficult thing in all of sport. I really think our players really learned how to win last year. They learned how to prepare. They learned how to take care of their bodies. They learned excellence in the classroom. They learned everything that it takes to prepare for opponent week in and week out. So our team now understands what it takes to win football games. Now the great thing for us is we expect a win. We just don't hope to win."
Jones was asked, since Missouri has won the East title for two straight years, should the Tigers be the team to beat once again in 2015?
"The great thing and most challenging thing of the SEC is you never know what a long season is going to bring about," Jones replied. "I always tell our football team this, the team that can manage the natural adversities that a long football season brings about will be the team that wins championships in December. Obviously, Missouri has won our side for the years that you just spoke about. They have our respect. But everyone has our respect because you never know which is going to be the team that gets hot. We have so much talent in this conference. So it's going to be a challenge week in and week out for us. We just have to focus on what we can control, and that's our work ethic, that's our capacity for work, that's our mentality, our style of play. So really it becomes more about ourselves."
Guiding the experienced Tennessee offense will be rising junior quarterback Joshua Dobbs, who soared from third on the depth chart to become the Vols' starter en route to the stretch run to the Gator Bowl. Dobbs (6-3, 216) passed for 1,206 yards and nine scores after coming off the UT bench and also used his elusiveness to run for 469 yards and eight more touchdowns.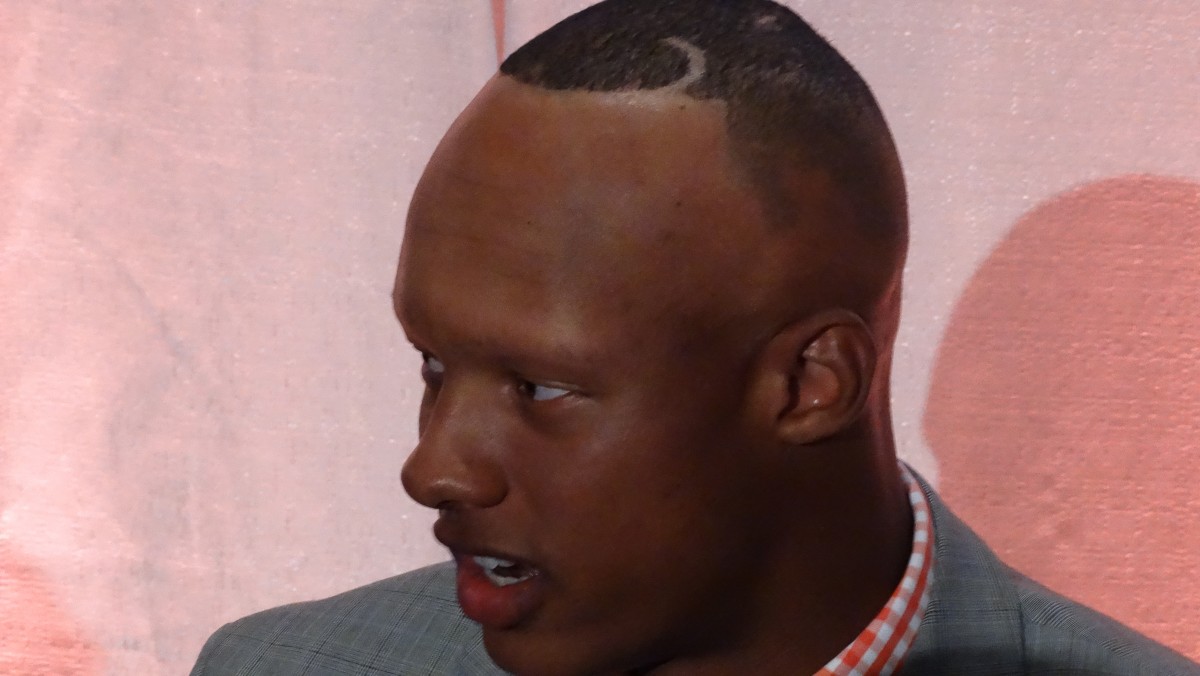 "Well, it makes it easier (this year) in terms of Joshua's proven himself," said Jones. "We understand what we're getting with Josh, and we always talk about consistency and performance. And we know what we're getting with Josh day in and day out, week in and week out. He's done a tremendous job. We challenged him this spring to be what we call a CEO quarterback, an individual who owns the team, who owns the offense, that can solve problems on his own, that can provide the leadership and stability that you expect from that position. So we're excited about him. One of the unproven areas of our football team is who our No. 2 quarterback is going to be, and we know it's going to be a freshman. Josh has done a great job of mentoring our freshmen. Obviously, having Quinten Dormady coming enroll early really, really helped him move forward as well and get the comfort level with his teammates and our offense as well.
"Joshua's right up there from an intelligence standpoint," Jones continued. "On the way over here, I thought he was going to try to fly the plane (speaking of Dobbs majoring in aerospace engineering). But he works his craft each and every day, and if you look at him just before and after pictures from his maturation process with his body, we always talk about your body is your weapon. Taking care of your body, from rest, nutrition, to embracing the weight room, and he's really added the weight and size that he needs to. When you run the football a little bit, you have to have that durability, just like we spoke about with Jalen Hurd. But Josh has always been a student of the game," said Jones. "He's always learning. He's had a heck of a week. He went from Elite 11 to Peyton Manning's camp to now SEC Media Days. When you look at the grind and the workload of an SEC quarterback coupled with his academic endeavors, it's very, very impressive."
And with sophomore running back Jalen Hurd being joined in the backfield by sophomore transfer Alvin Kamara, the Norcross, Ga. product and former Alabama signee, Tennessee's offense could take on an explosive look this coming autumn.
"Well, I do think they'll complement each other," said Jones. "They've embraced each other. As you all know in this conference, you can never have enough running backs, and it's all about durability. That's one thing we've really challenged Jalen, his durability. Being 6'3″, obviously, he runs with a physical presence, but it's lowering the pad level. He's added the size and the weight he needs to. He's about 242 pounds. Right now we've challenging him with his sleep, we've challenged him with his nutrition and taking care of his body. He's been as determined and focused and as determined a young man as we have in our program right now. Now you couple that with Alvin Kamara, and we're really, really excited. Alvin stepped in our program from day one and didn't say a word and just kept working and working and working, and he has earned the respect of his teammates. We look forward to those two playing football together."
Jones, as one would expect, thinks the Southeastern Conference is the finest league in America and doesn't have to prove anything to anyone.
"No, I don't. I think, when you look at a body of work over a long period of time, it's the best football conference in the country," he stated, rather emphatically. "And you really don't truly get an appreciation for it unless you have either coached in the league or played in the league. When you look at it, all the demands from media to great passionate fan bases … every time you go on the road, you're playing in a hostile environment. The commitment by administrations across the board … you can just get a new facility built, and in a year it's outdated. So the vision that's in this conference, I don't. I think we've proven ourselves over a long, lengthy period of time, and it's a body of work, and I think it's a grind each and every day. You're playing the best of the best, the best coaches, the best players, and until you really truly compete in this conference, you may have an appreciation for it, but you can't have a total appreciation until you experience it firsthand."