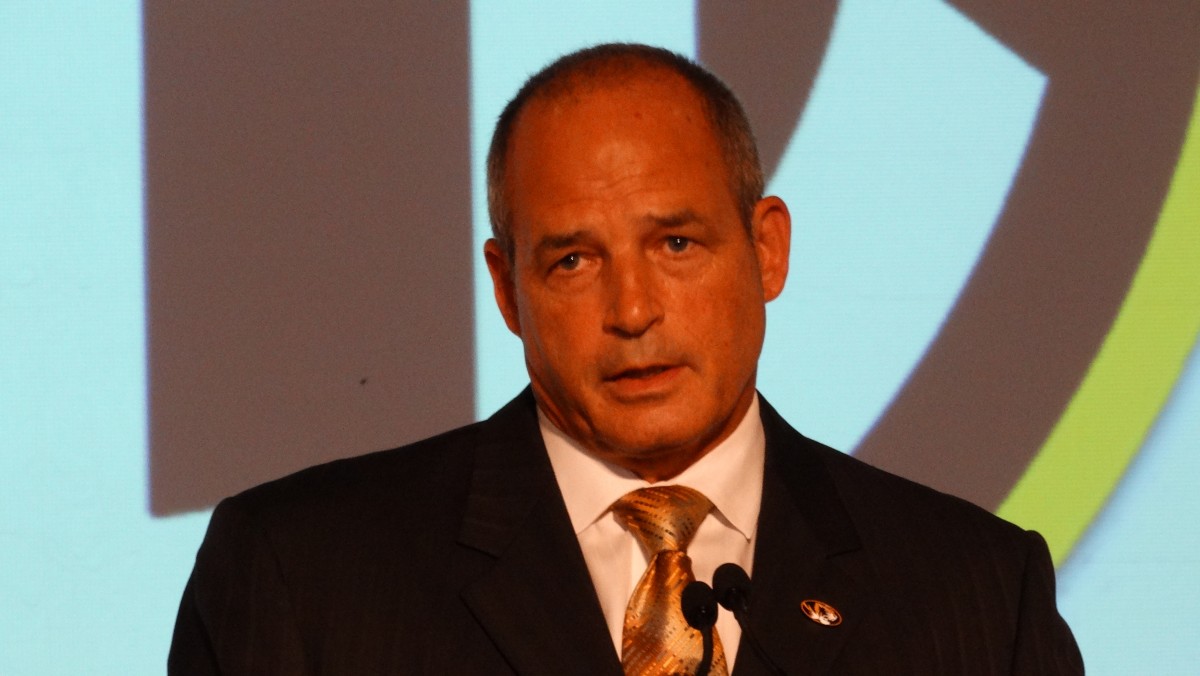 HOOVER, Ala. – If there's any team in the Southeastern Conference that maybe doesn't get the proper respect it deserves, it's the Missouri Tigers.
After the Tigers went just 5-7 in their 2012 conference debut, most preseason predictions had Missouri near the bottom of the SEC East entering the 2013 campaign.
How did the Tigers react? They simply went out and won the division title that season, before being outscored by the Auburn Tigers in the SEC championship game. Then, despite their East crown, the Tigers were again relegated to the middle of the division pack entering the 2014 season. But again, Missouri wasn't buying such nonsense. The Tigers overcame an embarrassing 34-0 home loss to Georgia and ran the East table to earn a trip to the Georgia Dome for a second consecutive season … before again coming short of the SEC championship with a loss to Alabama.
Over the last two seasons, Missouri has clicked to a 23-5 record including a 14-2 ledger in regular-season SEC play, plus the two straight division titles.
Still, there's that lack of respect thing. Hardly anybody gives the Tigers a chance to three-peat in SEC East this coming season.
What does veteran Missouri head coach Gary Pinkel think of it all?
"I think it probably bothers my players a little bit more than me," Pinkel responded at SEC Media Days here Wednesday. " I don't really talk about that. I don't really go there. I'll tell you how you get respect is graduating your players, developing our students into young men, and winning football games. That's how you get respect. You want more respect, do it at a better level and win at a higher level. I just know this, we're proud to be part of the SEC. It's a great league, man. You've got to buckle it up and go play and deliver every Saturday. Remarkably competitive. You earn all those things, and that's the way I was taught, and that's the way I handle our football program.
"Honestly, I don't know where we've been picked since I've been here," he said. "I don't want to disturb anybody here, but honestly, anybody that knows me, I don't ever read newspapers, ever. I don't do that, about our football team. Chad Moller keeps me in tune of what's happening out there, but I have no idea. If you picked us first or third or fourth or fifth, it would have no impact on me at all. Just being honest with you."
The Tigers will go to battle this season with six returning starters on offense, including junior quarterback Maty Mauk, senior running back Russell Hansbrough (1,084 yards, 10 touchdowns) and potential All-SEC senior center Evan Boehm, as well as six returning regulars from a defense that for the most park brought smiles to Pinkel's face.
"I think last year we adjusted a little bit too because our defense probably played the best defense we've played since we've been in the league," said Pinkel. "We adjusted a little bit. We're real smart about — try to be smart about what we did as far as the time on the clock, as far as not turning the ball over, things like that. I think we certainly have to improve (on offense). We need more consistency. There's no question about that. I think that Maty Mauk, he's 14-4 as a starter … he's remarkably good under pressure. We need more consistency from him. He knows that. This will be his second year starting this year. But there's also the receiving corps, the offensive line, running backs, everybody else that has their role in being successful. So we're working hard and know that we certainly want to improve on that and get better."
Pinkel again emphasized the consistency the Tigers need from their starting quarterback, who threw five interceptions in the one-sided loss to Georgia.
"I think at quarterback, you're always trying to make your game better," Pinkel said. "I think certainly people — we all know this, that the people around the quarterbacks play at a high level, it helps your quarterback better. But I think what Maty's doing, we need more consistency out of the position. He understands that. As I mentioned before, he's a pressure pack player. He plays very well under pressure. But the consistency of having an offense that produces, I think, requires consistency from that position. He's just worked very, very hard, all fundamentals, film study, defensive recognition, and timing with his players, and that's what he's working very hard to do.
"The game against Georgia?" Pinkel replied to a question. "First of all, I think Georgia did a real good job. You turn the ball over five times, and it's going to be difficult to win a football game. So I don't think you necessarily blame Maty Mauk. I got to get my players to play better. You're not going to win any games when you turn the ball over five times."
Now about that respect thing … the Tigers will again try to do something about it when they open their SEC slate Sept. 26 at Kentucky. After that, Missouri will face South Carolina, Florida, Georgia, Vanderbilt and Mississippi State in succession before then playing a non-conference game against BYU and then capping the regular season against Tennessee and Arkansas.