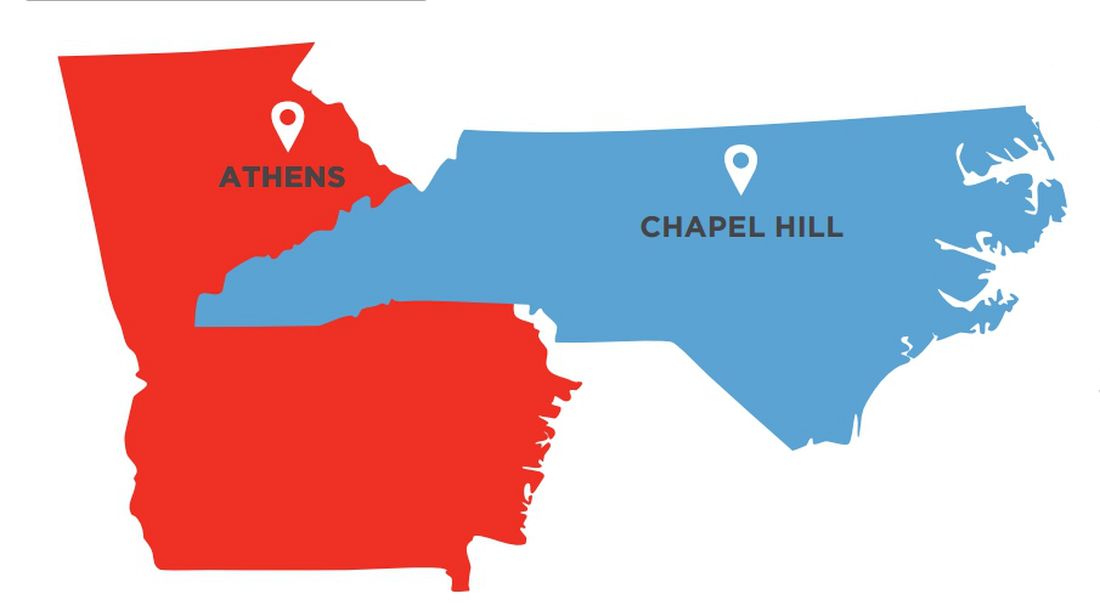 College towns which are nestled in the landscape—like Athens, Georgia and Chapel Hill, North Carolina—make for the most appealing of campuses; your heart beats joyful noises with every sojourn back to your college home. Pride in alma mater brings about unmatched passion. Visitors, who matriculated elsewhere, swoon to Chapel Hill and Athens.
Alma, mater means, "nourishing mother:" You can find no greater attachment emotionally to alma mater than in Athens and Chapel Hill, two of the prettiest places on earth.
Campuses of state universities are in lockstep with nature and the environment; there is heart and soul, feeling and sentiment which inspire students to go on to greater things. Tradition is rampant, landscaping has priority, and charm is central to the institution's DNA.
There is something enriching about state universities which have traditionally underscored the ancient Greek concept of a sound mind in a sound body.
A rural environment was transformed into a culture of learning, dating back to colonial times. Early on, Athens and Chapel Hill became centers of influence, focal points of state pride. There are, indeed, many similarities between the two institutions. Georgia was the first to receive a charter—in 1785.
North Carolina began classes before UGA, however. When Georgia, in the late twenties began building the classiest stadium in the Southland, principals wanted it to imitate the flair and beauty of the Tar Heels' Keenan Stadium.
Georgia and Carolina began football competition in 1895, the first game being played in Atlanta. UNC won the initial encounter, 6-0.
Since that time the two schools have played 30 times with Georgia holding a 16-12-2 advantage. The last time the two teams met was in the Gator Bowl in 1971 with Georgia winning 7-3.
Owing to the friendship of Carolina's Carl Snavely and Georgia's Wallace Butts, the two schools played often during the late forties and fifties. Georgia has a winning record at home, 6-2-2, and also at Chapel Hill, 7-3, but the Bulldogs had a difficult time in Atlanta, 1-5—but even worse in Macon in 1898 (44-0) and Raleigh in 1900 (55-0). Georgia defeated the Tar Heels 24-16 in Atlanta in 1896 but only scored two touchdowns total in the other five games.
The most celebrated game between the two teams came in the Sugar Bowl in New Orleans, New Year's Day 1947. Georgia was undefeated (10-0) while North Carolina had an 8-1-1 record having been tied in its opener with Virginia Tech and suffering a loss to Tennessee in Knoxville.
John Parker, who grew up in Athens and graduated from Georgia in 1973, also has a law degree from Carolina. "The two campuses and the two communities are very similar," Parker says. "It is fun just to walk each campus which are tree lined and inviting. The campus and downtown are linked which creates something of a bond for the residents of the community. You have a sense of privacy in Athens and Chapel Hill but each is a little more than an hour away from a vibrant city: Athens, Atlanta and Chapel Hill, Raleigh.
Joe Frierson III grew up in Athens but matriculated at UNC.
He was a tennis letterman for the Tar Heels with a distinguished resume: All-ACC, All-ACC tournament team, All-ACC academic and captain his senior year when the Tar Heels were the No. 8 ranked team in the country. His family, with deep Bulldog ties, gloried in visiting him when he was on campus at Chapel Hill. Following graduation, he returned to Athens to work with his father in Joe Jr.'s investment firm.
"If you took a graduate of Georgia and blindfolded him or her and did the same with a couple of Carolina graduates and put them on the campus opposite of where they matriculated and took the blindfolds off, I bet they wouldn't know that they weren't on their home campus. The two campuses are that similar. Both communities are great places to live. The two communities host two of the most beautiful campuses in the country.
I serve on a couple of boards up there and return to Chapel Hill 4-5 times a year. It is something special to live in Athens and return to visit Chapel Hill."
Joe's brother Jack, who lived in Chapel Hill after a notable career in tennis with the Bulldogs, found the energy, charm and atmosphere of Chapel Hill to be similar to what he knew in Athens. "You find the best and brightest students on both campuses," Jack says. "Each has a beautiful old campus, lined with giant oaks with each campus abutting downtown. Each is in an idyllic setting. I feel at home on either campus."
A native of Athens, MacKinsey Cole (UNC Class of '17), says that growing up in the Classic City "made moving to Chapel Hill easy. Both Franklin St. in Chapel Hill and Milledge Ave. in Athens ebb and flow in the way most main streets in southern college towns do," she says.
"On game day, Tar Heel chants break out on the street, just as Milledge Ave. turns into a sea of spirited red and black. The only difference is the ball game the fans are walking to. UGA's North Campus gives UNC's Polk Place a run for its money, but a walk through UNC's quad on a spring day is hard to beat….but I'm biased. Downtown Chapel Hill and Athens are home to favorite eateries and watering holes, though Athens boasts a broader watering hole selection.
"The towns parallel each other in look and feel. Team spirit radiates from every corner of Chapel Hill and Athens. I am lucky to have been raised in a town that taught me how to truly cheer on my team, but late Saturday in the Georgia Dome, you bet I will be cheering on the boys in blue."
Many ole timers would agree with these testimonials. I can remember in the sixties when the series ended between the two schools, that there were great lamentations on both sides. Each alumni base, loved visiting the "other" look-alike-campus.