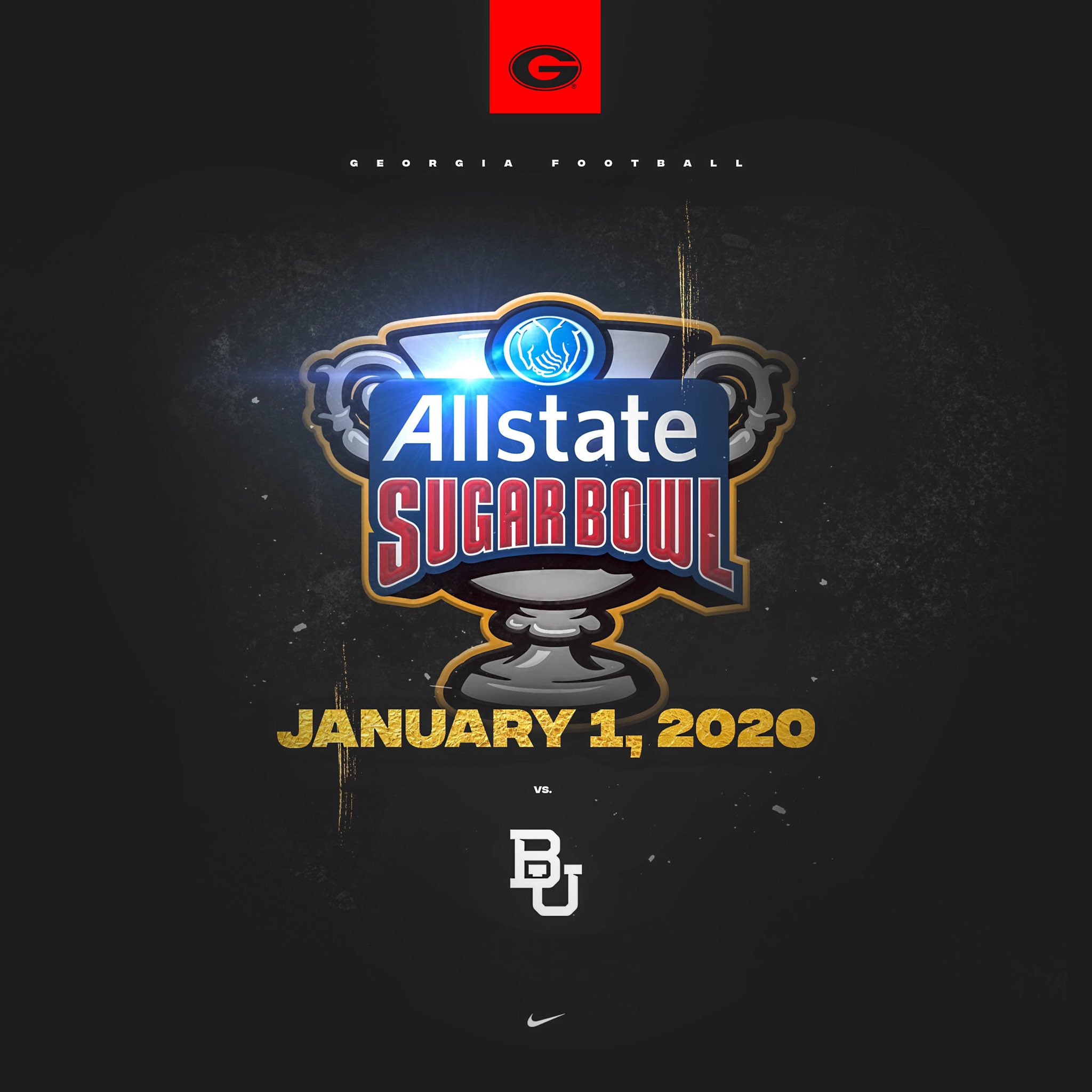 On Sunday, as Georgia was still licking their wounds from Saturday's 37-10 loss in the 2019 SEC Championship game to LSU, the Bulldogs got the news that they would be heading back to New Orleans, LA and playing in the 86th annual All-State Sugar Bowl.
Last year, as many Dawg fans would like to forget, No. 6 Georgia was upended by No. 14 Texas 28-21. Hopefully, this trip will go a wee bit differently.
The Bulldogs opponent for the January 1, 2020 Sugar Bowl will be seventh-ranked Baylor. The Bears finished with an 11-2 record, losing to Oklahoma in the Big-12 Championship game in overtime, 30-27. Kickoff is set for 8:45 p.m. ET on ESPN.
In a Sunday afternoon head coach's teleconference, Kirby Smart commented on Georgia's selection to the Sugar Bowl.
"We look forward to representing the Southeastern Conference once again in the Allstate Sugar Bowl. Having played there last year, we had the experience of the finest in hospitality, a vibrant city, and one of the country's most historic venues on game day," said Kirby. "I'm especially proud of our seniors who have had a great run with a record of 43-12 during their careers at Georgia. That's only one win short of the best four-year run in school history. And the opportunity to play a team like Baylor represents a great challenge for our team."
UGA J. Reid Parker Director of Athletics Greg McGarity added: "The Allstate Sugar Bowl represents another great opportunity for our team but also for our fans to again visit one of the country's most historic and legendary cities. Georgia has made more visits to the Sugar Bowl than any other post-season game going all the way back into the 1940s. I'm sure our coaches and players are looking forward to playing a quality opponent in Baylor which had an outstanding season in the Big 12."
This will be the fifth time Georgia and Baylor have faced each other on the football field in the history of their respective programs, and the first time the two schools have played each other since 1972 when the Dawgs beat the Bears 21-14. In fact, Georgia is 4-0 versus Baylor. The results from the other three contests are as follows:
1978 Georgia 16 – Baylor 14
1985 Georgia 17 – Baylor 14
1989 Georgia 15 – Baylor 03
Sugar Bowl CEO Jeff Hundley commented on the selection of the Bulldogs and Bears for this season's Sugar Bowl
"This Sugar Bowl match-up is ideal for the Bowl and for New Orleans. Not only do we get to welcome two top-seven teams," said Hundley. "We get to renew an old friendship with Georgia, who was just here last year, and start a new one with Baylor as the Bears make their first Sugar Bowl trip in over 60 years. It's going to be a special week for everyone involved."