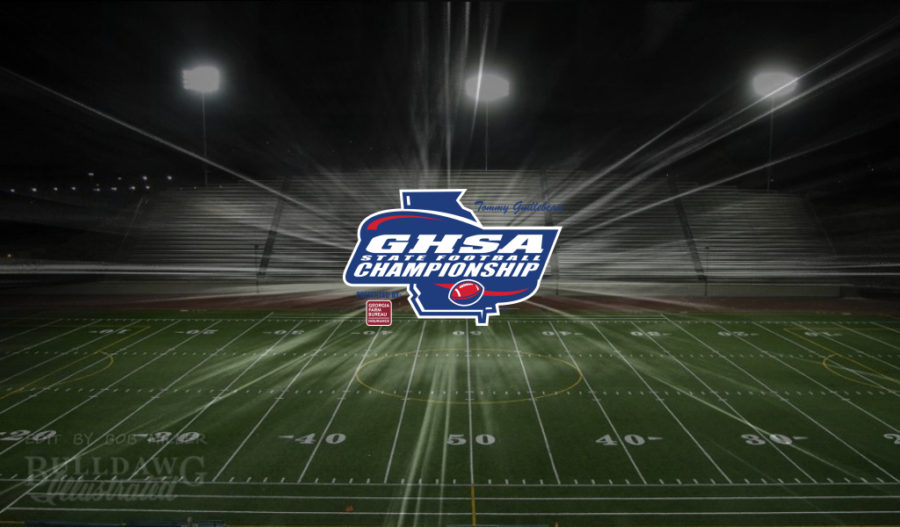 Last weekend, inclement winter weather in the Atlanta-metro area and North Georgia resulted in the GHSA having to cancel and postpone six of the eight State Football Championship games. Those six games have been rescheduled to be played this Friday evening on December 15th.


Only the Class A Private and Class 3A state football championships were played last weekend on Friday. Eagle's Landing Christian Academy defeated Athens Academy 41-3 to win it's third consecutive state title in single A-private. Calhoun defeated Peach County 10-6 in triple-A to win their third state title since 2011.
Instead of the Mercedes-Benz Stadium in Atlanta, the remaining games will be played at various high school sites around the Peach State, and the kickoff time for each title game is scheduled for 7:30 p.m. ET. Not all games will be televised. Georgia Public Broadcasting will televise the Class 7A final between Colquitt County and North Gwinnett. The other five games will be carried via live video stream online at NFHSNetwork.com. Here is a schedule of this Friday's GHSA State Football Championship games:

GHSA STATE FOOTBALL CHAMPIONSHIP SCHEDULE
Friday, Dec. 15th
Note: All games start at 7:30 p.m.
---
Class 1A Public (11-2) Clinch County at (12-1) Irwin County
Class 2A (13-1) Hapeville Charter Academy at (14-0) Rabun County
Class 4A (12-2) Blessed Trinity at (14-0) Marist
Class 5A (14-0) Rome at (14-0) Warner Robins
Class 6A (10-3) Coffee at (13-1) Lee County
Class 7A (11-3) Colquitt County at (13-1) North Gwinnett
---
TICKET INFO

GHSA will honor all pre-sale tickets purchased for games at Mercedes-Benz Stadium or via GoFan for last weekend on Friday, December 8 or Saturday, December 9 for any of the championship games on Friday, December 15. Patrons must present a valid ticket or ticket stub.
Parents with infants and toddlers: "Babies in arms" will be admitted free of charge to all events in the company of a ticket or pass holder.
For fans that did purchase a ticket last weekend, you can do so at the gate at each of the hosting high school stadiums. Tickets are $20 at the gate.

---
PRE-PURCHASED PARKING REFUNDS

Here is GHSA's statement on the refund policy for fans that pre-purchased parking for the last weekend's games at the Mercedes-Benz Stadium.
Pre-Purchased Parking Refunds: Customers can call 866-330-7275 to get a refund. They will need to have their order number & billing address ready. We are very sorry, but it will not be possible to refund parking passes already used on Friday, December 8, pre-sale tickets purchased for the games at the Mercedes-Benz Stadium, or the $2 facility fee added to tickets purchased for those games."

---
HOW TO WATCH?

TV:

Only the Class 7A title game between Colquitt County and North Gwinnett will be carried live on Georgia Public Broadcasting on these nine stations across Georgia: Atlanta – Channel 8.1; Albany – WABW/14.1, Augusta – WCES/20.1, Chatsworth – WCLP/18.1, Columbus – WJSP/28.1, Dawson – WACS/25.1, Macon – WMUM/29.1, Savannah – WVAN/9.1, and Waycross – WXGA/8.1.
LIVE STREAM:

The Colquitt County at North Gwinnett 7A championship game wil be carried via live stream online at gpb.org CLICK HERE.
All six GHSA State Football Championship games will be live streamed on the NFHS Network. Note, in order to view games on the NFHS Network a subscription is required:
Class 1A-Public Clinch County at Irwin County – CLICK HERE
Class 2A Hapeville Charter Academy at Rabun County – CLICK HERE
Class 4A Blessed Trinity at Marist – CLICK HERE
Class 5A Rome at Warner Robins – CLICK HERE
Class 6A Coffee at Lee County – CLICK HERE
Class 7A Colquitt County at North Gwinnett – CLICK HERE

---
GHSA STATE FOOTBALL CHAMPIONSHIPS MEDIA GUIDE
---
Recent Articles by Bob Miller


[pt_view id="83405b425p"]